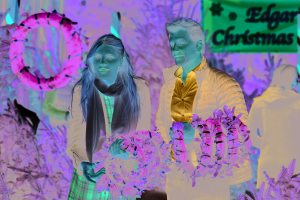 Amanda Kloots and Paul Greene in "Fit for Christmas"
For many who formed the tradition of celebrating the holiday season by watching films and television specials with friends and family, CBS was the place to go. For a long time — many point to the 1965 launch of Charles Schultz's "Charlie Brown Christmas" as the starting point — CBS has long been a comforting home for the holidays, but since 2012, Christmas has looked a little different on the Viacom network.
Last year, following a nine-year hiatus, CBS reinstated its tradition of launching original holiday films and specials, premiering "Christmas Takes Fight" and "A Christmas Proposal," among other titles. This year, on Sunday, Dec. 4, the holiday premieres begin again, kicking off this time with a new film called "Fit for Christmas."
Starring dancer, fitness instructor and co-host of the daytime talk show "The Talk" Amanda Kloots, "Fit for Christmas" follows Audrey (Kloots) as she prepares to celebrate the spirit of the season with sweat (and style) in the small, aptly named Montana town of Mistletoe. An instructor at the local community center, which is struggling to keep its head above water amid troubling times, Audrey isn't about to let the center's financial troubles dampen the town's Christmas spirit.
As luck — or maybe fate — would have it, Audrey isn't the only person with her mind on the failing business over the holidays: a businessman named Griffin (Paul Greene, "When Calls the Heart") has arrived to take a look at the situation himself. Unfortunately for Audrey and the Mistletoe townspeople, Griffin's plans do not involve saving the community's gathering place. Instead, he is hoping to buy the center out and turn the property into resort space.
While Audrey and Griffin are initially at odds regarding the fate of the small town's social/activity hub, "Fit for Christmas" is, after all, a holiday romance. As the pair butt heads while trying to iron out conflicting business plans, they become more interested in one another, ultimately complicating their relationship and learning that there may just be more important things in life than getting their own way.
In addition to leading the cast, Kloots serves as an executive producer for "Fit for Christmas" alongside the film's writer, Anna White ("My Christmas Inn," 2018). Produced for CBS by Brad Krevoy's (The Princess Switch franchise) Motion Picture Corporation of America, "Fit for Christmas" also stars Rebecca Budig ("General Hospital").
Also joining the CBS holiday roster this year is Mark Amato's "Must Love Christmas," premiering Sunday, Dec. 11.
Amato is behind more than a dozen holiday films, including the Vanessa Hudgens-led ("The Princess Switch," 2018) film "The Knight Before Christmas" and last year's CBS original, "A Christmas Proposal," in which a food truck chef (Jessica Camacho, "All Rise") agrees to pose as a lawyer's (Adam Rodriguez, "CSI: Miami") girlfriend in order to help him land his dream job of taking over the family firm.
Liza Lapira in "Must Love Christmas"
New this year, "Must Love Christmas" stars Liza Lapira ("Crazy, Stupid, Love.," 2011) as Natalie, a romance novelist famous for her sultry, holiday-themed content who escapes to a snowy cabin in Cranberry Falls for the season. While there, she finds herself caught up in an interesting love triangle with her former childhood crush and the persistent reporter who is trying to save his failing magazine by landing a tell-all interview with her.
Also produced by Krevoy's MCPA, "Must Love Christmas" co-stars Neal Bledsoe ("Ugly Betty"), Nathan Witte ("Charmed") and Adam Beauchesne ("Tucker and Dale vs Evil," 2010) and is directed by Amato's occasional collaborator, "Virgin River" director Martin Wood.
Wrapping up the holiday festivities on the third Sunday of December is CBS's final original holiday film of the year, "When Christmas Was Young." Premiering Sunday, Dec. 18, this holiday romance features a screenplay written by scriptwriter and bestselling novelist Robert Tate Miller ("Marry Go Round," 2022) and original theme music from award-winning pop/country musician Sheryl Crow, who also serves as an executive producer.
Set against the country and western background of Nashville, Tennesee, "When Christmas Was Young" stars Tyler Hilton ("One Tree Hill") as Luke Dawson, a music manager who returns to his hometown in a determined attempt to secure the rights to a Christmas love song written by his high school girlfriend, Melody (Karen David, "Fear the Walking Dead").
Shawn Williamson ("The Good Doctor") and Jamie Goehring ("The Confirmation," 2016) of Lighthouse Pictures produce "When Christmas Was Young" alongside Tom Mazza ("Date My Dad," 2017), David Calvert-Jones ("Same Time, Next Christmas," 2019) and Everywhere Studios' Karen Glass ("Ice Princess," 2005).
In addition to these three new films, CBS also airs a selection of classic specials, including "Rudolph the Red-Nosed Reindeer" (1964), "Frosty the Snowman" (1969), "Frosty Returns" (1992), "The Story of Santa Claus" (1996), "Robbie the Reindeer" (1999) and more.
Still to come this season on CBS are the National Christmas Tree Lighting's 100-year celebration (Dec. 11), "Mariah Carey: Merry Christmas to All!" (Dec. 20), the 24th annual "A Home for the Holidays" special at The Grove (Dec. 23) and last year's Katie Lowes-led ("Scandal") holiday original "Christmas Takes Flight," about a financially rigid CEO (Evan Williams, "Blonde," 2022) who buys a family airline around the holidays.
Join CBS for this year's newest selection of holiday programming. It all begins Sunday, Dec. 4, with "Fit for Christmas."
Happy holidays!