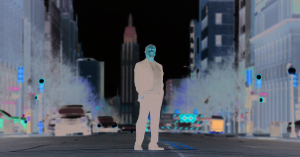 Sylvester Stallone in "Tulsa King"
One of film's most prolific tough guys makes his TV debut in the new Paramount mob drama "Tulsa King," premiering Sunday, Nov. 13, on the streamer and Paramount TV. The gritty crime series stars big-screen action hero Sylvester Stallone ("Rambo: Last Blood," 2019) as Dwight "The General" Manfredi, a member of the New York City Mafia who has spent the past 25 years behind bars. Now released from prison, his first stop to see his old boss doesn't go quite as Dwight imagined and he is sent to Tulsa, Oklahoma.
In the official trailer for "Tulsa King," Dwight's 25-year silence about his mob ties are rewarded with far-away fresh territory when the Don, Charles "Chickie" Invernizzi (Domenick Lombardozzi, "Magnum P.I."), explains to him, "There's nobody doing nothing; you can do whatever you want." (That turns out to be an understatement.)
With the meeting intimidatingly presided over by Charles' brother Pete "The Rock" Invernizzi (A.C. Peterson, "Rising Suns") and fellow mobster Goodie Carangi (Chris Caldovino, "Boardwalk Empire"), there is no disputing the move. Displeased by being shifted several states over to the middle of the country, Dwight quickly starts making trouble of his own when he doesn't exactly find any in the sleepy 918.
Determined to become the titular King of Tulsa, Dwight begins amassing a crew, starting with a driver.
"The Marvelous Mrs. Maisel" actor Jay Will stars as Tyson, Dwight's new companion and the first to join him in his new Tulsa endeavours. Tyson doesn't just get Dwight where he needs to go, he has crucial knowledge about the city. While he tells Dwight in the trailer, there's "no crew up in here, we're in the middle of nowhere," it isn't long before the two of them are strong-arming a local dispensary.
That dispensary is owned by Bodhi (Martin Starr, "Party Down"), who also becomes a member of Dwight's new establishment. Having collected a driver and a business to lord over, the next thing Dwight needs is a local haunt to call his own. He finds a bar and sidles up to bartender Mitch Keller (Garrett Hedlund, "On the Road," 2012) before meeting Stacy Beale (Andrea Savage, "Veep"), who happens to find Dwight interesting (perhaps in more ways than one). Their romantic chemistry is obvious, but Stacy's day job in law enforcement may also benefit from her proximity to Dwight.
Billed as a mob drama, "Tulsa King" serves up more than just tough guys fighting over territory and making power moves. Stallone gets to flex his funny bone as Dwight, a shark out of water in the dust-bowl town. His sarcasm and dark humor are highlighted as he throws his weight around town. For example, the trailer shows Dwight telling Stacy, who remarks on his hearty appetite following a dangerous event, "If I stopped eating every time somebody tried to hurt me, I'd be a skeleton."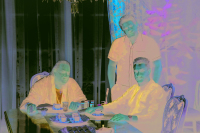 A.C. Peterson, Domenick Lombardozzi and Chris Caldovino in "Tulsa King"
Stallone's charm makes for a mobster who you can't help but root for. He's a perfect antihero.
There is also stellar talent behind the scenes of "Tulsa King," including series creator Taylor Sheridan, who may be best recognized as the writer and director of the critically lauded 2015 film "Sicario" or as the creator of the fellow smash-hit Paramount series "Yellowstone." Having also written 2017's "Wind River" and the Academy Award-nominated 2016 film "Hell or High Water," Sheridan is considered to be one of the best writers in TV and film's neo-western genre.
For a bit more mob gravitas, Sheridan teamed up with "Vinyl" and "Boardwalk Empire" creator Terence Winter, whose works often have an admittedly recognizable style that straddles darkness and period-specific class.
While many viewers may have started knitting or baking sourdough during the lockdown, "Tulsa King" was Sheridan's pandemic project. In an April interview with Variety, the creator revealed how the series came together remarkably quickly. Sheridan noted that he was inspired to create "Tulsa King" following a call with a producer who said, "All you need, in my opinion, to have an interesting TV show is take a really fascinating character and drop them in a world that we don't know anything about."
Two days later, Sheridan says, he emerged with a script and called Stallone for the role. Following an ecstatic "I love it. When do we shoot it?" from the action star, plans were made and contracts were drawn.
In a later interview with Entertainment Tonight, Stallone expressed his excitement for the opportunity, saying, "I've always wanted to play a gangster, but it never happened."
The series' lighter humor and fish-out-of-water scenario set "Tulsa King" apart from Sheridan's other Paramount programs, "Yellowstone" and "1883," but the series maintains all the important aspects of a high-stakes action drama — this time pivoting away from the western genre and instead using a western backdrop as a counterpoint to big-city crime.
Don't miss Stallone's TV debut when the first two episodes of "Tulsa King," land on Paramount and Paramount TV Sunday, Nov. 13.