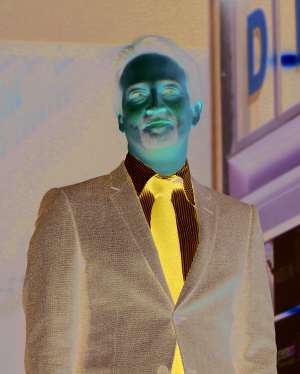 Lin-Manuel Miranda to star in "Percy Jackson and the Olympians"
'Hamilton' as an Olympian: Award-winning actor, director, producer and Broadway show creator Lin-Manuel Miranda ("Hamilton," 2020) recently booked a guest-starring role in Disney 's upcoming "Percy Jackson and the Olympians" series.
The series, which is based on the book series of the same name, tells the story of 12-year-old modern demigod Percy Jackson (Walter Scobell, "The Adam Project," 2022), who is just coming to terms with his divine powers when Zeus accuses him of stealing his lightning bolt. With the help of his friends Grover (Aryan Simhadri, "Cheaper By the Dozen," 2022) and Annabeth (Leah Sava Jeffries, "Beast," 2022), Percy embarks on a quest to find the missing lightning bolt and ultimately restore order to Olympus, home of the gods.
The show's Twitter account (@PercySeries) announced Miranda will play Hermes, the messenger god who looks out for travelers and thieves. Known to be the life of the party and a bit of a trickster, all of Hermes' high energy and charm doesn't help his strained relationship with his son, Luke (Charlie Bushnell, "Diary of a Future President").
Miranda's Hermes is also hesitant to help Percy in his quest, because he fears getting involved might be more trouble than it's worth.
If you've read the books, you'll know Hermes doesn't appear until the second instalment, "The Sea of Monsters." In a blog entry posted on author Rick Riordan's website (RickRiordan.com), the Percy Jackson creator discussed Miranda joining the Disney series.
"Remember when I told you we are adding new glimpses of backstory, Easter eggs and other nuances to enhance the narrative while remaining true to the original storyline?" Riordan teased. "This is a prime example. When you see the episode in question, it will make sense why we introduced Hermes early."
"Percy Jackson and the Olympians" is currently in production in Vancouver and should hopefully premiere in 2024.
Pompeo's exit: It's hard to imagine "Grey's Anatomy" without its titular Grey character, but the ABC drama and series lead Ellen Pompeo have been laying the groundwork for her exit for quite some time.
Pompeo's role as Meredith Grey has already been scaled back this season as the long-running series introduced a new group of interns to fill the void pending Meredith's eventual move to Boston. Pompeo's on-screen farewell, and Meredith's departure from Grey Sloan, is now set for Thursday, Feb. 23, when the show returns from its winter hiatus.
Despite the on-screen goodbye, Pompeo will remain with "Grey's Anatomy" as an executive producer and the narrator for all episodes this season (at least). And don't rule out occasional appearances: former cast members, such as Jesse Williams ("The Cabin in the Woods," 2012), still return to the series in guest spots — Pompeo may even be back for the season finale.
Pompeo's next TV project is an eight-episode limited series for Hulu. Based on real events, it's the story of a Midwestern couple that adopts a girl (played by Imogen Reid, "Willow") with a rare form of dwarfism. As they raise her alongside their other children, the couple begins to suspect she may not be who she says she is.
According to the official description, the parents are "confronted with hard questions of their own about the lengths they're willing to go to defend themselves and protect their own narrative, falling into a battle that's fought in the tabloids, the courtroom and ultimately their marriage."
Pompeo will star as the mother and serve as executive producer.
Live Rock show: Always looking to push the boundaries and change the way we consume TV, Netflix has revealed it plans to introduce live streaming in 2023 with a Chris Rock ("Spiral," 2021) standup special.
The live, global streaming event would mark Rock's second Netflix standup special after 2018's "Tamborine" -- although he also appeared in the Netflix Is a Joke festival earlier this spring.
"Chris Rock is one of the most iconic and important comedic voices of our generation," said Robbie Praw, vice-president of standup and comedy formats at Netflix. "We're thrilled the entire world will be able to experience a live Chris Rock comedy event and be a part of Netflix history. This will be an unforgettable moment. and we're so honored that Chris is carrying this torch."
It seems the technology is still in the development stage, but once it is rolled out successfully, live streaming could further blur the line between streamers and linear networks. It would certainly enable live voting for competition shows, similar to the live specials for ABC's "American Idol," allowing for interactive elements to be incorporated into Netflix's unscripted shows.
As for Rock, he is currently out on his Ego Death world tour, and, of course, everyone wants to know his thoughts on the infamous Oscars slap. During a performance in London, U.K., he acknowledged the incident, saying, "I'm not going to talk about it right now. I'll get to it eventually, on Netflix."
That alone should make his next standup special a much-talked-about TV event, live or not.