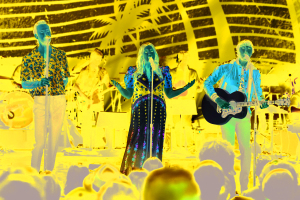 Lady A's Charles Kelley, Hillary Scott and Dave Haywood in "A Grammy Salute to the Beach Boys"
One of the most legendary acts in American music history celebrates 60 years of hits with a two-hour tribute, "A Grammy Salute to The Beach Boys," airing Sunday, April 9, on CBS and Paramount . A star-studded list of performers plays Beach Boys No. 1s and beloved tracks to their honored guests, band members Brian Wilson, Mike Love, Al Jardine, David Marks and Bruce Johnston at the Dolby Theater in Los Angeles.
Drew Carey ("The Price Is Right"), Tom Hanks ("A Man Called Otto," 2022), Rock & Roll Hall of Fame inductees Jimmy Jam and Elton John, producer and Recording Academy CEO Harvey Mason Jr., iconic rock 'n' roller Bruce Springsteen and honorary Beach Boy John Stamos ("Big Shot") all make appearances in the concert special.
Recipients of the Recording Academy Lifetime Achievement Award, The Beach Boys defined the "California sound" of the 1960s with early songs and albums focused lyrically on themes of surfing, cars and other teenaged pursuits, sonically appealing to the newly marketable youth class who were driving culture and rebelling against their parents' tastes. "Surfin' U.S.A.," "409," "In My Room" and "Don't Worry Baby" highlight what the band became known for — songs about the joy and melancholic loneliness of being young with beautifully layered harmonies arranged deftly by Wilson.
In a news release for the special, CBS sums up the impact of The Beach Boys, saying, "Their music came to represent California culture and provide fans around the world with a passport to experience love, youthful exuberance and surf culture." They differed from other surf rock bands at the time that had a more guitar-centric sound, and they also weren't trying to outpace the British Invasion.
The band solidified their status as innovative artists bridging pop and rock in the mid-'60s with more complex production and grown-up lyrics. The pinnacle of The Beach Boys' discography and the album that completes every best-of-all-time list, "Pet Sounds," was released in 1966 and pioneered several aspects of music that seem commonplace today but were cutting edge at the time.
Wilson used session musicians to emulate Phil Spector's Wall of Sound, determined to make "Pet Sounds" a cohesive, whole-album concept meant to be listened to all the way through, as opposed to a single-focused compilation. He succeeded in making an album that fellow artists, music producers and fans alike revere as a cherished favorite across generations.
Nearly half of the album's tracklist will be performed for "A Grammy Salute to The Beach Boys," with recording artist Beck bringing the maritime-themed hit "Sloop John B." to the stage, Brandi Carlile and John Legend teaming up to perform "God Only Knows," Charlie Puth staging his rendition of "Wouldn't It Be Nice," Mumford & Sons performing "I Know There's An Answer," LeAnn Rimes is fittingly tasked with "Caroline, No" and St. Vincent performing "You Still Believe In Me."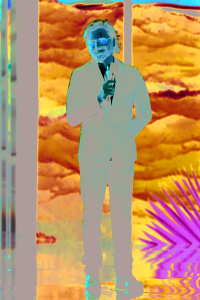 John Stamos in "A Grammy Salute to the Beach Boys"
The Grammy Awards has a knack for assembling musicians from every genre for its artist tributes during the annual ceremony, and this special is no exception. Rock, pop, country, R&B, folk and alternative artists have come together to honor The Beach Boys. Hanson and Pentatonix do Beach Boys harmonies justice on "Barbara Ann" and "Heroes and Villains," respectively, while Weezer naturally take on "California Girls." Jim James joins Beck to perform "Good Vibrations," a tricky tune to cover, and does double duty with his band, My Morning Jacket, to perform "I Get Around."
Some softer songs in The Beach Boys roster also get their time in the California sun, with artists known for their piano arrangements covering ballads. Norah Jones performs "The Warmth of the Sun," John Legend takes on "Sail on Sailor," and Michael McDonald and Take 6 perform "Don't Worry Baby." Carlile also covers the indulgently mournful "In My Room" solo, while Lady A perform the slow-dance staple, "Surfer Girl."
Most people tuning in to a night of The Beach Boys want to get up on their feet, and covering their groove-inducing hits are Fall Out Boy with "Do You Wanna Dance?," Foster the People with "Do It Again," Little Big Town with "Help Me Rhonda," Andy Grammer with "Darlin'," and Luke Spiller and Taylor Momsen covering a medley of "Surfin' U.S.A." and "Fun, Fun, Fun."
While it's no small task to distil a phenomenal six decades of influence in the music industry into a two-hour special, the Recording Academy has mastered it. Over the years, they've honored other titans of music with "Homeward Bound: A Grammy Salute to the Songs of Paul Simon" in December 2022, "Stayin' Alive: A Grammy Salute to the Music of the Bee Gees" in 2017, "The Night That Changed America: A Grammy Salute to The Beatles" in 2014, and their regular "Grammy Salute to Music Legends" specials.
Catch a wave and tune in to "A Grammy Salute to the Beach Boys," airing Sunday, April 9, on CBS. The special streams live and on-demand on Paramount .