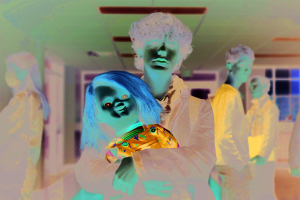 Zackary Arthur in "Chucky"
There's no sense playing around. "Chucky" has become one of the most-loved horror series on television right now. With an average audience rating of 84%, according to Rotten Tomatoes (which is especially impressive for a horror series), "Chucky" is back with a vengeance — something the killer doll does best. Now, however, it's time for the town of Hackensack, New Jersey, to try to stop him once again: the Season 2 finale of "Chucky" drops Wednesday, Nov. 23, on Syfy and USA.
A joint venture between the two NBC-owned networks, "Chucky" was born out of an original idea by screenwriter Don Mancini ("Child's Play," 1988), who also writes the series. What began in the '80s as one film about a Good Guy doll possessed by the soul of a serial killer named Charles Lee Ray (voiced by Brad Dourif, "One Flew Over the Cuckoo's Nest," 1975) soon turned into an unstoppable franchise containing seven original films, one remake, eight shorts, one miniseries, a video game and a two-season series (so far).
With so many versions of the red-haired, overall-clad doll in the world today, there is no surprise that Season 1 ended with a horde of 72 angry, murderous Chuckys wreaking havoc on Hackensack. Chances are Season 2's last episode has something even more astonishing in store. But first, a recap.
The series began in 2021 as 14-year-old Jake Wheeler (Zackary Arthur, "Transparent"), who toils away as a modern artist in his spare time, finds a Good Guy doll at a garage sale. Thinking it's the perfect addition to his newest piece (made of entirely of doll parts), Jake brings it home and soon realizes — when the toy begins to speak — that his name is Chucky.
Unfortunately, this isn't the only thing Jake learns. As various events unfold with his alcoholic father, his extended family's maid and bullies at school, Jake becomes wise to Chucky's motives: to kill anyone who crosses Jake in any way. (And maybe a few others just for fun.) After all, he's Chucky and is Jake's "friend 'til the end."
Fast-forward to Season 2 and all Jake's attempts to rid himself of the murderous plaything have been thwarted. That said (spoilers ahead), Chucky's plan to take over America's children's hospitals with his ex, Tiffany (Jennifer Tilly, "Liar Liar," 1997), in the finale has been stopped in its tracks thanks to Jake, his friends and Kyle (Christine Elise, "Beverly Hills, 90210") and Andy (Alex Vincent, "The Dark Military," 2019), both previous Chucky "friends" from the Child's Play films.
Amped up and more determined than ever to get revenge following this failure, the demon doll doubles down in Season 2, still using Nica (Fiona Dourif, "The Blacklist"), another Child's Play original character, as his pawn by way of possession.
In addition to this delicious twist, there are now 72 potential Chucky dolls on the loose, and at least one of them seems to have followed Jake, Devon (Bjorgvin Arnarson, "The Seventh Day," 2021) and Lexy (Alyvia Alyn Lind, "Overboard," 2018) to the Catholic school where they were sent following the doll's schoolyard chaos last season.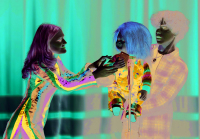 Alyvia Alyn Lind and Zackary Arthur in "Chucky"
With so many Chuckys on the loose — one (possibly) good, many bad — it's hard to see exactly where the finale will lead. To complicate matters even further, the series has yet to be renewed or canceled as of writing. However, given the highly Catholic themes and episode titles so far this season (titles such as "The Sinners Are Much More Fun," "Hail, Mary!" and "He Is Risen Indeed"), viewers can likely expect a big send-off heavily influenced by Mancini's own Catholic upbringing.
"In Catholic mass, when the priest blesses the communion host and the wine, a literal miracle happens," Mancini explained to Collider interviewer Alyse Wax in early October. "It is not a symbolic thing ... and I wasn't aware that we believed such an outrageously supernatural thing. ... I was fascinated by that."
Mancini credits this belief in the process of transubstantiation with his interest in religion, the occult and the supernatural, which, ultimately, culminated in a career writing horror.
"It helped me become the lapsed Catholic I am today," he told Wax, "bringing you a version of my metaphorical adventures as a young gay kid."
These LGBTQ themes are also a huge part of what makes "Chucky" such a television success.
"[W]ith 'Bride of Chucky,' I started to introduce more and more queer content into the story," Mancini said of queer themes and plot points in "Chucky" during a separate interview, this time with LRM Online. "But to be able to portray a young, teen, gay romance in the midst of a sort of mainstream vehicle, I think, has been my favorite thing so far about doing the show. It's just the sort of thing that I, as a young, gay horror fan would have loved to have seen."
As for what's to come in the final act, Mancini has always made that pretty clear: "I think you can expect lots of bloody doll mayhem."
Be Chucky's "friend 'til the end" and tune in for the series' highly anticipated Season 2 finale. The mayhem arrives Wednesday, Nov. 23, on Syfy and USA.