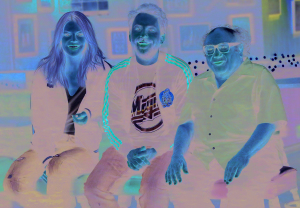 Kaitlin Olson, Charlie Day and Danny DeVito as seen in "It's Always Sunny in Philadelphia"
Ganging up: If The Gang's antics are any indication, the City of Brotherly Love is anything but. If you have friends like Charlie, Dennis, Dee, Mac and Frank, you definitely don't need enemies -- The Gang is already enough to handle.
"It's Always Sunny in Philadelphia" returns for a whopping 13th season on Wednesday, Sept. 5, on FXX, with more over-the-top antics and more of Dennis (Glenn Howerton, "A.P. Bio") than fans had been anticipating. The series follows a group of egotistical and debauched friends as they get themselves into all sorts of wild and crazy situations that more often than not involve violence, sex or something highly illegal, usually somehow involving the decrepit Irish pub that they run together.
Just how much Dennis would be seen this season was up in the air after he headed to North Dakota at the end of last season to take on his new role as a father, a move that coincided with actor Howerton splitting time with his new leading role in NBC's "A.P. Bio." With that comedy renewed for a second season, it came as something of a surprise when it was confirmed that he'll be appearing in the majority of this season's episodes.
Of course, just how much we'll be seeing him in those episodes remains to be seen. Charlie (Charlie Day, "Pacific Rim: Uprising," 2018), Dee (Kaitlin Olson, "The Mick"), Mac (Rob McElhenney, "Wonder Boys," 2000) and Frank (Danny DeVito, "Taxi") aren't going anywhere, with a 14th season already on order, which will tie "Sunny" with "The Adventures of Ozzie and Harriet" as America's longest-running live-action sitcom in history.
That's an incredible accomplishment -- not bad for a group of self-centered underachievers. The next great season of "It's Always Sunny in Philadelphia" premieres Wednesday, Sept. 5, on FXX.
Murder in Missouri: Chris Rock is headed to Kansas City. The acclaimed comedian and actor has been cast in the fourth season of FX's "Fargo," which is planned to air sometime in 2019 with a new cast, a new setting and a whole new story.
Of course, as an anthology series, changing pretty much everything from season to season is nothing unusual. For "Fargo," there's some crossover between seasons, but with decades and state lines separating their stories, each season is pretty self-contained.
For the fourth season, the former "Saturday Night Live" cast member and "Everybody Hates Chris" creator will star as the head of a criminal syndicate based in 1950s Kansas City, Mo. After years of violent feuding, he and the head of a rival syndicate have built an uneasy peace -- until the head of the city's mafia dies, and everything begins to fall apart.
Much like the acclaimed 1996 film "Fargo" that inspired the series, each season features smaller acts of crime that quickly escalate as the perpetrators find themselves in way over their heads. It's black comedy at its finest, and with its anthology format, newcomers can easily start with any season of the TV series.
There's no word yet on further casting for the next season, but filming is scheduled to begin production in early 2019 with a planned airing late in the year on FX.
Talk 'Idol': Kelly Clarkson is "talking" about staging a return to television. She's already signed on to be a coach in the upcoming season of "The Voice," premiering Monday, Sept. 24, on NBC, but her small-screen ambitions go beyond that: she also has a syndicated talk show in the works.
Of course, the big news a few months ago was about the "American Idol" winner signing on to "The Voice," but landing a new talk show would even further cement Clarkson as a cultural icon. A pilot was recently filmed at NBC Universal Studios, with an anticipated premiere in the fall of 2019.
Ever since she achieved instant stardom by winning "Idol's" inaugural season in 2002, Clarkson has released eight albums that have sold more than 25 million combined copies around the world. She has three Grammys, four American Music Awards, two Academy of Country Music Awards and three MTV Video Music Awards under her belt, and she's appeared in movies and written books for children -- not bad for someone who started out as a reality TV show winner.
Clarkson isn't the only celebrity currently looking at getting into the talk show market, with RuPaul ("RuPaul's Drag Race") also developing a talker. With the likes of Ellen DeGeneres ("Ellen"), Rachael Ray ("Rachael Ray") and Steve Harvey ("Steve") already dominating daytime airwaves, it's a competitive but potentially lucrative market for a newcomer who brings a built-in fanbase.
Luckily, fans are something that Kelly Clarkson has plenty of. Her potential talk show is still in the early stages of production, with a potential premiere in the fall of 2019.