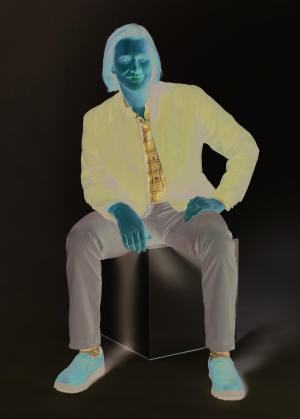 Jim Carrey stars in "Kidding"
First, there was Howdy Doody. Then came Captain Kangaroo, the beloved Mr. Rogers and so on. Cheerful, wise and kind, children's entertainers such as these have inspired generations of kids. A new Showtime series takes a look at what happens when an iconic children's television personality faces unimaginable tragedy, and it's no laughing matter.
Jim Carrey ("The Truman Show," 1998) returns to prime-time television as Jeff Pickles in the 10-episode comedy-drama "Kidding," premiering Sunday, Sept. 9, on Showtime. Jeff has captured the hearts of millions of children and their parents as the host of the fictional children's TV program "Mr. Pickles' Puppet Time," but his personal life is falling apart and his own heart is breaking.
It's been almost a year since it was announced that the Golden Globe winner had signed on for the project, and more than two decades since Carrey has been seen in a regular television series role. At the time of the announcement, Showtime executive David Nevins had high praise for the star.
"No one inhabits a character like Jim Carrey, and this role -- which is like watching Humpty Dumpty after the fall -- is going to leave television audiences wondering how they went so long without him," Nevins said.
Created by Dave Holstein ("Weeds") and directed by Michael Gondry ("The Science of Sleep," 2006), the show also stars renowned stage actor and Tony Award winner Frank Langella ("Frost/Nixon," 2008) as Seb, the executive producer of "Mr. Pickles' Puppet Time." Academy Award nominee Catherine Keener ("Being John Malkovich," 1999) portrays Jeff's co-worker, Deirdre, the show's head puppet maker. Judy Greer ("Arrested Development") plays Jeff's estranged wife, Jill, and young actor Cole Allen appears as their son, Will. Justin Kirk ("Weeds") has landed a recurring role as Jill's new boyfriend. Ginger Gonzaga ("Togetherness") and Grace Song ("High Maintenance") will also appear in recurring roles.
This isn't the first time Carrey and Gondry have worked together. Gondry directed Carrey in "Eternal Sunshine of the Spotless Mind" (2004), which earned Gondry an Academy Award for best original screenplay. It's clear that Nevins is confident the dynamic duo will create onscreen magic once again.
"With his 'Eternal Sunshine' partner Michel Gondry on board to direct, we are on our way to a magnetic, volcanic and emotional viewing experience," Nevins said of "Kidding."
In the show, Jeff has guided youngsters and shared important lessons about kindness and love for years, but when his own life begins to implode, no fairytale character shows up to help him through it. As a result, he begins to unravel, which, according to the official release, is "as hilarious as it is heartbreaking." Onscreen, Jeff may be sweet, but when the lights go dark and the cameras turn off, his pent-up anger begins to surface.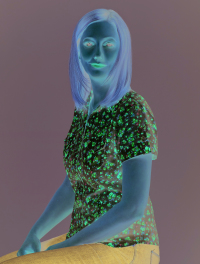 Judy Greer stars in "Kidding"
Things look bleak for Mr. Pickles, but, according to Carrey, the message of the series is a positive one. In an official featurette promoting "Kidding," he talked about the meaning behind the show.
"What I love about this whole project is the idea that no matter how bad things may look, there's an innocence inside us that can never be destroyed. It's always there," Carrey said.
The actor seems perfect for the role of Jeff, which was, according to Holstein, written specifically for him. In an interview with the Hollywood Reporter, the show's creator explained that he began writing the script in 2010 with Carrey in mind. It wasn't easy to get the script in front of the Hollywood star, but when Holstein joined the writing staff of the Showtime series "I'm Dying Up Here," he finally got his chance. Carrey, incidentally, serves as an executive producer on "Dying," a drama about L.A.'s standup comedy scene in the 1970s.
While Jeff struggles to keep it together on set, Seb realizes that his star's potential breakdown could ruin the multimillion-dollar branding empire they've built, so he tries to prepare the show to go on without him. At the same time, Deidre grapples with her own challenging personal and professional issues. On the homefront, Jeff's wife, Jill, has hit a rebellious streak.
A show about a children's entertainer is well timed, considering the current wave of Mr. Rogers nostalgia, thanks to Morgan Neville's critically acclaimed documentary "Won't You Be My Neighbor" (2018) about the host of PBS's "Mr. Rogers' Neighborhood." Since debuting at the Sundance Film Festival in June, it's become the highest grossing biographical documentary of all time. The life of Fred Rogers has also inspired the upcoming biopic "You Are My Friend," starring Tom Hanks ("Forrest Gump," 1994).
Carrey may not exactly be Fred Rogers, but his return to series television has caused a huge buzz in the industry. He honed his skills in Fox's innovative sketch comedy show "In Living Color" in the 1990s, a gig that earned him widespread acclaim. His film work in such movies as "Ace Ventura: Pet Detective" (1994), "The Mask" (1994) and "Batman Forever" (1995) made him a huge star, and his critically acclaimed performances in "The Truman Show" (1998) and "Man on the Moon" (1999) both earned him Golden Globe nominations.
His fans likely can't wait for his latest role in "Kidding." In the show's debut episode, Jeff suggests that Mr. Pickles should address the concept of death on "Mr. Pickles' Puppet Time," but Seb isn't on board. Elsewhere, Deidre punishes her daughter when she refuses to eat her vegetables. Don't miss the premiere of "Kidding," airing Sunday, Sept. 9, on Showtime.