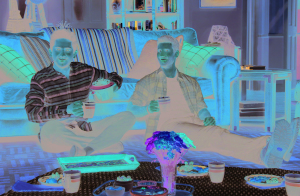 Adhir Kalyan and Parker Young in "United States of Al"
They say friendship knows no bounds, and a new TV comedy explores an unlikely friendship between two men from very different worlds: as one begins a new life in a new country, the other tries to regain the life he once had.
While struggling to readjust to civilian life, former marine Riley (Parker Young, "Imposters") welcomes his friend Awalmir, aka Al (Adhir Kalyan, "Rules of Engagement"), to America in the premiere of "United States of Al," airing Thursday, April 1, on CBS. The new comedy hails from "The Big Bang Theory" writers David Goetsch and Maria Ferrari along with acclaimed television hitmaker Chuck Lorre, who will serve as an executive producer to the series.
When Riley was deployed in Afghanistan, he got to know Al, the interpreter who worked with his unit. The two men formed a strong friendship, so Riley is happy to have Al by his side once again when Al decides he wants to explore all the wonders America has to offer, from Las Vegas to Costco. The trouble is, everything else in Riley's life seems to be going awry. Like many veterans, he's having a difficult time coping with life back home, but Al may be just the person to help him.
In classic Lorre style, "United States of Al" offers TV viewers a slice of American life as its characters deal with very modern challenges in a humorous way. CBS seems to have faith that the show has the potential to be another hit for Lorre, whose credits include "Two and a Half Men," "The Big Bang Theory" and "The Kominsky Method." Lorre's new show has been in the works since the pilot was announced in October 2019, and by November 2020 "United States of Al" had received a series order from CBS.
"Once again, Chuck [Lorre], his talented writing team of Maria [Ferrari] and David [Goetsch], and an amazing cast brings us a heartfelt and touching comedy that honestly and respectfully reflects the experiences and challenges our veterans deal with upon returning home, and the deep bonds they develop with those serving alongside them," CBS senior executive Thom Sherman said in an official November release about the series. "In addition, 'United States of Al' holds up a mirror to ourselves in a unique way by taking a look at American culture through the eyes of an immigrant who is experiencing it all for the very first time."
CBS's latest Thursday night comedy may have an interesting premise and an experienced behind-the-scenes team, but it's up to the stars to engage viewers in the story. Luckily, the producers have cast two very engaging actors in the leading roles. Young landed his first big television role in the ABC sitcom "Suburgatory," in which he played dim-witted football player Ryan Shay. "United States of Al" isn't Young's first time portraying a military man, either. He starred as Pfc. Randy Hill in Fox's military comedy "Enlisted." Meanwhile, South African actor Kalyan began his career on stage before coming to the attention of American audiences in CW's "Aliens in America." He went on to land a recurring role in the acclaimed series "Nip/Tuck" before being cast in another CBS sitcom, "Rules of Engagement."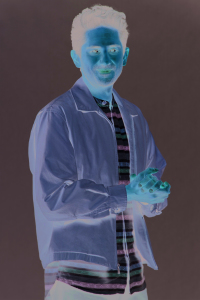 Adhir Kalyan stars in "United States of Al"
In the premiere episode of "United States of Al," Al meets the important people in Riley's life. Dean Norris, perhaps best known for his role as Hank Schrader in AMC's "Breaking Bad," stars as Riley's father, Art, who is a veteran like his son. Kelli Goss ("The Ranch") appears as Vanessa, Riley's estranged wife and mother of their daughter, Hazel (Farrah Mackenzie, "Utopia"), Al's goddaughter. Elizabeth Alderfer ("Disjointed") rounds out the main cast as Riley's sister, Lizzie.
As the show's stars bring their characters to life, at its heart, the new CBS comedy is a story about friendship, one that crosses not only borders but cultures as well. On the surface, of course, it seems like a typical fish-out-of-water comedy as a wide-eyed Al learns about life in America. But who is really the fish out of water? Riley may be back in his home country, but he is the one who appears to be struggling the most, while Al gets to work trying to mend the rift in the relationship between Riley and Vanessa, irked that Riley didn't tell him about their troubles sooner.
The premiere of "United States of Al" signals a unique milestone for Lorre, who will now have four back-to-back shows on CBS's Thursday night comedy block. Viewers can enjoy two solid hours of Lorre programming, beginning with "Young Sheldon" followed by freshman series "B Positive" and then "Mom" before "United States of Al" debuts. With lead-ins from some of the highest-rated comedies on television, the new CBS sitcom should be off to a strong start.
Watch as Al and Riley are reunited in the premiere of "United States of Al," airing Thursday, April 1, on CBS.