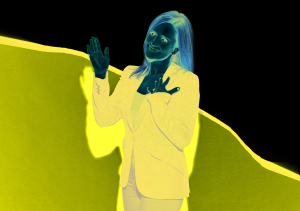 Samantha Bee hosts "Full Frontal with Samantha Bee"
Having the highest elected official in the land call you out by name to demand your firing might be received as a serious deterrent by some, but for Samantha Bee ("The Daily Show"), it probably feels a little like a badge of honor.
That's exactly what happened to the host of "Full Frontal with Samantha Bee" in June, after a risqué comment on her show drew the ire of the POTUS and caused him to lumber onto Twitter to join the chorus of conservative media personalities calling for her to be sacked. But this particular Bee will not buzz off, and her late-night show, currently in the midst of its third season on TBS, is back to troll the ruling class after the conclusion of its brief summer hiatus. Catch all the fireworks on Wednesday, Sept. 12, as Bee and her gang of correspondents re-enter the discourse.
"Full Frontal" has been on the air since 2016, but many will best remember Bee from her 12-year stint on "The Daily Show" -- that's no surprise, considering she was the show's longest-serving correspondent and became almost as synonymous with that series' snarky, acerbic satire as did its actual host, Jon Stewart ("Rosewater," 2014).
Bee departed "The Daily Show" in 2015 to front her own late-night news satire program, landing at TBS and assembling a diverse stable of writers and correspondents that currently includes Ashley Nicole Black ("The Simpsons Movie," 2007), Allana Harkin ("Degrassi: The Next Generation") and Michael Rubens ("The Daily Show"). "Full Frontal" has been praised for the inclusivity of its staff, the result of a deliberate blind hiring process that generated a group of hires consisting of approximately 50 per cent women and 30 per cent people of color.
That kind of purposeful intention reveals Bee's ethical and political persuasion, and it should surprise no one that "Full Frontal" has been a strident (sometimes vicious) opponent of the Trump administration. The premiere of "Full Frontal" arrived not long before the 2016 election results, and the development of the show has been inseparable from the tumultuous political climate that has seized America in the same timeframe. The perceived decadence, corruption, dishonesty and plain old boneheadedness of the current administration has fueled "Full Frontal's" satire since the show's inception, and there is approximately zero per cent chance of that focus shifting any time soon. But in spite of Bee having such ready and willing targets for her lively invective, occasionally things are still prone to slipping off the rails.
Earlier in the show's third season, Bee exposed herself to a torrent of politically motivated censure after hurling a choice expletive in the direction of first daughter Ivanka Trump during an impassioned segment covering the administration's controversial policy of detaining migrant children separated from their guardians. The comment riled up a gaggle of objectors, culminating in a tweet from the official presidential account in which the leader of the free world slammed "Full Frontal's" ratings and wondered aloud why Bee hadn't been fired for the obscenity.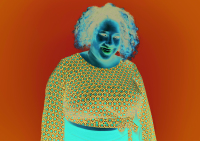 "Full Frontal with Samantha Bee" correspondent Ashley Nicole Black
Bee took responsibility and apologized for the incident, admitting that her language had gone too far and offering a mea culpa to Ivanka and all of "Full Frontal's" viewership. While the whole kerfuffle played out a little bit like theater -- Bee later walked back the apology, lamenting that people were more fixated on "nice words" than "the niceness of our actions," and just about all of her opponents ignored her initial apology and continued to bay for blood -- it did have one distinctly measurable result: the episode following Bee's apology racked up "Full Frontal's" highest ratings in months.
After revamping the show's set in August, speculation is rife that the creative staff now plan to refine their content and delivery in preparation for covering the make-or-break 2018 midterm elections in America, with some referring to the new ethos as "Full Frontal 2.0."
Any improvements are certain to be embraced by fans and critics alike, but the current formula has already been successful. "Full Frontal" has received seven Emmy nominations, including the coveted trinity of Outstanding Variety Series, Writing and Direction, an honor shared by only two other contenders: "The Late Show with Stephen Colbert" and "Last Week Tonight with John Oliver," both helmed by one of Bee's colleagues from her "Daily Show" days. It's reasonable to interpret "Full Frontal's" nominations as the industry's show of support for the work Bee and her team are doing at TBS, and the creative staff at the show should have an abundance of confidence going into the final leg of their third season.
Many sets of eyes, some friendly and some hostile, will be paying close attention to the next onslaught of biting satire from Bee and her collaborators at "Full Frontal" when the show returns from its brief hiatus. Bee's take-no-prisoners approach has earned her friends and foes in equal measure, and while it's hard to predict where exactly her crosshairs will land next, one thing is certain: Samantha is not going to behave. Catch the return of "Full Frontal with Samantha Bee" beginning Wednesday, Sept. 12, on TBS.