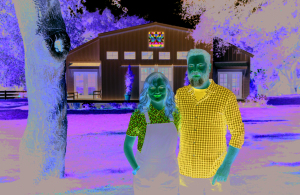 Amy Poehler and Nick Offerman host "Making It"
In the era of Peak TV, being wholesome and family friendly has become a disadvantage. To succeed and become the next big thing, a series must be gritty, dark and intense. Protagonists are usually brooding, damaged anti-heroes, and antagonists are cold and brutal. When it comes to comedies and reality television, the characters, participants and judges are almost always snarky, sarcastic and cynical -- cable networks tell us that this is what sells.
But sometimes it seems like we're starving for good, wholesome content. There have been some family-friendly, uplifting programs that have succeeded in the shadow of grimy, attention-garnering dramas. Series like "The Great British Bake Off" have become full-blown cultural sensations, producing spinoffs and inspiring numerous imitators. These competition series can fill us with a feeling of coziness and inspiration, and they are fun to watch with the entire family. On Monday, Dec. 2, the crafting competition "Making It," hosted by Amy Poehler ("Wine Country," 2019) and Nick Offerman ("Good Omens"), returns on NBC just in time for the holidays.
When the DIY crafting competition series premiered in the summer of 2018, it proved to be a ratings success for the peacock network and was quickly renewed for a second season. Yet, as the time passed, fans became increasingly worried as Poehler and Offerman's craft-off was routinely left off the schedule. It turns out that fans of arts and crafts had nothing to worry about. It seems that the long delay was simply the result of those involved trying to pick the perfect time to come back. "Making It" has received a festive upgrade and is set to give us more of what made it a hit last time around.
For those who did not catch the first season, the premise of "Making It" is really simple. Artisans from across America are pitted against one another to try to impress the "Parks and Recreation" BFFs as well as the judges. Impressing the hosts is no easy feat, and impressing the expert judges is even harder. Returning for another round of judging are Simon Doonan, creative ambassador for Barneys New York, and Dayna Isom Johnson, Etsy trend expert.
The new season functions as it did before, with competitors who are well versed with paint, fabric, wood and metal facing off against one another in two challenges each episode: "Faster Craft," a timed project, and "Master Craft," a themed project. Each project tests the competitors' ability to think outside the box and puts their creativity to the test as they work with food, felt and other materials.
The holiday-themed season has the artisans taking on office makeovers and three-dimensional festive creations on top of other entertaining challenges. In addition to extraordinary fabrications that are guaranteed to inspire, viewers at home are once again in for delightfully silly puns, plenty of laughs and an all-around good time with the witty hosts. Poehler and Offerman told the Hollywood Reporter, "We're sew excited to be 'Making It' again. We promise Season 2 will have you glued to your seats." If you enjoyed that word play, "Making It" is going to bring you much holiday cheer.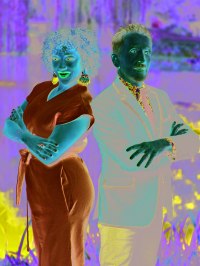 Dayna Isom Johnson and Simon Doonan from "Making It"
Over the course of the second season, we will get to know and love the competitors as they share their touching and personal stories. Although the artisans are front and center, the series makes sure to give us plenty of time with our friendly hosts. Poehler is a self-proclaimed craft novice; on the other hand, Offerman is a noted woodworker. The comedic duo might not share the same skills, but they do share a passion and love for crafts and craftsmanship.
The hosts' passion for arts and crafts and a shared goal of creating a feel-good atmosphere was undeniable the first time around, and things have not changed since then. "We want it to be a hug of a television show," is how Offerman recalled Poehler's original pitch to the network. The first season absolutely succeeded in doing this. It also succeeded in displaying intricate works that serve to inspire the viewer at home.
Beyond giving us hugs through our television sets and presenting outstanding builds, a flannel-wearing, bearded Offerman discussed in an interview with Deadline this past summer the reason he chose to reunite with his former colleague: he sought to illustrate the magic of crafting and its considerable value to the individual, but also to the world at large.
He continued by explaining that he was raised in a self-sufficient and extremely resourceful agricultural family that built a lot of things around the house. This resourcefulness gave him a great appreciation of people's problem-solving abilities and what can be done with a few tools, a good idea and our own hands. "There's a real whimsy and a sort of wizardry to it, and I came by it naturally." He is positively correct. The skills that fabricators from coast to coast display are unparalleled and seem almost magical.
On Monday, Dec. 2, Poehler and Offerman showcase America's most talented makers. Find out what can be accomplished with only a few tools and a great idea in the feel-good holiday crafting competition of the year, "Making It."