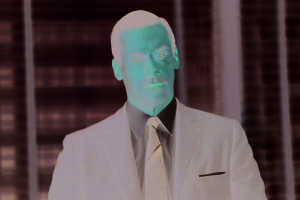 Jon Hamm to star in Season 5 of "Fargo"
'Fargo' bound: Jon Hamm is fresh off his major role in the year's big box office hit, "Top Gun: Maverick," but the former "Mad Men" star is already slipping back into television mode.
FX recently announced that the new iteration of its anthology series "Fargo" had found its leads, and Hamm, who is also attached to Fox's upcoming animated series "Grimsburg," is one of three big names that have been added to the cast for Season 5. The Emmy winner will be joined by "Ted Lasso" star Juno Temple, whose performance in the Apple TV series earned her an Emmy nomination last year, and Jennifer Jason Leigh ("Atypical"), who has had no shortage of work since her Oscar-nominated role in Quentin Tarantino's 2015 film "The Hateful Eight."
When FX announced the casting of the three actors, it also revealed the names of each of their characters: Roy (Hamm), Dot (Temple) and Lorraine (Leigh). But that's it — the cable network is tight-lipped and hasn't revealed any other details about who they are or what will happen to them.
That said, we do know that Season 5 will be set in 2019, in keeping with the show's habit of alternating seasons set in the past (Season 4 took place in the 1950s) and those in the not-so-distant past (2010-11 in Season 3). There's also an official logline: "When is a kidnapping not a kidnapping, and what if your wife isn't yours?"
"Fargo" is based on the 1996 Coen brothers film, but it follows a new cast of characters each season, with each installment as a self-contained story.
Chris Rock ("Spiral," 2021), Ewan McGregor ("Trainspotting," 1996), Ted Danson ("Cheers") and Jean Smart ("Hacks") are among the stars who have appeared in previous seasons of the Emmy-winning series.
More 'Vice': HBO Max is heading back to Tokyo (and to the late 1990s).
The streamer has officially renewed "Tokyo Vice" for a second season, thereby extending its eight-episode run. The crime drama, which stars Ansel Elgort ("West Side Story," 2021) and Ken Watanabe ("Inception," 2010), boasts a high rating on Rotten Tomatoes — one of the few indicators of a streaming series' performance since viewership data is a closely guarded secret among streamers.
When announcing the renewal, HBO Max alluded to the fact that Season 1 resonated with critics and audiences alike.
"We could not be more excited to bring the passionate fans of the show another season to continue this intriguing and suspenseful crime story set in one of the most vibrant and beautiful cities in the world," Sarah Aubrey, head of original content at HBO Max, said in a statement.
That "intriguing and suspenseful crime story" builds on American journalist Jake Adelstein's (portrayed by Elgort) first-hand account of the Tokyo Metropolitan Police beat; a fact that created a bit of a stir when the series landed in April, because some have questioned the validity of the source material: Adelstein's 2009 memoir "Tokyo Vice: An American Reporter on the Police Beat in Japan."
Ultimately, executive producer John Lesher doesn't think it should matter. In an in-depth report by The Hollywood Reporter, Lesher explained how the series was merely inspired by the book, and that "there were so many things that we embellished and created that had nothing to do with" Adelstein's published account of his dealings in the underbelly of Tokyo.
So, if the series doesn't necessarily follow the source material, what stories will play out in Season 2? Creator J.T. Rogers knows.
"Writing and then making the first season of 'Tokyo Vice' with this remarkable group of artists was a matchless experience," Rogers said in a statement. "So, I'm over the moon that we get to keep going. I can't wait to get back to work in Tokyo with our brilliant cast and crew. Stay tuned: there are twists and turns in the tale to come!"
Syndicated 'iCrime': Former ABC News anchor and "America's Most Wanted" host Elizabeth Vargas is headed for syndication and daytime TV.
Vargas will serve as both host and executive producer of 'iCrime With Elizabeth Vargas," one of several syndicated shows slated to debut in the fall.
Created by Scott Sternberg ("On the Case With Paula Zahn") of Scott Sternberg Productions and Hank Cohen ("Ghostbreakers") of Trifecta Entertainment & Media, the half-hour show will focus on crimes captured on witnesses' smartphones. Vargas will then interview the victims, law enforcement and the videographers while a panel of experts weighs in on the case.
"The emergent widespread use of smartphones to immediately record everything as it happens gave us the idea to produce 'iCrime,'" Sternberg said in a statement. "Video from anywhere and everywhere of real situations shot by all of us is a natural way to give viewers a daily dive into the unbelievable realism of crime videos. Having a host like Elizabeth Vargas brings 'iCrime' to another level."
Cohen echoed Sternberg's excitement, adding, "We're so gratified that stations have responded to this show in such a big way. This new form of everyman recordings has become an important new social media tool in helping law enforcement gain truth in crimes committed across the country."