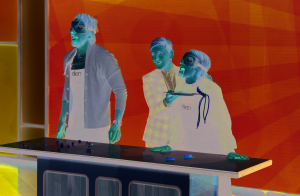 Dax Shepard, Ellen DeGeneres and Kristen Bell as seen on "The Ellen DeGeneres Show"
"Family Game Fight": Some celebrities can't escape the pressure of projecting perfection in every aspect of their lives, even in their home life. Happily, actor Kristen Bell ("The Good Place") isn't one of them.
Bell and her husband, actor/comedian Dax Shepard ("The Ranch"), are known for being upfront about their relationship struggles, parenting mishaps and even furniture-related feuds. Their candor and playful competitiveness has resulted in plenty of laughs during their appearances on "The Ellen DeGeneres Show," and their antics have also landed them a new game show.
The husband-and-wife duo are set to host and compete in "Family Game Fight," coming to NBC. The series has been picked up for 10 one-hour episodes, and it has been touted as a game show that will test "brains, brawn and family bonds."
In each episode, Bell and Shepard will each join a family of four to compete in a series of games. There will surely be plenty of fun and laughs, but these "adoptive" families will also be hoping to win a big cash prize.
"For one of our first dates, I invited Dax over for a game night at my house with a bunch of friends," Bell said in the official announcement. "He said he fell in love with me there because I was a very tiny person bossing everyone around. I fell in love with him, too, because he's a very large person who could boss everyone around but chooses not to. I'm so excited to host 'Family Game Fight' and play all day with my best friend."
"Family Game Fight" is being produced by DeGeneres' production company, A Very Good Production, which is also behind "Ellen's Game of Games." Casting is already underway and would-be participants are invited to apply through Venertainment's website.
Murphy joins "Doll": "Schitt's Creek" actor Annie Murphy has officially been added to the Season 2 cast of the Netflix series "Russian Doll."
The actress is fresh off her Emmy-winning role as reformed celebutante Alexis Rose, who spent six seasons adapting to life in a small town. Now that "Schitt's Creek" has ended its run, Murphy hasn't wasted any time lining up her next projects: she already landed the lead role in AMC's "Kevin Can F*ck Himself," a dark satire that will deconstruct the stereotype of the passive sitcom wife. That series is set to premiere sometime this summer, and it seems production on Season 2 of "Russian Doll" is already underway.
Not much is known about Murphy's new character in "Russian Doll," which landed on Netflix in 2019 and was quickly renewed for a second season. The first season played out like a darker, quirkier version of the 1993 film "Groundhog Day," with the lead character Nadia (Natasha Lyonne, "Orange Is the New Black") repeatedly reliving the last night of her life — her 36th birthday. Along the way, viewers discovered another character, Alan (played by Charlie Barnett, "Chicago Fire"), was similarly stuck in a time loop after his girlfriend turned down his marriage proposal.
Things seemed to have been resolved in the finale, in which (spoiler) Nadia and Alan confronted their traumas and managed to save each other, thereby freeing themselves from their repeating nightmare. So where will the series go from here? It's hard to say, and the show's creators — Lyonne, Amy Poehler ("Saturday Night Live") and Leslye Headland ("About Last Night," 2014) — haven't given us much to go on.
In a 2019 interview with The Hollywood Reporter, Headland only teased that viewers might not have seen the last of Lyonne's character. "When initially pitched, Nadia was a presence throughout all three [seasons]," Headland said. "But it was not in a very conventional way, if that makes sense. She was always a presence, as we knew Lyonne would always be the beating heart and soul of this show. Whether she was being haunted or she was haunting the narrative, she would be there."
"Langdon" a go: Fans of "The Da Vinci Code" author Dan Brown will be happy to know that Peacock has officially greenlit a new series based on his third thriller, "The Lost Symbol."
The pilot formerly known as "Langdon" has now been renamed "Dan Brown's Langdon" and given a full series order. It follows the early adventures of Harvard "symbologist" Robert Langdon — a role played by Tom Hanks in the 2006 film "The Da Vinci Code," 2009's "Angels and Demons" and 2016's "Inferno" — who is forced to solve a series of deadly puzzles after his mentor is kidnapped (oh, and he also has to thwart a big global conspiracy).
This TV series has been described as "a natural extension" to the movie universe. It's worth noting that Ron Howard directed those three films, and now Imagine Entertainment, the production company he founded with Brian Grazer ("A Beautiful Mind," 2001), is behind "Dan Brown's Langdon."
"The Lost Symbol" was originally intended to be the follow-up to "Angels and Demons" before the studio turned to "Inferno," and its author alluded to that history when Peacock announced the series order. "I'm absolutely thrilled to be working with Ron [Howard] and Brian [Grazer] again on another Langdon project," Brown said. "We've all wanted to make 'The Lost Symbol' for some time now, and I'm grateful to CBS Studios, Imagine Television Studios, Universal Television and Peacock for joining forces to make this project a reality."