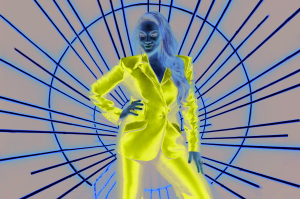 Tyra Banks is exiting "Dancing With the Stars"
Exit stage left: Entrepreneur, entertainer and queen of the "smize," Tyra Banks announced she will not be returning for Season 32 of the long-running reality show "Dancing with the Stars."
Banks initially joined the cast ahead of Season 29, replacing Tom Bergeron and Erin Andrews and serving as the lone host for two seasons. Alfonso Ribeiro ("America's Funniest Home Videos") joined as co-host for Season 31, the show's first on streamer Disney . Ribeiro is staying put for the upcoming season, but Banks opted to leave in order to focus on her other businesses and producing efforts.
Speaking to TMZ, Banks said, "I think it's time to graduate from the dance floor to the stock market floor … from the ballroom to the boardroom. I'm an entrepreneur at heart … I think my heart, my soul, is into my business, it's also into producing new TV."
Just a few days after Banks' big announcement, Variety broke the news that former "Dancing With the Stars" pro Julianne Hough (and sister to "DWTS" judge Derek Hough) has been tapped to serve as co-host alongside Ribeiro. She's expected to assume Ribeiro's previous role as the post-performance interviewer.
In a post on her Instagram (@JulesHough), Hough wrote: "It is such an honor to be rejoining 'Dancing with the Stars' as co-host. The show holds such a special place in my heart from the many years and different roles I have had the privilege of being a part of. The incredible team that brings the ballroom to life every night has been my family for the past 17 years. I am so excited to reunite with Alfonso, Carrie Ann [Inaba], Bruno [Tonioli], Derek [Hough], the unbelievably talented pros, and the amazing cast on the dance floor. The energy is magnetic every time you step foot in to the ballroom and I can't wait to feel it again — and of course to share it all with the absolute best and most loyal fans — for another exciting season."
Hello Hammond: "The Great British Bake Off" — or "The Great British Baking Show," as it's known here — has an all-new host.
For the upcoming season, longtime British TV presenter Alison Hammond is set to join host Noel Fielding and judges Paul Hollywood and Prue Leith, replacing Matt Lucas and becoming the show's sixth permanent host.
Hammond confirmed the news on social media while showcasing her own baking skills. In the video, Hammond shows off a cake made to look like the classic "Bake-Off" tent, along with fondant figures of Fielding, Hollywood, Leith and herself. In a voiceover, she jokingly pretends to be a reporter, asking her fondant counterpart for a comment. The cake version of Hammond responds: "Well do you know what? I'm just absolutely thrilled. I'm going to be meeting the bakers very soon. I'm joining 'The Great British Bake Off.' I'm so very excited."
For the past two decades, Hammond has been a presenter on ITV's "This Morning," a U.K.-based morning show, where she became known for her viral celebrity interviews. She first rose to fame in the British version of "Big Brother" in 2002; since then, Hammond has slipped into many reality TV shows, such as "I'm a Celebrity, Get Me Out of Here!," "Strictly Come Dancing," "Celebrity MasterChef," and even the celebrity edition of "The Great British Bake Off."
When asked about this newest addition to the show, Channel 4's chief content officer, Ian Katz, said: "Alison is much loved, effortlessly funny and the owner of the best laugh in Britain. She was a huge hit when she appeared on 'Celebrity Bake Off,' and we're thrilled to have her back in the tent."
Lights, camera, Lovato: Actor/singer-songwriter Demi Lovato will be directing her first feature film for Hulu and tackling a topic close to home.
The film, currently titled "Child Star," is set to be directed both by Lovato and Nicola Marsh ("Stay on Board: The Leo Baker Story," 2022). According to a news release, the feature-length documentary aims to "deconstruct the highs and lows of growing up in the spotlight through the lens of some of the world's most famous former child stars, including Lovato," who has been acting since she was 10.
Lovato, who uses both "they" and "she" pronouns, first appeared in the PBS show "Barney & Friends," and in 2008, she starred in the Disney Channel original movie "Camp Rock." Disney then offered Lovato the titular role in the TV show "Sonny with a Chance," which first aired in 2009. She has been openly critical of her experiences as a child star, some of which were detailed in the 2021 docuseries "Dancing With the Devil."
As for "Child Star," the press release explained that "the film will reach beyond the traditional narratives seen in op-eds and tabloids to consider the changing nature of growing up in an increasingly connected and public world." Many former child stars are set to be interviewed, though the names of other participants have yet to be released.
"There is no better film or topic for my directorial debut than this story, which is close to home," Lovato said in a statement. "Our project sheds light on important messages about growing up in the public eye, learning to protect our boundaries and becoming active advocates of our own destinies."