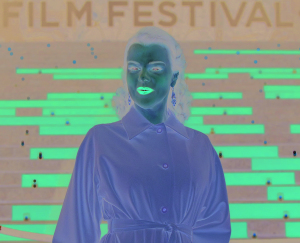 Debi Mazar to star in Netflix series "Kaos"
Embracing 'Kaos': Fresh off her role in the Mike Myers-led limited series "The Pentaverate," actress Debi Mazar ("Entourage") has signed on to star in another Netflix project. And this time she'll be playing one of the most recognizable figures in Greek mythology.
Mazar has joined the cast of "Kaos," the darkly comedic, contemporary take on Greek and Roman mythology from creator Charlie Covell ("The End of the F***ing World"). She'll be playing the coveted role of Medusa, the snake-haired Gorgon whose gaze can turn anyone to stone. And given that the series will explore "love, life and power in the underworld," where Hades is losing control as he struggles to deal with a backlog, one can hope that Mazar's Medusa may be a more complex character than just the monster slayed by Perseus.
Mazar joins an all-star cast that includes Janet McTeer ("Ozark") as Hera, David Thewlis ("The Sandman") as Hades, Daniel Lawrence Taylor ("Timewasters") as Theseus and the one and only Jeff Goldblum ("Jurassic Park," 1993) as Zeus.
Goldblum, who arguably stole the show as the Grandmaster in "Thor: Ragnarok" (2017), stepped in to take over the role of Zeus after Hugh Grant ("Paddington 2," 2017) departed the project due to a scheduling conflict. And the cast announcement teases plenty of opportunities for Goldblum to display his trademark dramatic and comedic chops, as the "seemingly all-powerful, yet desperately insecure and vengeful Zeus, who has long enjoyed his status as King of the Gods. That is until he wakes up one morning and discovers a wrinkle on his forehead. Neurosis then sets in, setting him off on a dangerous, paranoid path. Zeus becomes convinced his fall is coming — and starts to see signs of it everywhere."
Also starring in "Kaos" are Aurora Perrineau ("Jem and the Holograms," 2015) as mortal Riddy; Cliff Curtis ("Training Day," 2001) as Poseidon; Killian Scott ("Traders," 2015) as Orpheus; Misia Butler ("Kiss Me First") and Leila Farzad ("I Hate Suzie") as mortals Caneus and Ari, respectively; and Nabhaan Rizwan ("Station Eleven") as Dionysus. Reportedly, Billie Piper ("Doctor Who") is also set to make a cameo appearance.
The eight-part series is currently filming in Spain.
'Glamorous' role: "Kim's Convenience" star Nicole Power has been added to the cast of the Netflix drama series "Glamorous."
The Canadian actor is set to appear alongside Kim Cattrall ("Sex and the City") and YouTuber Miss Benny ("American Horror Stories"), who plays the lead role of Marco Mejia, "a gender-nonconforming queer young man whose life seems to be stuck in place until he lands a job working for legendary makeup mogul Madolyn Addison [played by Cattrall]" (per Variety).
As the CEO of Glamorous Cosmetics, Cattrall's character hires Marco to help her discover who is sabotaging her company from the inside. Power will play the role of Mykynnleigh, a "seemingly guileless corporate consultant" who helps make a business deal happen, but whose behavior may be deceiving, as Mykynnleigh "possesses a lot of backbone and business acumen."
"Glamorous," which is currently filming in Toronto, is one of several upcoming projects starring Power, who also stars in CBC's "Strays." The "Kim's Convenience" spinoff is now into its second season and films in Hamilton, Ontario. Power will next be seen in the films "Pattern" and discovery 's "Designing Christmas," which was shot in Ottawa, Ontario, and in the nearby town of Almonte, Ontario, a popular film location for made-for-TV holiday movies.
As for Cattrall, the actor was the voice of Future Sophie in Season 1 of "How I Met Your Father," which has been renewed for a second season by Hulu. In fact, the streamer is doubling down on the Hilary Duff-led sequel to CBS's "How I Met Your Mother," having ordered 20 new episodes (instead of 10), and it stands to reason that Cattrall will continue in her role as narrator.
Opposite sides: By now, the networks have largely decided which 2022 pilots will be given a series pickup, and Milo Ventimiglia's newest project is among them.
The Emmy-nominated "This Is Us" actor is behind the new hour-long spy drama "The Company You Keep," which has been picked up to series by ABC.
Described as an American adaptation of the Korean series "My Fellow Citizens," the series is centered on con man Charlie (Ventimiglia) and undercover CIA officer Emma (Catherine Haena Kim, "FBI"), who fall in love after a chance meeting in a bar and a night of passion.
But the two are unknowingly on a collision course professionally. While Charlie is trying to extricate himself from the "family business" for good, Emma is slowly moving in on a vengeful criminal and mobster who's been blackmailing Charlie's family. Their entanglement may have dire consequences for them and for their polar-opposite families, especially since Emma (Kim) hails from an Asian American political dynasty.
Along with the crime series "Will Trent," "The Company You Keep" was one of the last pilots from ABC's 2022 slate to be ordered to series, and ultimately one of six new scripted series that were picked up for the 2022-23 season. Expect "The Company You Keep" to premiere sometime in 2023.