Emilio Rivera in "Mayans M.C."
Fans of the wildly popular FX production "Sons of Anarchy," which premiered in 2008, have deeply felt the show's absence since it ended in 2015. It was one of the network's most successful series to date, pulling fans in with its gritty premise -- it followed the internal politics of an arms-dealing biker gang in the fictional town of Charming, California -- and making them stay with its surprisingly enduring human stories. Now, the show's much-anticipated spinoff, "Mayans M.C.," will revive this rich fictional world when it premieres Tuesday, Sept. 4, on FX.
The new series, featuring a fresh batch of characters, exists within the same universe as its predecessor but tells a completely new and independent story, creator Kurt Sutter revealed at a Television Critics Association press tour. Fans who are hungry for a crossover won't be disappointed, however, as Sutter also revealed there will be cameos from familiar faces and flashbacks that clearly establish the two mythologies as part of the same world.
Notably, Emilio Rivera, who plays Marcus Alvarez, leader of a rival gang to the titular Sons of Anarchy, will be a recurring presence in "Mayans M.C." In an interview with Entertainment Tonight at Comic Con 2018, "Mayans" cast members agreed that Rivera's character "is the glue that cements the Sons of Anarchy with the Mayans." Adding to the fanfare, Sutter also teased that the premiere of "Mayans M.C." would feature an appearance from "Sons of Anarchy" character Gemma Teller Morrow (Katey Sagal, "Married… with Children"), whose reputation as a ruthless gang matriarch made her both a loved and hated fan favorite.
Sarah Bolger ("The Tudors") is a new face, infusing the plot with some scintillating drama as the high-profile wife of a cartel boss, as well as a love interest to protagonist Ezekiel "EZ" Reyes (JD Pardo, "The Twilight Saga: Breaking Dawn -- Part 2," 2012). As the series opens, EZ, a young Chicano man, is a new prospect looking to join the Mayans Motorcycle Club. Flashbacks reveal that he was once a successful student looking forward to a promising future, but his vision for the road ahead was torn away from him by cartel violence on the California-Mexico border.
Having lost his former potential, he now seeks revenge, redemption and the respect of his childhood sweetheart, Emily (Bolger), by way of becoming a full-fledged Mayan, smuggling heroin for the Galdino cartel from the cover of his family's butcher shop business. EZ faces the pressure of family legacy to boot, as his older brother is already a prized member of the Mayans at the show's outset.
The "Sons of Anarchy" storyline ended with the death of Jax Teller, the Sons' leader whose character arch was defined by his gradual descent into ruthless violence and loss of a moral compass. While this plot has been laid to rest, EZ's beginnings as a naive young man on the brink of darkness gives fans a fresh context to invest in the same themes of redemption and loss of humanity that they loved in the original series.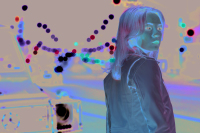 Sarah Bolger stars in "Mayans M.C."
In the season 1 trailer recently released by FX, EZ's father, Felipe Reyes (Edward James Olmos, "Battlestar Gallactica"), is seen in the butcher shop, bathed in shadow and removing a gun from its case. "You're in this now, son," he then says to EZ, "there's no getting out." Viewers can expect Pardo to take on this challenge with the same fervor as his eager-to-please character. On a Comic Con panel, he regaled the audience with how he convinced Sutter to cast him for the lead role by pitching his passion. "How about you give me 45 minutes, I'll go outside, I'll memorize these lines and just kick some [butt]," he recalled telling Sutter, according to CinemaBlend.
In an interview with Deadline, Sutter also explained that the new mythology and characters provide an important opportunity for "Mayans M.C." to exist in a context of political relevance. "Trump's been elected and all this stuff with the border is going on," he said. "There are these [...] vigilante groups on this side that have felt empowered to go hunting immigrants jumping the wall. So we have a whole episode about this group of [...] yahoos that are going out and picking people off hopping the fence." He also noted that, as a tongue-in-cheek nod to the current racial crises at the border, the message that characters are seen stamping on packages of smuggled heroin translates to "tiny hands." With this in mind, viewers can be sure to expect that "Mayans M.C." will step up to the challenge of not just reproducing the testosterone-fueled action of its predecessor, but also grappling with more complex and hard-hitting undertones.
While "Sons of Anarchy" is a thing of the past, show creators have expanded the fictional universe, giving fans a fresh perspective to explore. The cast of the new "Sons" spinoff, "Mayans M.C." is pumped to delve into the action and intrigue of the new story. Watch the premiere episode when it airs Tuesday, Sept. 4, on FX.