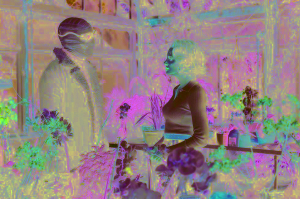 Matt Bomer and April Bowlby in "Doom Patrol"
In a world of good versus evil, a troupe of monstrously misunderstood outsiders are trying to come to terms with their tragic pasts while facing an uncertain future. A brand-new season of HBO Max's thrillingly dark DC Comics series "Doom Patrol" premieres Thursday, Dec. 8, right where Season 3 left off.
"Doom Patrol" is a welcome addition to the always-growing comic-turned-TV series scene, and like some of its most successful peers, it takes a more adult-only route filled with obscenities and body horror. Exploring the realities of superpowers and anitheroes like the Emmy-winning 2019 miniseries "Watchmen," "Doom Patrol" borrows the idealistic outcast compound setting from Marvel's X-Men franchise and puts its own spin on found-family dynamics.
The members of the Doom Patrol are mostly made up of individuals who possess superhuman powers that, at face value, would be a dream to have. Who wouldn't want to take advantage of elastic limbs, bionic strength, shapeshifting abilities or living as a brain in a jar? Unfortunately, it isn't that simple for the residents of Doom Manor.
Overseen by Niles Caulder (portrayed by "Penny Dreadful" star Timothy Dalton), a scientist who intends to keep the vulnerable residents of his manor safe, the Doom Patrol members have landed on the estate after having suffered various near-fatal tragedies.
The series opens with Caulder, also known as The Chief, finally striking luck with his latest experiment: bringing new life to Cliff Steele (voiced by Brendan Fraser, "The Whale," 2022).
Steele was a NASCAR driver who is believed to have died in the car crash that also killed his wife, but he lives on as a brain housed inside a robotic body. In addition to voicing the character, Fraser also plays Steele in human flashbacks, but the character primarily takes robot form with the help of actor Riley Shanahan, best known for his work in The National's 2019 visual album, "I Am Easy to Find."
Steele quickly encounters the rest of Doom Manor's residents, including Invisible Man-lookalike Larry Trainor, a former Air Force pilot who crashed in a suspected fatal accident but was saved (or, perhaps doomed) by a negative spirit that possesses him. Like Steele, Trainor's portrayal is a team effort, with "Will & Grace" actor Matt Bomer handling voice acting and flashbacks while the head-to-toe bandaged and trench-coated Trainor is played by "Greyhound" (2020) actor Matthew Zuk.
Meanwhile, former Hollywood actress Rita Farr (portrayed by "Drop Dead Diva" star April Bowlby) may appear to be a glamorous, unafflicted house guest at first glance, she hides a near-uncontrollable ability to exponentially expand into a gelatinous mass. It is a power she exhaustively tries to control in order to become her superhero self: one that is popularly known in the original comics as Elasti-Woman.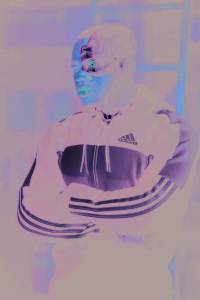 Joivan Wade in "Doom Patrol"
"Doom Patrol" eschews using traditional superhuman names for the most part, but one Doom Manor patron does answer to her comic book name in addition to many, many others.
"Jane the Virgin" actress Dianne Guererro is Crazy Jane, as she calls herself, and though her dominant personality is the charmingly abrasive Kay Challis, she contains multiple — 64 — personalities to be exact, each with their own ability. Guererro pulls an "Orphan Black," portraying Challis, Baby Doll and Karen, among others, while a myriad of other actresses handle other personas.
The troupe of hero outcasts is completed by an enthusiastic bionic young man who goes by the name of Cyborg. Portrayed by "The First Purge" (2018) actor Joivan Wade, Cyborg was not created by The Chief, unlike the rest of the Doom Patrol.
Once known simply as Victor "Vic" Stone, Cyborg was a bright student who was involved in a lab accident that killed his mother. Pulled from the mayhem by his father, Silas Stone (Phil Morris, "Bosch: Legacy"), Vic's injuries are compensated for by way of bionic prosthetics, a component Cyborg later embraces in order to intervene on local crime.
What makes "Doom Patrol" so special is the series' ability to spin what could easily be a repetitive or self-serious adaptation of misfit antiheroes into splendid, surreal chaos.
Wade, in speaking to Entertainment Weekly, emphasized that absurd surrealism by recalling his first day on set "going up a donkey's [butt]." (It should be noted that the donkey was actually a portal.) He later went on to tease a bit of what fans can look forward to in the upcoming season.
"You find the Doom Patrol in a space where we have finally made the decision that we have to become a team," Wade said, adding, "We're on a journey of ... time travel to something that's actually unexpected and very surprising."
So, "Doom Patrol" fans, expect the unexpected when you tune in to the series' Season 4 premiere, landing Thursday, Dec. 8, on HBO Max.