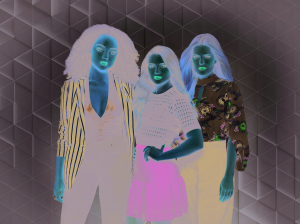 Aisha Dee, Katie Stevens and Meghann Fahy star in "The Bold Type"
They live with purpose and they write with passion -- three writers and best friends experience love, heartache, success and setbacks as they work for New York City's Scarlet magazine in Freeform's dramatic comedy "The Bold Type." After a midseason cliffhanger left our favorite threesome in quite a predicament, fans finally find out what happens next when Season 4 returns Thursday, June 11, on Freeform.
Through hard work, dedication and internships, these three friends made it onto the staff of Scarlet and haven't stopped making waves since. Jane Sloan (Katie Stevens, "Faking It") is a journalist with a knack for politics who just earned herself a vertical column in the celebrated women's magazine. Kat Edison (Aisha Dee, "Chasing Life") heads up Scarlet's social media department and prides herself on being an activist for social issues. Sutton Brady (Meghann Fahy, "Miss Sloan," 2016) has been an editorial assistant but was promoted this season to a fashion stylist for Scarlet -- her dream job. This trio of fearless friends aren't afraid to make their mark on the world.
The show also stars Matt Ward ("Upload") as Alex Crawford, a fellow writer for the magazine, friend to Jane, and one of Sutton's exes. The magazine itself is spearheaded by the powerful Jacqueline Carlyle (Melora Hardin, "The Office"), who feels the need to mentor the three girls as they try to navigate their careers.
The show doesn't pull any punches and is known for tackling some serious issues. In Part 1 of Season 4 alone, "The Bold Type" took a hard look at racial inequality in the workplace and transgender struggles in sports. But this is just scratching the surface of the issues these ladies deal with.
While Sutton finally married Richard Hunter (Sam Page, "Christmas in Rome," 2019) in the midseason finale, her promotion is keeping the two of them thousands of miles apart. Kat has faced some emotional struggles while briefly reconnecting with her ex, Adena El Amin (Nikohl Boosheri, "Rogue"). Then, after a faceoff with RJ Safford (Aidan Devine, "Suicide Squad," 2016), Kat was fired from Scarlet.
We left Jane crushed by her breakup with Ryan Decker (Dan Jeannotte, "Good Witch") in one of the show's biggest shockers so far. And, after finding a lump in her breast, she chose to have a double mastectomy due in part to her mother's early death from breast cancer. As we finish out this unique season, it will be interesting to see how Sutton handles long-distance marriage, what Kat's next career step will be, and how Jane handles life after surgery.
While Jane has always been on the quieter side of the group's dynamic, critics are starting to struggle with her development. In the first few episodes of Season 4, we've seen her struggle with knowing what's appropriate to say and what's not. It's starting to sour the sweetness her character has displayed until this point. Katie Stevens' performance remains strong, but Kat has had to have a few sit-downs with Jane to help her understand the impact her words can have.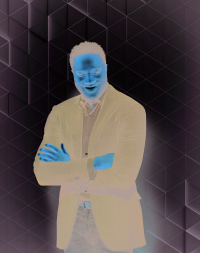 Matt Ward as seen in "The Bold Type"
While her behavior has opened up some interesting conversations and avenues for the show, we hope it's something Jane can grow through quickly. We'd love to see her get back to being a character we can root for again.
Probably the most fascinating layer to the show is the unspoken character of the magazine itself. Journalistic gems and exposées on current issues are nestled between makeup tips and shoe trends. As we watch Jane, Kat and Sutton experience the world, their magazine reflects the beauty they find in the balance between feminism and femininity.
"The Bold Type" originally premiered in 2017 and was created by Sarah Watson ("Parenthood"). It has been nominated for several awards, including a Satellite Award for Best Drama Series in 2019. Despite its popularity and wide fan base, it hasn't been renewed for a fifth season, but it hasn't been canceled yet, either. It seems the network is waiting to see how the upcoming episodes fare with viewers and critics during this uncertain time.
Before production of the show was halted due to the pandemic, we spotted a few guest stars, including Raven-Symoné ("That's So Raven"), who appeared as an influencer. There was also Tom Austen ("Grantchester"), who plays a bartender and Kat's love-interest. We wouldn't be surprised if a few other faces we recognize pop up in the back half of Season 4.
Hardin, who kept us in stitches with her roller-coaster portrayal of Jan Levinson on NBC's "The Office," directed the second episode in the second half of the season. While it was her first time directing a TV show, we're excited to see what her perspective might add to the show's development. Can her strong sense of comedic timing give the show the edge it needs to be renewed for a few more seasons?
Don't forget to follow your favorite trio in "The Bold Type" as it comes back from a midseason pandemic break. You can watch the newest episode on Thursday, June 11, on Freeform.