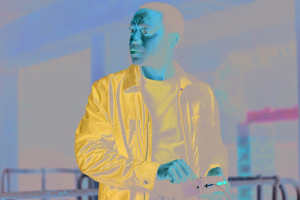 Chiwetel Ejiofor in "The Man Who Fell to Earth"
Human beings are constantly seeking answers. Whether ontological, theoretical, practical or, most recently, viral, one of the only things that we know for sure is that, as a society, we know very little. The new Showtime series "The Man Who Fell to Earth" has been capitalizing on that feeling of curiosity and helplessness since its April 24 premiere, though the crux of its story is far from new. Tune in for its first-season finale when it is released Sunday, July 3, on Showtime and Paramount .
The series, based on Walter Tevis's 1963 science-fiction novel of the same name, stars Academy Award nominee Chiwetel Ejiofor ("12 Years a Slave," 2013) as K. Faraday, an alien who leaves his own planet, Anthea, behind in search of answers. Soon after he crash-lands in the oil fields of New Mexico, viewers learn that Faraday's own planet is on the brink of total destruction, and the only way he can save it is by reaching out to the one woman on Earth who can save his species. Enter Justin Falls (Naomie Harris, "Moonlight," 2016).
Justin, described by Showtime as "a brilliant scientist and engineer," is the woman whom Faraday seeks for help. Clearly a caring soul, Justin has her own issues that need to be faced before she can come to grips with her new role as the savior of another world. As she and Faraday team up, they soon realize that neither of them can move forward with saving his planet until they have saved Earth.
Now, the concept of an alien falling to Earth and signalling a dark destiny is hardly uncharted territory. Similar plots can be seen in everything from "The War of the Worlds" (originally by author H.G. Wells, circa 1897) to the Superman stories and more, but what makes "The Man Who Fell to Earth" unique is the humanity — humanity not just found among Earthlings (for lack of a better term), but also within the main character himself, who viewers know is not human in the biological sense.
As the leading characters settle into each other's company, Justin soon realizes that, while she may want to help, she might not be equipped to handle the gravity of this unusual situation. Recoiling from Faraday and The Mission, Justin resumes her place at the head of her own family in order to offer them protection and security from the world(s) beyond. That plan, however, only lasts so long, as Faraday struggles to proceed without her and her own philanthropic nature gets the better of her.
Without getting into too many spoilers for those who have not yet tuned in (the whole series up until now is available to stream on Paramount should one wish to binge it before the finale), the duo have their work cut out for them. As The Mission leads their personal and planetary dreams into the world of Big Tech — perhaps the strangest and scariest world so far — Justin and Faraday find themselves facing down everything from their original troubles to the prying eyes of the CIA.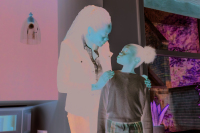 Naomie Harris and Annelle Olaleye in "The Man Who Fell to Earth"
This week, as the series approaches its first-season finale, that government organization appears to be the biggest immediate threat the pair have to face; so much so that viewers are almost likely to forget about the larger pending doom afoot for (at least) two planets.
It is important to note that "The Man Who Fell to Earth" has neither been canceled nor renewed for a second season as of writing, thus leading fans of the show to ask more questions regarding what is to come.
Of course, the overarching question is, "Will Justin and Faraday succeed in saving Earth and Anthea?," but curious minds are also apt to wonder if and how Faraday will be able to return to his family. After all, he is becoming increasingly more "human" as the series progresses.
Those who've read Tevis's source material might also wonder just how similar the storylines will be. And if showrunners Alex Kurtzman and Jenny Lumet (both of "Star Trek: Strange New Worlds") plan to stay fairly faithful to the original story, can they wrap it all up in this final episode? Will there be enough for another season or two should CBS decide to give it the green light yet again?
Regardless of the answers to these questions, it's the questions "The Man Who Fell to Earth" begs of ourselves that may hold the most weight overall. An exploration of grief, loss, helplessness, love and the feeling of doom that has become more present than ever in today's pandemic-afflicted society, this series has had viewers hooked from its opening shot.
Also starring Bill Nighy ("Love Actually," 2003), Jimmi Simpson ("Westworld"), Clarke Peters ("The Wire") and Annelle Olaleye ("Domina") across each of its 10 hour-long episodes, "The Man Who Fell to Earth" is directed by Kurtzman, Joss Agnew ("Poldark"), Sarah Harding ("Vikings") and Olatunde Osunsanmi ("Star Trek: Discovery").
Find out what is destined for Faraday, Justin and their respective planets when the Season 1 finale of "The Man Who Fell to Earth" airs Sunday, July 3, on Showtime. It is also available to stream on ViacomCBS's Paramount streaming service.