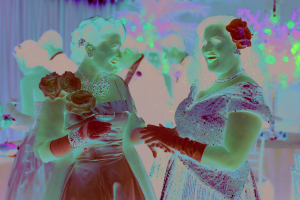 Kerry O'Malley and Allison Tolman in "Why Women Kill"
Done with deadly dames: Despite an announcement to the contrary late last year, it seems that ViacomCBS's streaming service, Paramount , has decided to pull the plug on a fan-favorite show. "Why Women Kill," the most recent campy crime soap from "Desperate Housewives" creator Marc Cherry, has been canceled following its renewal announcement in December 2021.
In an announcement made to online entertainment news magazine Variety.com, a spokesperson for the streamer formerly known as CBS All Access said, "Paramount has made the difficult decision not to move forward with Season 3 of 'Why Women Kill,'" and offered thanks to its "partners at CBS Studios and Imagine Television Studios, the amazing creator and showrunner Marc Cherry and the incredible writers, cast and crew for two memorable seasons."
Not only did the abrupt post-renewal cancelation shock many fans of the show who were excited for more of Cherry's murderous women, but Paramount also has yet to offer a reason for the cancelation (as of writing). Unfortunately, "Why Women Kill" now joins the TV graveyard home to several other female-fronted series.
Netflix's "GLOW" experienced a similar renewed-to-be-canceled situation ahead of its fourth season, but the popular streaming platform cited pandemic restrictions as a reason not to proceed with the series in October 2020. It remains canceled despite easing restrictions.
NBC's "Good Girls" also met a similar fate — this time citing poor ratings in its most recent season — and ended abruptly, on a cliffhanger, in its Season 4 finale. It is joined by Netflix's "Julie and the Phantoms" (axed after one season), Hulu's "Dollface" and Netflix's "Baby-Sitter's Club" (both canceled after two seasons, like "Why Women Kill").
"Why Women Kill's" two seasons followed an anthological format that chronicled women forced (or who willingly opted) to take matters into their own hands and kill to get what they want. While the first season spanned three decades of women living in the same house and featured an outstanding cast led by Lucy Liu ("Elementary"), Ginnifer Goodwin ("Big Love") and Kirby Howell-Baptiste ("Killing Eve"), Season 2 chose to follow one woman, Alma Fillcott (Allison Tolman, "Gaslit"), as she climbed her way up the social ladder in a seemingly perfect community run by ruthless housewife Rita Castillo (Lana Parrilla, "Once Upon a Time") and her trophy-wife followers like Mavis (Kerry O'Malley, "Annabelle: Creation," 2017).
All 20 episodes of the series are narrated by Jack Davenport ("Pirates of the Caribbean: The Curse of the Black Pearl," 2003) and remain, as of writing, available to stream on Paramount .
Fifty shades of Amy: After years of negotiations in Hollywood, producers are finally breaking ground on a long-awaited Amy Winehouse biopic.
Deadline.com announced July 11 that its sources have confirmed StudioCanal's participation in "Back to Black," an up-and-coming biographical film about the life and untimely death of U.K. soul icon and Grammy winner Amy Winehouse, who died of alcohol poisoning in 2011 at age 27.
Attached to the film is "Fifty Shades of Grey" (2015) director Sam Taylor-Johnson, taking up directing duties on this project as well. Now that Taylor-Johnson has boarded the project, sources say the film is picking up steam, with Winehouse's role to be filled "in the weeks to come" (as announced by Deadline on July 11). This casting process will be overseen by Taylor-Johnson, "Back to Black's" team of producers and with "full support from the Amy Winehouse estate."
Deadline's Justin Kroll reported that, "The film is expected to take a look at the life and music of Winehouse, who started off as a budding North London jazz singer to eventually becoming a Grammy-winning music superstar with hit records that included 'Rehab' and 'Back To Black.'"
While this would be the first biographical drama to chronicle Winehouse's life, Asif Kapadia's ("Diego Maradona," 2019) 2015 documentary film "Amy" garnered widespread acclaim and won the Oscar for Best Documentary, Feature at the 2016 Academy Awards.
"Back to Black's" script has been written by Matt Greenhalgh, who also penned the 2007 biopic "Control" about Joy Division's Ian Curtis, who took his own life at 23.
Suspending 'Time': Not dissimilar to its titular "Time Traveler," HBO's "Time Traveler's Wife" is disappearing just as quickly as it arrived. After just one season on the specialty network and its streaming affiliates, the series has officially been canceled.
Created by "Doctor Who's" Steven Moffat and adapted from the bestselling novel of the same name by Audrey Niffenegger, the series, led by Rose Leslie ("Game of Thrones") and Theo James ("Divergent," 2014), premiered May 15 and wrapped its first (now possibly only) six episodes June 19.
We say "possibly" because there has been an interesting question floating around the internet in recent days: Will Netflix save "The Time Traveler's Wife" from its terrible fate?
While there are no concrete answers to this question as of writing, the chances of this save occurring, while possible, remain slim.
According to a July 1 article by The Hollywood Reporter's Rick Porter, the HBO series' "on-air audience was fairly small, clocking in at just 223,000 same-day viewers over the course of its six-week run." While this does not account for streaming views, it seems unlikely that Netflix would take the risk — even despite the story's loyal fanbase.
That said, anything can happen in TV Land. Stay tuned!