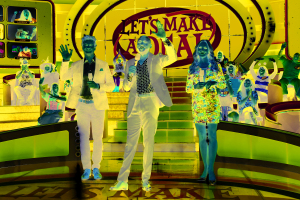 Jonathan Mangum, Wayne Brady and Tiffany Coyne in "Let's Make a Deal Primetime"
Some very special traders have been invited to potentially win incredible prizes, so long as no pesky zonks get in their way.
The first of four new installments of "Let's Make a Deal Primetime" premieres Wednesday, April 19, on CBS. In the first hour-long special, host Wayne Brady ("The Good Fight"), announcer Jonathan Mangum ("Whose Line Is It Anyway?") and model Tiffany Coyne ("The Price is Right") celebrate Military Appreciation Month a little early this year — it officially begins on May 1 — by offering former and active military members the chance to win some serious prizes and cash.
Contestants on "Let's Make a Deal Primetime" up their chances of being selected as traders by donning their finest costumes — picture the biggest swings in the Halloween fancy dress category — but being chosen to play is only the first hurdle.
Various games and challenges await the traders, from intuition-based gambling games to games of chance and skill. The prime-time edition of the daytime series has featured some of the biggest prizes in the shows' history, with last season offering up a Lamborghini that went unclaimed, while in the inaugural season (2020), one trader passed on a luxurious prize to take a chance on one of several envelopes that concealed a whopping $100,000 cash prize.
It takes the ability to thrive amongst the chaos to bring cash and prizes home from "Let's Make a Deal Primetime," from focusing on winning the various games while looking out at a sea of crazy costumes, to taking a chance on something that could be a zonk — the silly gag prizes featured on the show, like live animals or hamburger shoes.
While the current daytime revival of "Let's Make a Deal" has been on the air since 2009, the prime-time specials only began in 2020, featuring distanced and virtual deals due to the COVID-19 pandemic. This season of the prime-time edition got a one-episode bump up from the past two seasons, sweetening the deal for any fans of the show that can't get enough during the day.
To celebrate service members in-studio and participating in the premiere virtually from abroad, "Let's Make a Deal Primetime" has racked up "the biggest amount of cash and prizes" that they've ever compiled, according to a press release from CBS. While those grand prizes are being kept under wraps for now, one special premiere treat has been announced: "American Idol" winner Jordin Sparks makes a guest appearance to duet with Brady on a prize clue.
Each of the four specials have a unique theme, and the following week's episode, airing Wednesday, April 26, honors the magic of every day of the week, all in one night. First is a guaranteed win of $25,000 during "Mega Money Monday" before Coyne brings out a taco truck with a special prize inside for "Taco Tuesday." A luxurious trip to Japan, Thailand and Singapore is up for grabs on "Worldwide Wednesday," and past "Let's Make a Deal" host Monty Hall and model Carol Merrill drop in via video clips for "Throwback Thursday." "Fabulous Car Friday" closes out the night, giving one trader the chance to cruise out of there in F1 style in a MacLaren. That's not all, though, because traders have the chance to win even more modes of transportation in a Ford Mustang and a European cruise, and a bit of opulence for when they get back home: a baby grand piano.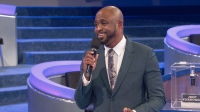 Wayne Brady in "Let's Make a Deal Primetime"
On Wednesday, May 3, "Travel Night" is a globetrotter's delight. Special guest Shaggy ("It Wasn't Me") performs for the traders as they vie for vacations to the Maldives, Bora Bora, Bali, Ibiza, Hawaii and Jamaica, among others. While some contestants may win the chance to sit back and enjoy the sun, a different kind of vacation is on the trading floor, and a seven-continent tour could certainly check some items off a lucky trader's bucket list. Maybe one of the traders is more interested in doing the vacation planning themselves? For them, the CBS press release guarantees a $50,000 cash prize to a lucky winner, and while that might be too big of an amount to lug around on a backpacking trip, booking something like a private villa might lighten the load.
The specials wind up on Wednesday, May 10, in a game-focused finale, which features a cash prize of $30,000, as well as vacations in Spain, Switzerland and the Dominican Republic. An electric Ford Mustang, a Genesis G70 and a Bentley are also on offer to the night's traders if they manage to make a deal. They'll be playing Dr. Wayne, Accelerator and Jewel Heist and wagering their way to riches, opulence or zonks.
Bust out your loudest costume and get ready to wager from home during the first "Let's Make a Deal Primetime" special, airing Wednesday, April 19, on CBS. All four installments will stream live and on demand on Paramount .