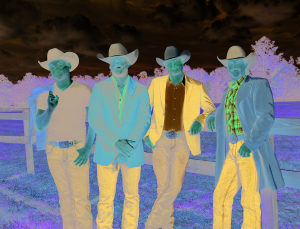 Hunter, Ryan, Landon and Allen from "Farmer Wants a Wife"
Ever since "The Dating Show" debuted in the 1965, television has increasingly played the role of matchmaker, tapping into our universal need for love and, yes, our addiction to the kind of schadenfreude only reality TV can provide.
We've watched quests for love play out in exotic locales, in cramped quarters and even in isolated pods. But this week, a new(ish) entry in the dating reality genre is moving the search to greener pastures – literally.
Ranchers and potential suitors will be looking for love in all the farm places when the new dating reality show, "Farmer Wants a Wife," premieres Wednesday, March 8, on Fox. Jennifer Nettles, lead vocalist of Grammy Award-winning duo Sugarland, is the host.
The series centers on four farmers from across the country who are hoping to find their love match from a group of suitors who have decided enough is enough: these single women all hail from "the big city" and are ready to forgo dating apps in hopes of finding love in America's heartland.
The farmer wants a wife, and if both interested parties build a strong enough connection, then the farmer has found a potential wife. But what if that potential wife doesn't like the farming life?
The willingness to adopt a new lifestyle will be put to the test over the next few weeks, as the women are exposed to the realities of living on a ranch, "from tending to the homestead to feeding cattle and baling hay" (per Fox). The official description goes on to ask, "How much of your life are you willing to change for love?" Presumably, that will be a source of conflict that will play out each Wednesday on our screens.
Unlike the "Bachelor"-like version that ran for just one season (2008) on The CW, this new dating series isn't about a single farmer whittling down the field of prospective suitors. "This is a very different format in that the contestants put themselves forward to be with these individuals," Rob Wade, president of alternative entertainment and specials at Fox Entertainment, explained in an interview with Variety. "It's tailored for each farmer, and we know that the women are interested in them specifically."
Indeed, it's based on a British format developed by Fremantle – yes, the company behind "American Idol," "Got Talent" and other huge reality TV titles – and the original "Farmer Wants a Wife" premiered in the United Kingdom on ITV in 2001.
That show spawned different iterations that have aired in 32 countries so far, including Australia, where it was produced by Eureka Productions – the same Fremantle-backed production company that is behind this version. What's more, both the franchise and Fox proudly cite the format's "phenomenal track record internationally" (per Wade), having resulted in 180 marriages thus far.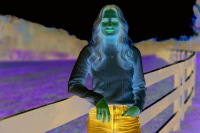 Jennifer Nettles hosts "Farmer Wants a Wife"
The fact that Fox is referring to it as "the world's most successful dating show" should give hope to the four farmers cast on Fox's show: Hunter, a 31-year-old cattle and horse rancher from Watkinsville, Georgia; Ryan, a 32-year-old horse trainer and breeder from Shelby, North Carolina; Landon, a 35-year-old cattle rancher and farmer from Alva, Oklahoma; and Allen, a 32-year-old cattle rancher from Williamsport, Tennessee.
Will "Farmer Wants a Wife" be a ratings success? There's already a lot of buzz about it, especially after Fox (smartly) ran a promo for it during Super Bowl LVII, which was viewed by an estimated 36.7 million households. And having Nettles as host adds additional star power to the mix.
"Bringing the world's most popular dating show to Fox requires a superstar host to match," Allison Wallach, president of unscripted programming for Fox, said in a statement. "And we found the perfect pairing in Jennifer, a multi-talented entertainer who's a little country, a little big city and huge on heart and humor, making her the perfect choice for wrangling romance in the heartland."
When "Farmer Wants a Wife" scored a series order last September, Wade told The Hollywood Reporter, "I think it's going to speak to a lot of people. I think it touches on this nostalgia for the past, and in a weird way, I think that makes it quite relevant in the moment."
In an interview with Variety, Wade further expanded on the idea that "Farmer Wants a Wife" will resonate with viewers: "At the moment, people are drawn to nostalgic things. The homestead farm is at the very fabric of America, and I think it's under threat. These farmers need to find girlfriends or wives, and at this point, some of them are living 400 or 500 miles away from their nearest Tinder match."
Nostalgia fueled the popularity of "Yellowstone," which has been credited with bringing renewed attention to cowboy culture. But will it also equal big ratings for "Farmer Wants a Wife?" Fox certainly hopes so, and it isn't hiding the fact that it sees the potential for future spinoffs, depending on the ratings.
For now, the focus is on bachelors Hunter, Ryan, Landon and Allen as they embark on their televised search for a soulmate. "Farmer Wants a Wife" debuts Wednesday, March 8, on Fox.