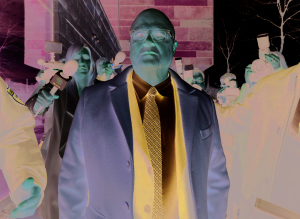 Michael Chiklis stars as Dr. Scott Corbett in "Accused"
As many TV viewers, moviegoers, podcast listeners and avid readers will already know, crime sells. Whether it is presented as true and detailed coverage of real-life cases or as wild and imaginative fiction thought up by a creative author, human beings have always been known to show a morbid interest in criminal activity and what could drive one of their own to commit cruel and potentially deadly acts. On Sunday, Jan. 22, Fox premieres "Accused," a new anthological drama series exploring the decisions that lead ordinary people to commit terrifying atrocities when they feel they have no other choice.
According to Fox, each new episode of the series is said to be a "fast-paced provocative thriller, exploring a different crime in a different city with an entirely original cast." One part procedural and two parts crime thriller, Fox's "Accused" is based on the BBC One series of the same name, which first premiered in the U.K. in 2010 and ran for two seasons. Interestingly, as British series tend to have shorter (often six-episode) seasons, Fox's adaptation of the BAFTA-winning show created by Jimmy McGovern ("Moving On") will eclipse the original in length by the end of its freshman run, coming in at 15 episodes versus the U.K.'s total of 10.
Similar to its across-the-pond counterpart, however, this new iteration of "Accused" begins each new episode in the courtroom, introducing the titular accused party before explaining their crimes, their motives or who their victims are. Another aspect that makes this series unique is the point of view from which the stories are told. While most procedurals and crime dramas adopt the perspective of either the victim or the law enforcement officials assigned to the case, "Accused" puts viewers in the hottest seat by presenting them with the supposed criminal's outlook — regardless of how accurate or unreliable it may prove to be in the end.
It makes sense that such an interesting execution of the plot should attract a few big names, and "Accused" has quite a few in its cast list — a fact that is also heavily evidenced by the network's official teaser trailer for the show. Featuring Shawn Doyle ("Don't Say a Word," 2001), Abigail Breslin ("Little Miss Sunshine," 2006), Rachel Bilson ("The O.C."), Rhea Perlman ("Cheers"), Neil Whitely ("RED," 2010), Jill Hennessy ("Crossing Jordan"), Molly Parker ("Deadwood"), Margo Martindale ("The Watcher"), Wendell Pierce ("The Wire"), Whitney Cummings ("Whitney"), Michael Chiklis ("The Shield"), Malcolm-Jamal Warner ("The Resident") and Jack Davenport ("Pirates of the Caribbean: The Curse of the Black Pearl," 2003), among others, the star power behind this series is immense and will no doubt lend a new flavor to each fresh episode.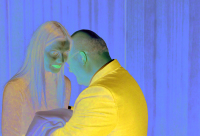 Jill Hennessy and Michael Chiklis in "Accused"
Additionally, Chiklis, Academy Award winner Marlee Matlin ("CODA," 2021), Emmy-winning quadruple threat Billy Porter ("Pose"), award-winning Palestinian filmmaker Sameh Zoabi ("Tel Aviv on Fire," 2018) and celebrated Indigenous filmmaker Tazbah Chavez ("Your Name Isn't English," 2018) are among those who each take their place behind the camera to direct an episode. "Accused" creators include "24" and "Homeland" producers Howard Gordon and Alex Gansa as well as "House's" David Shore. Further direction is also provided by Michael Cuesta ("Homeland"), Milan Cheylov ("24"), Brad Turner (both "24" and "Homeland") and writer Keith Josef Adkins ("For the People").
Adamant that "Accused" is much more "about crime and punishment" than it is a procedural in the traditional sense, Gordon and Gansa released a joint statement that was later shared by the entertainment news site Deadline.
"For years we've been living on the seismically active fault lines of race, gender, income inequality, social media FOMO and fake news," the creators' statement said. "'Accused' is our chance to work through and hold up a mirror to the interesting times we're living in right now, with characters that break your heart. There's nothing more pressure-filled and character defining than someone who commits a crime."
Fox, meanwhile, is delighted to add another series to its winter 2023 lineup, thus continuing the network's "legacy of bold risk taking and inventive storytelling," per Charlie Collier, Fox Entertainment CEO.
"Howard [Gordon], Alex [Gansa] and David [Shore] ... are tremendous artists responsible for some of the most important and beloved series ever on television," continued Collier in an official statement. "It's a joy to once again bet on their creative brilliance."
While episode synopses and crime/plot details are being kept closely guarded as of writing, Fox has noted its intention to show how an "ordinary person [can get] caught up in an extraordinary situation" and "how one wrong turn leads to another, until it's too late to turn back." Of course, just as various factors influence the justice system in real life, "Accused" does its best to weave gender, sex, politics, socio-economic status, race and more into the cases to create conflicting circumstances and point to barriers and biases in the prosecution process.
Those interested in checking out the original "Accused" might struggle to find it, but it stars Chord Melodic ("Coronation Street"), Andrew Readman ("The Mark of Cain," 2007) and Rosina Carbone ("Gentleman Jack") in recurring roles across both seasons, while Andy Serkis ("Rise of the Planet of the Apes," 2011), Sean Bean ("Game of Thrones"), Peter Capaldi ("Doctor Who") and Olivia Colman ("The Favourite," 2018) are among the show's many guest stars.
Don't miss the premiere of "Accused" when it lands on Fox Sunday, Jan. 22.