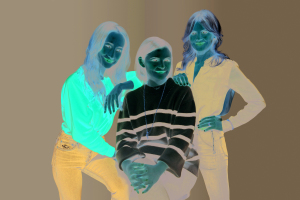 Maggie Q, Ginnifer Goodwin and Eliza Coupe star in "Pivoting"
Fox's newest comedy-drama series, "Pivoting," is all about strengthening friendships and stumbling through life in the pursuit of happiness. Coming to the network on Sunday, Jan. 9, the show stars Maggie Q ("Death of Me," 2020), Ginnifer Goodwin ("Why Women Kill") and Eliza Coupe ("The Estate," 2020) as three friends in the aftermath of a tragedy. Full of heartache and laughter, "Pivoting" is an anthem for anyone who's ever felt that life is too short not to live a life you love.
After experiencing the death of their dear childhood friend Colleen, Amy (Coupe), Sarah (Q) and Jodie (Goodwin) take a mourning period to reflect on her death, both independently and as a group. Each now dead set on living their lives to the fullest, it's important to recognize that "Pivoting" is not the story of a joint mid-life crisis. It's a sensitive comedy about the urgency of life and never knowing when it could all come to an end.
Amy's main focus going forward is to be a better mom, and Sarah quits her job in medicine to take on a more lighthearted career. Meanwhile, Jodie takes a more aesthetic approach to her new lease on life: she wants nothing more than to fit into her skinny jeans again. While each of these decisions seems easy enough to accomplish, the friends come to realize that mothering isn't all that easy and losing weight after a certain age is challenging — not to mention that not all jobs require you to "put organs back in a body," as Sarah says.
But this change is for the better, and when you have a team of friends behind you, there are no skinny jeans too tight. The question now is: Will they learn to appreciate the lives they have in pursuit of the lives they want?
"Pivoting," which also stars J.T. Neal ("Bless This Mess") and Tommy Dewey ("The Mindy Project") in supporting roles, offers a realistic and wholesome approach to the "You only live once" and "Life is short" mantras often used to excuse impulsive and dangerous life choices. From the information released about the show so far, TV viewers seem excited to follow a storyline about such a relatable trajectory. (Who doesn't love seeing the beauty and humor in ordinary failures? That gets many of us through the day!)
Writer and executive producer Liz Astrof is the mastermind behind "Pivoting's" promising storyline. Astrof, who works with Kaplan Entertainment, is also known for her work on the comedies "Two Broke Girls" and "The King of Queens." This is her first major project since "The Conners" began in 2018.
Astrof's involvement also marks the second Kaplan series for Fox, as "Pivoting" joins "Housebroken," the adult animated series that follows a community of pets navigating group therapy and their domesticated lives.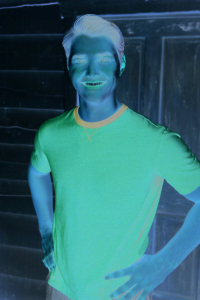 J.T. Neal stars in "Pivoting"
Aside from the relatable bitter-sweet storyline, many fans are excited for "Pivoting" simply because Fox considered the show good enough to make the cut. After the 2020 shutdowns, several pilots sat in post-production limbo at the network and Fox was unsure if any of them would ever make it to the screen. Some series, such as "The Goonies" spinoff and "Blood Relative," did not go through, but "Pivoting" joins a lineup of lucky programs such as "This Country" and "The Cleaning Lady."
The network has also recently done some pivoting of its own. Six of its new shows feature female protagonists instead of the network's historically male protagonists — especially true of its comedies. "Pivoting" and "Call Me Kat," the latter of which was recently picked up for a second season, mark the third time in a decade that Fox has simultaneously featured two half-hour shows with female leads.
And when it comes to casting female leads, "Pivoting" knocks it out of the park.
Rom-com favorite Ginnifer Goodwin has lent her talent to airier projects that include "Zootopia" (2016), "Once Upon a Time" and "Mona Lisa Smile" (2003), and that's just the start of her well-rounded resume.
Audiences will know Maggie Q for her role in 2014's "Divergent" and several TV series, including "Nikita," "Stalker" and "Designated Survivor," while co-star Eliza Coupe brings the most situational-comedy experience to the trio, having appeared in "The Mindy Project," "Scrubs" and the 2014 legal comedy "Benched."
With their unique backgrounds that span diverse genres, these leading women bring more to their characters than what's in the script. They each have a stylistic approach to portraying their characters, and they truly bring Amy, Sarah and Jodie's personalities to life. From the intense focus of a medical practitioner and the emotional drama of body transformation to the lighthearted patience and mental stamina needed to survive the chaos of motherhood.
These friends are different, yes, but they're all connected by a shared grief that compels them to grow stronger together. And while Fox's official news release for "Pivoting" describes the women's decisions as "impulsive, ill-advised and self-indulgent," anyone who's experienced loss knows the healing power of uninhibited decisions.
Join lifelong friends Amy, Sarah and Jodie as they press reset and pivot towards new experiences in the series premiere of "Pivoting," airing Sunday, Jan. 9, on Fox.