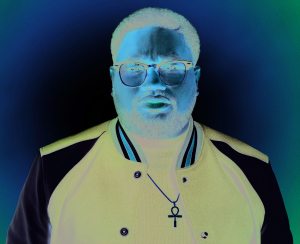 Lil Rel Howery stars in "Rel"
As students trudge back to class and the smell of pumpkin spice fills the air, television viewers can look forward to a new season of laughs. The major networks have a crop of new fall comedies, and there's something for everyone.
One of the first new comedies out of the gate will be Fox's "Rel," which is set to launch with a special sneak preview following an NFL doubleheader on Sunday, Sept. 9. Loosely based on the life of series star Lil Rel Howery ("Get Out," 2017), the show follows a recently divorced husband and father as he struggles to put his life back together.
"Rel" marks the return of comedy legend Sinbad ("Jingle All the Way," 1996) as Rel's father. Newcomer Jordan L. Jones portrays Rel's wayward younger brother, Nat, while Jess Moore ("All Def Comedy") plays his best friend, Brittany. Behind the scenes, Howery joins Mike Scully ("The Simpsons"), Jerrod Carmichael ("The Carmichael Show") and Josh Rabinowitz ("Broad City") as executive producers.
Fox's prime-time schedule also boasts a couple of other comedies, including a revival of Tim Allen's ("The Santa Clause," 1994) "Last Man Standing," which aired on ABC from 2011 to 2017. "The Cool Kids" stars Martin Mull ("Sabrina, the Teenage Witch"), David Alan Grier ("In Living Color") and Leslie Jordan ("Will & Grace") as a trio of elderly gentlemen who run afoul of a new resident in their retirement community, played by Vicki Lawrence ("The Carol Burnett Show").
Over on ABC, another TV veteran is set to return to prime time. Brad Garrett ("Everybody Loves Raymond") is part of the ensemble cast of "Single Parents," which begins Wednesday, Sept. 26. Single dad Will Cooper's (Taran Killam, "Saturday Night Live") whole world revolves around his daughter (newcomer Marlow Barkley), so a group of fellow single parents decide to help Will reclaim at least some of his adult life. His newfound friends include wealthy retiree Douglas (Garrett), scrappy mom Angie (Leighton Meester, "Gossip Girl"), hippy-ish mother Poppy (Kimrie Lewis, "Scandal") and sleep-deprived 20-year-old single dad Miggy (Jake Choi, "Hawaii Five-0"). The young cast includes newcomer Devin Trey Campbell as Rory, Tyler Wladis ("A Christmas Story Live!") as Graham, and sisters Mia and Ella Allan ("Jane the Virgin") as Emma and Amy. The series was co-created by "New Girl's" Elizabeth Meriwether and J.J. Philbin ("The O.C.").
In addition to "Single Parents," the alphabet network is going back in time with the '70s-era "The Kids Are Alright," a comedy about a traditional Irish Catholic family in a working-class neighborhood outside Los Angeles. ABC has also greenlit a 10-episode order for a spinoff of "Roseanne," tentatively titled "The Connors," which will bring back Dan (John Goodman, "The Big Lebowski," 1998), Jackie (Laurie Metcalf, "The Big Bang Theory"), Darlene (Sara Gilbert, "The Big Bang Theory"), Becky (Alicia Goranson, "Boys Don't Cry," 1999) and D.J. (Michael Fishman, "Hitz").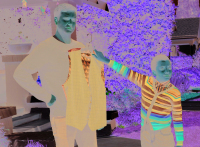 Taran Killam and Devin Trey Campbell in "Single Parents"
CBS continues the TV revival trend with a revamped "Murphy Brown," scheduled to premiere Thursday, Sept. 27. Emmy winner Candice Bergen ("Boston Legal") reprises her role as the eponymous investigative journalist. Frustrated by rampant attacks on the press, she decides to return to the airwaves and enlists the help of her former colleagues: reporter Corky Sherwood (Faith Ford, "Hope & Faith"), journalist Frank Fontana (Joe Regalbuto, "Knot's Landing") and news producer Miles Silverberg (Grant Shaud, "Batman: The Animated Series"). Social media director Pat Patel (Nik Dodani, "Atypical") and Brown's grown son, Avery (Jake McDorman, "Limitless"), provide a more youthful perspective. TV veteran Tyne Daly ("Cagney & Lacey") joins the cast as Phyllis, who now runs Phil's Bar.
The CBS fall comedy roster continues on Monday, Oct. 1, with the premiere of "The Neighborhood." Gemma (Beth Behrs, "2 Broke Girls") and her husband, Dave (Max Greenfield, "New Girl"), move their family from Michigan to California, where not everyone appreciates Dave's friendly nature. Cedric the Entertainer ("The Steve Harvey Show") co-stars.
Damon Wayans Jr. ("New Girl") headlines the new CBS comedy "Happy Together," also slated to premiere on Oct. 1. Couple Jake (Wayans) and Claire (Amber Stevens West, "Greek") find their uneventful suburban life turned upside down when pop superstar Cooper James (Felix Mallard, "Neighbours") decides to move in with them.
The folks at NBC are hedging their bets with a couple of new comedies. Amy Poehler ("Parks and Recreation") has signed on to executive produce "I Feel Bad," set to launch on Thursday, Oct. 4. Based on the Orli Auslander book "I Feel Bad: All Day. Every Day. About Everything.," the series stars Sarayu Blue ("Sons of Tucson") as a woman struggling to have it all as the perfect daughter, mother, wife and boss. Paul Adelstein ("Prison Break") co-stars. On the flipside is the new NBC comedy "Abby's," about an unlicensed makeshift bar in San Diego. Natalie Morales ("The Grinder") stars as the titular character, whose bar is the opposite of everything annoying about the modern bar scene. The cast also includes Neil Flynn ("The Middle").
Don't miss the harvest of laughs as ABC, CBS, Fox and NBC serve up a mix of fresh ideas and tried-and-true recipes in the 2018 fall comedy season.