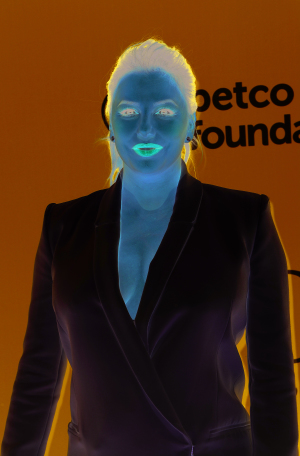 Eva Longoria to star in Apple TV series "Land of Women"
By the book: In the three years since Apple TV debuted — and the two since "Ted Lasso" became its first breakout hit — the streaming service has been steadily growing its stable of original scripted programming. Just recently, it gave a series order to a new six-episode dramedy starring and executive produced by Eva Longoria ("Desperate Housewives").
Inspired by Sandra Barneda's bestselling novel, "Land of Women" is the story of Gala (Longoria), a New York empty-nester whose life is upended when her husband implicates the family in financial improprieties. Suddenly, Gala is forced to flee her home with her aging mother, Julia (Carmen Maura, "Volver," 2006), and college-age daughter.
Apple describes the series as follows: "To escape the dangerous criminals to whom Gala's now vanished husband is indebted, the three women hide in the same charming wine town in northern Spain that Gala's mother fled 50 years ago, vowing never to return. The women seek to start anew and hope their identities will remain unknown, but gossip in the small town quickly spreads, unraveling their deepest family secrets and truths."
Filming will take place in Spain, where the six episodes will be shot in both English and Spanish, allowing viewers to watch the story unfold in either language. Carlos Sedes ("Now and Then") will direct the series, which was created and written by "Velvet" and "Gran Hotel" collaborators Ramón Campos and Gema R. Neira.
Series lead Longoria will also serve as executive producer via her UnbeliEVAble Entertainment production company, which has been involved with HBO Max's summer streaming hit "Gordita Chronicles," NBC's "Telenovela" and ABC's "Grand Hotel," among others.
Taking flight: Fresh off her second Emmy nomination for "The Flight Attendant," star Kaley Cuoco recently boarded a new Peacock series.
Cuoco will play the lead in "Based on a True Story." Described as a dark comedic thriller, the series hails from Craig Rosenberg ("The Boys"), who will serve as writer, showrunner and executive producer alongside Jason Bateman ("Ozark"), among many others.
In the series, Cuoco will play the role of a married woman named Ava Bartlett, but that's all we really know about her character so far. The series is said to be inspired by a bizarre true event and involves "a realtor, a plumber and a former tennis star whose lives unexpectedly collide, exposing America's obsession with true crime, murder and the slow-close toilet seat."
When Deadline first reported Cuoco's involvement (and speculated that Ava was the "realtor" from the series description), fans of "The Flight Attendant" worried that the HBO Max series may not return for a third season. Cuoco's reaction to her character's two-season story arc in a May interview with People didn't help matters.
"I think for me, at this moment," the actress stated, "the plane has landed."
It should be noted, however, that Cuoco hasn't ruled out returning to the role if creator/exec producer Steve Yockey finds the right premise to keep the story going.
According to Deadline, Cuoco's involvement with "Based on a True Story" is a two-season deal, but reportedly it could allow her to return to "The Flight Attendant" if the story is right. The "Big Bang Theory" alumna is also attached to a Doris Day limited series for Warner Bros. TV and is currently shooting the feature film "Role Play."
Hamming it up: Remember that Apple TV ad in which Jon Hamm (humorously) complained about the streamer featuring everyone but him? The aptly titled "Everyone But Jon Hamm" commercial included a shot of the former "Mad Men" star watching "The Morning Show" and commenting, "Jen[nifer Aniston] and Reese [Witherspoon] … no Jon. Feels like a missed opportunity!"
Well, it all worked out well for Hamm.
Already the winner of an Emmy and two Golden Globes, Hamm picked up another Emmy nomination (his 16th) for that TV spot. Apparently, Apple TV also agreed with him about the "missed opportunity" part, because the "Top Gun: Maverick" (2022) actor has officially been brought into the Apple fold.
Hamm has been added to the cast of "The Morning Show" for its third season, which was scheduled to go into production just a few weeks ago.
He will play the role of Paul Marks, described as a corporate titan who "sets his sights on UBA, pulling Billy Crudup's Cory, Jennifer Aniston's Alex and Reese Witherspoon's Bradley into his powerful orbit."
At an FYC event, Witherspoon teased Hamm's character, describing him as being "very complex."
"He's a media mogul and he gives Billy Crudup a run for his money," Witherspoon added, "which I think is the most fun part, too, because Billy could eat a scene like I've never seen somebody eat a scene and Hamm gets to come in and give him a great foil."
While Season 2 ended with a few cliffhangers, including Cory's love confession to Bradley, Season 3 will bring a few changes behind the camera, too, as Charlotte Stoudt ("Pieces of Her") takes over the role of showrunner from Kerry Ehrin ("Bates Motel"), who has moved to a consulting role.