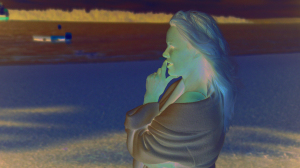 Pamela Anderson reflects on her life and career in "Pamela, A Love Story"
People who lived through the wild tabloid craze of the 1990s and early 2000s know that the ultimate covergirl of that era of celebrity gossip rags is Pamela Anderson. The "Baywatch" star, reigning Playboy cover queen and animal rights activist takes audiences behind the scenes of the many chapters of her life in the feature documentary, "Pamela, A Love Story," premiering Tuesday, Jan. 31, on Netflix.
Anderson's life has been dissected by the writers of magazines, books and blogs, and by TV entertainment reporters for decades. But in "Pamela, A Love Story," she offers viewers her own perspective on the events of her life. Anderson recounts her upbringing, career and marriages alongside introspection on "her lifelong pursuit of love," according to a December article on Netflix's Tudum. Deploying her signature sense of humor, Anderson remarked upon her many whirlwind romances by saying, "When you're not looking for love, it finds you ... and I guess I'm easy to find."
Born in Ladysmith, B.C., a small town on the coast of Vancouver Island, Anderson moved to Los Angeles after early success posing for Playboy magazine before pivoting to acting. She featured in the popular ABC sitcom "Home Improvement" as Lisa before becoming the breakout bombshell C.J. Parker in "Baywatch" from 1992 to 1997. Anderson also pursued a film career, notably starring in the cult hit "Barb Wire" in 1996 and making a semi-autobiographical appearance in 2003's "Scary Movie 3."
Arguably more known for her love life, Anderson has been married several times, most famously to heavy metal band Mötley Crüe's drummer, Tommy Lee, with whom she shares two sons. Anderson was married to and divorced from "Cowboy" singer Kid Rock in 2006, after which she married and divorced poker player Rick Salomon twice — first in 2007 and again in 2014. Most recently, Anderson returned to her hometown to build a dream home, as documented in the HGTV series "Pamela's Garden of Eden." While there, she met a Ladysmith local, and the pair married in 2020 but divorced in 2022.
All from relatively different worlds, the husbands all seem to have one thing in common: no bad blood. "Pamela, A Love Story" director Ryan White ("Good Night Oppy," 2022) told Vanity Fair in December that "all of [Anderson's] husbands are a part of her story, so they're all in our film, including the most recent one." It's not all about the juicy details, though, as White highlighted the sweet silver lining of being someone who so easily falls in love, saying, "No matter how many times it hasn't worked out for her, she still is a hopeless romantic and looking for true love in every way."
These days, Anderson mostly stays out of the limelight, but a recent miniseries and some family motivation pushed her to make "Pamela, A Love Story." The 2022 Hulu miniseries "Pam & Tommy" dramatized the events surrounding the theft and distribution of a tape belonging to and depicting Anderson and her then-partner, Lee.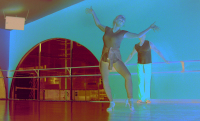 Pamela Anderson and Gregory Butler, in a scene from "Pamela, A Love Story"
Anderson was not involved with "Pam & Tommy," and comments shared with Entertainment Tonight by a source close to the star last January made it clear that Anderson was not interested in its exploration of that time in her life. The source told Entertainment Tonight, "[Anderson] feels so violated to this day. It brings back a very painful time for her." The source added, "It is shocking that this series is allowed to happen without her approval."
Anderson herself shared in an email to Vanity Fair that it was persuasion from her oldest son, Brandon Thomas Lee ("The Hills: New Beginnings"), that made her pull out her personal archives. Anderson shared, "Brandon can talk me into anything with his sincere heart and a fierceness that only a son could have ... he wanted me to tell my story authentically and without distortion." Brandon also sat down for the documentary and serves as a producer for the film alongside White, Primetime Emmy-nominated "The Keepers" producer Jessica Hargrave and Outstanding Nature Documentary Emmy winner for "Trophy" (2017), producer Julia Nottingham.
While Anderson looks back on years past, she also looks ahead in "Pamela, A Love Story," or rather into a dance studio mirror. Anderson took Broadway by storm in an eight-week run of "Chicago" as Roxie Hart in spring 2022, and all of the preparation and rehearsals were caught on camera for the film. "You can't discount Pamela. She's been discounted her whole life and she totally pulled it off," White told Vanity Fair about Anderson's stage turn and the valley between public perception and the real Anderson.
A memoir, "Love, Pamela," will release in tandem with the premiere of the documentary on Jan. 31, and with her side finally out in the open, Anderson admitted to Vanity Fair that that is enough reflection for now. She shared, "The documentary I haven't seen, and I have no intention of seeing. I gave full access to my archives and diaries, and I hope that through full transparency, it makes sense to somebody."
Take a peek inside the life of one of pop culture's most infamous blondes and catch the premiere of "Pamela, A Love Story" when it drops Tuesday, Jan. 31, on Netflix.