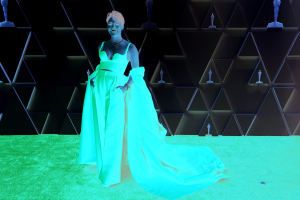 Ariana DeBose, seen here at the 2022 Oscars, hosts the 75th Annual Tony Awards
Now that the 2022 awards season is well underway, fans of the performing arts are reminded of a rare, coveted, acronymic title: EGOT winner. Bestowed upon those who have won all four major awards in the United States performing arts scene — an Emmy, a Grammy, an Oscar and a Tony — the honor is one of the highest in the industry.
It's true that the Oscars and the Grammys have already taken place this year (and the Daytime Emmys are scheduled to air June 24), but one awards show promises to make waves on small screens across North America this week. The 75th Annual Tony Awards airs live Sunday, June 12, on CBS and Paramount .
Named for Antoinette Perry, the multitalented wartime leader of the American Theatre Wing who had recently died, the first Tony Awards were held in 1947 and designed to honor the best in live theater performance. Now three-quarters of a century later, the tradition continues; this time from Radio City Music Hall in New York City, just steps from one of the world's most famous theater districts: Broadway.
Back in full swing following a series of delays and postponements during the coronavirus pandemic, this year's event features a pre-show event, named "The Tony Awards: Act One," hosted by American actor/singer/songwriter Darren Criss ("Glee") and former "Dancing With the Stars" professional Julianne Hough. While that segment will only be available to stream on the platform, the Tony Awards show itself will be simulcast across both the streamer and its home network.
Hosted by Academy Award winner Ariana DeBose ("West Side Story," 2021), this year marks the first time in history that the four-hour event will be broadcast live from coast to coast. While the nominees include 34 shows that span several different genres and a total of 26 awards categories, only one show has managed to rake in 11 nominations of its own.
"A Strange Loop," the Pulitzer Prize-winning musical from Michael R. Jackson ("Only Children" at NYU's Frederick Loewe Theatre), will likely walk away with at least one Tony this year, given its nominations in nearly half of the ceremony's categories. It tells the story of Usher (newcomer Jaquel Spivey), a Black, queer writer who is writing a play about a Black, queer writer named Usher, who is, in turn, also writing a play about a Black, queer writer named Usher. As the show's title suggests, Usher is stuck in a "strange loop," a term coined by American cognitive scientist and author Douglas Hofstadter (of "Gödel, Escher, Bach: An Eternal Golden Braid" literary fame).
Some of the categories within which "A Strange Loop" is nominated are Best Musical, Best Musical Score, Best Actor in a Musical (for Spivey), Best Direction of a Musical (for Stephen Brackett of 2019's "Be More Chill") and Best Book of a Musical.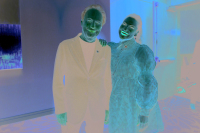 Billy Crystal and Shoshanna Bean are both nominated for a Tony "Mr. Saturday Night"
Also seeing several nominations at this year's awards are Best Musical nominees "Six: The Musical," "Girl From the North Country," "MJ," "Paradise Square" and the Billy Crystal-led musical comedy "Mr. Saturday Night."
Crystal, who is famous for his on-screen roles in "When Harry Met Sally" (1989), "City Slickers" (1991) and the 1992 film version of "Mr. Saturday Night," takes to the stage to reprise his movie role as Buddy Young Jr., a comedian who has found fame and some fortune working in the early days of television. Now aging out of his career as he witnesses his own decline in popularity, Buddy tries his hand at one last hurrah while also trying to repair his broken family life behind the scenes.
Starring alongside Crystal (nominated for Best Actor in a Musical and as a part of the team for Best Book of a Musical) in this new Broadway hit are Randy Graff ("Rent," 2005), David Paymer ("The Marvelous Mrs. Maisel"), Chaston Harmon ("Paterson," 2016) and singer/songwriter Shoshana Bean ("Bill & Ted Face the Music," 2020), the latter of whom is also nominated for Best Actress in a Musical.
And while musicals do often draw the most attention when it comes to the glitz and glamour of Broadway productions, the plays must not be overlooked.
Nominated this year for Best New Play are "Clyde's," "Hangmen," "The Lehman Trilogy," "The Minutes" and "Skeleton Crew," while "American Buffalo," "How I Learned to Drive," "Take Me Out," "Trouble in Mind" and "For Colored Girls Who Have Considered Suicide/When the Rainbow Is Enuf" are all being considered for Best Play Revival.
Familiar names to TV fans at this year's Tony include Uzo Aduba ("Orange Is the New Black") for her role as the titular character in "Clyde's," Phylicia Rashad ("The Cosby Show") for her role as factory worker Faye in "Skeleton Crew," Patti LuPone ("Pose") for her role in the revival of "Company," Jesse Tyler Ferguson ("Modern Family") for his role as non-sporty manager Mason Marzac in the baseball-themed play "Take Me Out," and Hugh Jackman ("Les Misérables," 2012) for his leading role as Harold Hill in "The Music Man" revival.
Getting out to see a live show on Broadway during these trying times may be difficult for many, but tuning in to the Tony Awards couldn't be easier. Celebrate theater's finest when the 75th Annual Tony Awards airs Sunday, June 12, on CBS. The event and its pre-show will also be available that day on Paramount .