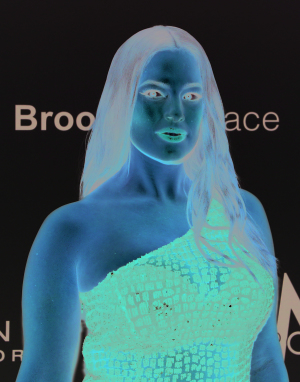 Ashley Graham will host "Barbie Dreamhouse Challenge"
In the Barbie world: Like Barbie the doll, "Barbie" the movie (2023) is influencing pop culture, and it hasn't even hit theaters yet.
The first photos from the set of the Greta Gerwig ("Lady Bird," 2017)-helmed movie launched the Barbiecore craze – the hot pink aesthetic that took the home and fashion worlds by storm last summer. Now, Barbie's signature style is poised to creep into HGTV programming.
Body-positive supermodel Ashley Graham has been tapped to host the four-episode "Barbie Dreamhouse Challenge," in which HGTV stars transform a Southern California home into a real-life version of Barbie's iconic Dreamhouse.
"I cannot wait to see Barbie's signature style get the life-sized treatment in an actual home," Graham said in an official statement. "She holds such a special place in my heart, especially since Mattel created a one-of-a-kind doll of me back in 2016. It feels like such a full circle moment now that I have a hand in the creation of her real-life Dreamhouse."
Expect to see Graham drive a Barbie pink corvette on the show, while the reno and decorating experts will turn each room into snapshots of Barbie's world through the years.
It should be a lot of fun for fans of the iconic fashion doll, who, according to Mattel, has changed careers more than 200 times (and worn about a billion different outfits) since 1959.
It's also worth noting that the film, which stars Margot Robbie ("Babylon," 2022), hails from Warner Bros. Pictures, while HGTV is owned by Warner Bros. Discovery.
"We are now part of the bigger Warner Bros. Discovery world and the 'Barbie' movie has got such buzz already that we thought, what can we do to really amplify that on one of our networks?" Kathleen Finch, chairman and chief content officer of U.S. Networks Group at Warner Bros. Discovery, explained in an interview with Variety.
"We had great luck a number of years ago when we bought and remodeled the 'Brady Bunch' house. So, we're putting that same sort of hat on as we do this idea. And we have got the biggest cast of HGTV stars we've ever assembled for one show. Plus, we've pulled in some Food Network talent because we're going to do some content across other networks in celebration of this big event. And we're just going to spend the summer being all things Barbie across, not only Food Network and HGTV, but the entire Warner Bros. portfolio with the movie coming out."
Smart casting: Fresh off her appearance in the Showtime series "George and Tammy," Jessica Chastain is set to headline Apple TV 's new limited series, "The Savant."
The streamer has remained relatively tight-lipped about plot details and Chastain's character. But "The Savant" is said to be inspired by a true story that appeared in the August 2019 issue of Cosmopolitan, and based on that, the series could presumably chronicle the efforts of a woman known as "the Savant," who infiltrates hate groups online in order to prevent public attacks.
Chastain, who won an Academy Award for her star turn in "The Eyes of Tammy Faye" (2021), will also serve as executive producer via her Freckle Films banner.
Also picking up credits as executive producer are Jessica Giles, editor-in-chief of Cosmopolitan; Melissa James Gibson ("Anatomy of a Scandal"), also the show's writer and showrunner; and Matthew Heineman ("A Private War," 2018), who will direct. The writer of the original piece in Cosmopolitan, Andrea Stanley, is on board as a consultant.
More of 'You': Drew Barrymore, host of "The Drew Barrymore Show," has repeatedly demonstrated her love for the Netflix series "You." So one would assume that she, along with the show's many fans, was relieved to hear Netflix has officially renewed it for a fifth season.
There's just one catch: Season 5 will also be the final chapter of the popular thriller.
Starring Penn Badgley ("Gossip Girl"), the series originated on Lifetime after Netflix passed on the initial pitch, only to see it become an international hit after its streaming debut in December 2018. It became a Netflix Original after Season 1, and following its Season 4 premiere, the show made it to Netflix's Top 10 in 90 countries.
Badgley is returning for Season 5, of course, but behind the scenes, showrunner Sera Gamble ("Supernatural") has stepped away from the role in order to focus on other projects but will remain as an executive producer. Michael Foley ("How to Get Away With Murder") and Justin W. Lo ("Mistresses"), both executive producers that have been with the show since Season 1 and Season 2, respectively, will now serve as co-showrunners.
"Making the show alongside our writers, producers, directors, cast and crew has been an honor and ridiculously fun," Gamble said in an official statement. "And I feel lucky to have worked with an artist as gifted and thoughtful as Penn Badgley. I'm proud of what we've all accomplished and feel privileged to pass the torch."
"'You' became an instant sensation on Netflix with a resounding cultural impact that has grown season over season," Peter Friedlander, Netflix's VP of scripted series, also said in a statement. "We're excited — and a bit terrified — to see how it all ends for Joe Goldberg [Badgley's character], but one thing is for sure: You are in for an unforgettable ending."