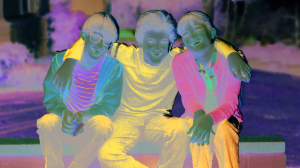 Josh Saviano, Fred Savage and Danica McKellar in "The Wonder Years"
Back to 'The Wonder Years': Networks are still riding a wave of '80s nostalgia — in fact, they've added a few more familiar titles to the list of reboots, remakes and spinoffs currently in the works.
Among ABC's first pilot pickups in 2021 is the planned reboot of the family drama "The Wonder Years," which aired from 1988 to 1993 and starred a young Fred Savage ("Friends From College") in his breakout role.
Before you start crooning the theme song (Joe Cocker's rendition of "With A Little Help From My Friends") and reminiscing about Kevin (Savage), Winnie (Danica McKellar, "Inspector Mom") and Paul (Josh Saviano, "Law & Order: Special Victims Unit"), know that executive producer Lee Daniels ("Empire") wants to take the show in a different direction.
This one is truly a reboot, and an interesting one at that, because the focus will shift to the experiences of a Black middle-class family living in Montgomery, Ala., during the turbulent late '60s. There are no plans to revisit the Arnolds — at least not in the pilot, which begins filming this spring.
But don't feel bad for Savage, because he plays a big role in this updated "Wonder Years." Savage will direct the pilot and he serves as the series' executive producer alongside Daniels, "Frasier" staff writer Saladin K. Patterson (who is penning the script) and Marc Velez ("Good People," 2020), president of Lee Daniels Entertainment. The original series' co-creator, Neal Marlens, is also attached as a consultant.
Meanwhile, another remake is in the works at NBC, which is looking to relaunch "Kate & Allie." Airing from 1984 to 1989 on CBS, the original series starred Jane Curtin ("3rd Rock From the Sun") and Susan Saint James ("McMillan & Wife") as two best friends who are raising their children in the same household, and that's the premise for the updated version, too.
Co-executive producer Erica Oyama ("Never Have I Ever") has been tasked with writing a script for a possible pilot. And while there's no guarantee the new "Kate & Allie" will make it to the small screen any time soon, it's worth noting that NBC gave it a put-pilot commitment, which means the network will have to pay a penalty if it decides to pull the plug on the project.
'Parks' pilot: Kevin Costner ("Dances With Wolves," 1990) made his name in some of the biggest films of the 1980s and 1990s, but lately the actor has been peppering his lengthy acting resume with a couple of TV credits, and it seems another one is on the way.
Costner's newest TV project, "National Parks," was recently handed a pilot order courtesy of ABC. It has been pitched as a one-hour drama that follows a small group of elite National Parks Service agents as they solve crimes while protecting the parks, which are known for sweeping landscapes that also "attract a vast array of criminal activity" (per the series logline).
The series was tentatively titled "ISB" (for Investigative Services Branch) when it was first announced back in December 2019. According to The Hollywood Reporter, the pandemic threw a wrench in ABC's plans to film a pilot in 2020, so the network opted to extend its options into 2021.
Now that it has officially moved into the pilot stage (again), "National Parks" marks Costner's second major television production (the first is Paramount Network's "Yellowstone"), though it doesn't look like Costner will appear on-screen. "National Parks" would give Costner his first television-writing credit, however, which he'll share with showrunner Aaron Helbing ("The Flash") and author Jon Baird. The three also serve as executive producers, as will Anthony Hemingway ("Underground"), who will reportedly direct the pilot.
Rising stock: Last December, Deadline broke the news that actor Jared Leto ("Suicide Squad," 2016) was in early talks to join a new limited series from Apple TV Plus. It has now been confirmed: Leto will play a lead role in "WeCrashed."
The series is based on the hit podcast "WeCrashed: The Rise and Fall of WeWork," which delves into the story of the popular purveyor of shared office space. But the person at the center of it all was the company's charismatic CEO, Adam Neumann, who resigned following the company's failed attempt to go public in 2019.
From toasting layoffs to trademark payments received for the company's use of "We," Neumann's antics and management style became a point of contention by the fall of 2019 when the company's business model and its initial valuation of $47 billion came under heavy scrutiny and proceeded to fall to $2.9 billion in 2020. It's a chaotic business story, but it's perfect fodder for a television adaptation, especially with Leto in the role of the maligned messianic CEO.
Oscar-winning Leto, who hasn't had a television role since 1994's "My So-Called Life," will star opposite award-winning actress Anne Hathaway ("Modern Love"). Hathaway will play the role of the former CEO's wife, WeWork co-founder Rebekah Neumann, who served as the chief brand and impact officer while also overseeing the WeGrow private school.
Both performers will serve as executive producers, along with "This Is Us" directors John Requa and Glenn Ficarra. It's worth noting that this isn't the only project based on the WeWork story: "You're the Worst" creator Stephen Falk is also working on an adaptation that, fittingly, stars "Succession" actor Nicholas Braun.