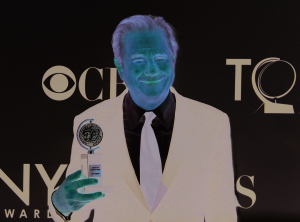 John Larroquette, seen here with his Tony Award, to star in the reboot of "Night Court"
Back in session: Actor John Larroquette ("The Practice") is due back in court -- "Night Court," that is.
NBC has handed a pilot order to a proposed revival of the 1980s legal sitcom. What's more, original cast member Larroquette is set to return as "former" prosecutor Dan Fielding, a role that earned him four of his five Emmy statuettes.
If you've ever quoted the line "but I'm feeling much better now," you probably tuned in to the original series when it aired on NBC from 1984 to 1992. It starred Harry Anderson ("Dave's World") as offbeat judge Harold "Harry" T. Stone, who presided over a Manhattan arraignment court, and a cast of unconventional characters.
Sadly, Anderson died in 2018, so this new "Night Court" will focus on his character's daughter, Abby Stone (played by "The Big Bang Theory's" Melissa Rauch), as she follows in her father's footsteps.
Presiding over the night shift at the municipal court, Abby will try to "bring order to its crew of oddballs and cynics" (per the official announcement), though there's no word yet on why Larroquette's once-lustful character is now being described as the "former" prosecutor.
Surprisingly, the driving force behind this "Night Court" revival isn't Larroquette, but Rauch herself. Under her development deal with Warner Bros. Television, the actress pitched the concept to the studio and was initially attached to the project as executive producer only, until the role of Abby proved to be too good to pass up.
In a statement, Rauch explained: "My intention was purely to be behind the camera on this project, but my plans quickly changed after falling in love with the incredible script from the brilliant mind of ['Unbreakable Kimmy Schmidt' writer] Dan Rubin. I couldn't be more thrilled to join forces with Dan, the immense talent that is John Larroquette and the two powerhouse institutions of comedy that are NBC and Warner Bros. to bring 'Night Court' back to television."
Splashing down: Everybody ready for a wild, wet ride? The nostalgia trend is still going strong at NBC, which recently announced a new competition show inspired by a classic backyard water game.
In its quest to fill its post-Olympics lineup, the network intends to launch "Ultimate Slip 'n' Slide" on Sunday, Aug. 8, after the closing ceremony of Tokyo's Olympic Games.
Hosted by comedic actors Bobby Moynihan ("Mr. Mayor") and Ron Funches ("The Goldbergs"), the 10-episode series hopes to tap into the fun spirit of the backyard water slide that first became a summertime staple in the 1960s.
Of course, the setup will be a lot more complicated than just laying out a plastic tarp and hosing it down; instead, expect the set to be a "Wipeout"-esque water park filled with over-the-top slippery rides. Family, friends, couples and colleagues will have the chance to win a big cash prize by competing in multiple rounds of challenges that range from Body Bowling to Bocce Fall.
"NBC is proud to be the home of some of the biggest and most outrageous physical competition shows, and we're thrilled to add this larger-than-life version of the classic backyard game to our summer lineup," Jenny Groom, NBCUniversal's executive vice-president of Unscripted Content, said. "What better way to celebrate all the gold medals from the Olympic Summer Games than to give everyday people the opportunity to soar down an extraordinary 65-foot-tall slippery yellow slide."
Moving from high-performance athletics to oversize backyard games might seem like an unexpected shift for some viewers, but that wasn't NBC's original plan.
Before the pandemic hit, NBC was hoping to use the post-Olympic time-slot to launch "Kenan" and give it a sizable audience right from the start. But the Olympics were postponed and the network was forced to launch "Kenan" anyway. Luckily, things worked out for the Kenan Thompson-led comedy, which has already been renewed for a second season.
Singh's sign-off: "A Little Late with Lilly Singh" is set to wrap this Thursday, June 3, on NBC after a two-season run. But don't think for a minute that you've seen the last of host Lilly Singh.
While NBC tinkers with its late-night lineup, the Canadian comedian and YouTube star is moving on ... by extending her partnership with NBCUniversal. Singh recently signed a first-look deal with Universal Television Alternative Studio, a division of NBCUniversal.
"I'm excited to take this next step in my relationship with NBCUniversal and launch a new partnership between my company, Unicorn Island Productions, and Universal Television Alternative Studio," Singh said in an official statement. "This is a career step that I could only dream of when I started out as a creator, and I look forward to working alongside their team to create projects that bring underrepresented voices to the forefront."
In a longer statement posted on Instagram, Singh reiterated that commitment to equity, diversity and inclusion: "I'm going to focus on the slate of projects my company Unicorn Island Productions is developing, and we're saying goodbye to 'A Little Late with Lilly Singh.' I have a desire to make longer-form content telling underrepresented stories, which is difficult to execute on a nightly show."
But Singh, whose talk show replaced Carson Daly's "Last Call" after a nearly 20-year run, won't be limited to behind-the-camera roles. She's also working with "Black-ish" creator Kenya Barris to develop and star in a new comedy series for Netflix.
Still, this shake-up is a telling sign of how much late-night viewership has changed in recent years.
Singh's sign-off also means Samantha Bee is now the only woman left standing in the world of late-night network TV -- or rather, linear network TV, since Amber Ruffin hosts her own show on NBCUniversal's streaming service, Peacock.