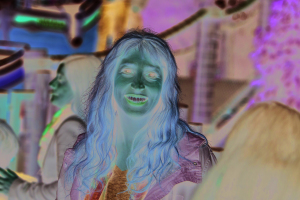 Daisy Haggard stars in "Back to Life"
'Back to Life': It's easy to draw parallels between Amazon's Emmy-winning series "Fleabag" and "Back to Life," which premieres Sunday, Nov. 10, on Showtime.
Both are British imports that were originally produced for the BBC. Both share the same producers, Harry and Jack Williams. And both are dark comedies that feature their funny female creators as the lead.
More importantly, both series are centered on flawed characters: the leading character and, although they're often unaware of it, the people around them. Balancing humor and heartbreak, their storylines are a study in the ways people react to and behave in a crisis and the aftermath -- though in that regard, "Back to Life" may have the more dramatic edge.
The new-to-North America comedy is co-written by Daisy Haggard, who stars as timid thirtysomething Miri Matteson. Miri has just been released from prison after serving 18 years for murder. She returns to the coastal town where she grew up, and sets out to rebuild her life, though her past casts a pall over everything she does.
The six-episode series shines in its portrayal of Miri's claustrophobic existence as a local pariah. Haggard, who last appeared on Showtime as a humorless network executive in the Matt LeBlanc-led series "Episodes," infuses her performance with a sense of relentless optimism. You can't help but root for her character as she struggles with the social stigma of being an ex-con.
If it sounds too heavy, know that moments of sadness -- the open hostility of the townspeople, the realization of broken lives all around her -- are offset by a cast of offbeat characters, including Geraldine James ("Anne") and Richard Durden ("Silent Witness") as Miri's parents, Jo Martin ("The Long Song") as her parole officer and Adeel Akhtar ("Les Misérables") as neighbor Billy.
"We wanted to make it as hard for her as humanly possible," explained Haggard in an interview with the Chicago Tribune. "It doesn't sound like a comedy, but we took it to the extreme, because extremes are quite fun, aren't they?" Viewers will be the judge of that when the series premieres this Sunday, Nov. 10, on Showtime.
Colbert stays put: Stephen Colbert is staying with CBS.
The "Late Show" host's contract was coming up for renewal next year (August 2020, to be exact), but, thankfully, CBS has signed Stephen Colbert to a three-year contract extension, which means the bespectacled host will remain at the helm of his late-night show until August 2023.
It's a smart move. As you'll recall, Colbert took over hosting "The Late Show" after David Letterman signed off in 2015. Fast-forward to 2019, and Colbert has been crowned the king of late-night TV. His is the most-watched network late-night series after edging out NBC's "The Tonight Show Starring Jimmy Fallon" to claim the No. 1 ranking among adults 18-49 earlier this year -- a feat unseen for "The Late Show" since the 1994-95 season and the early Letterman years.
CBS can now rest easy because its late-night hosts are both locked in for a few years.
In August, CBS announced it had reached a new agreement with "Late Late Show" host James Corden, who will stay on at CBS until August 2022. The short-term contract renewal reportedly came with a big raise, and if that's true, it's well deserved. An internet favorite, thanks to viral segments like "Carpool Karaoke," Corden has been on an Emmy nomination streak (he was the most-nominated performer this year) and is fast becoming CBS's go-to person to host awards shows.
All eyes are on HBO now. Bill Maher and John Oliver are the next late-night players whose contracts are up for renewal (their current deals expire in 2020). As for NBC, the network has a little more time to decide its next moves, since Jimmy Fallon and Seth Meyers are locked in until 2021.
As if: CBS Television Studios is working on rebooting Amy Heckerling's 1995 feature film, "Clueless." But if you're hoping to see '90s it girl Alicia Silverstone, or even her plaid-wearing character Cher, you might want to stop reading.
According to Deadline, the "Clueless" TV series would have a more dramatic tone (think "Riverdale" with a few "Mean Girls"-worthy twists). It would feature the characters from the film, but instead of being a teen comedy, it's being touted as a mystery. And Dionne, who was played by Stacey Dash in the movie, would be the main character, rather than her BFF Cher, whose disappearance sets up the story.
It's not hard to see how the film would translate to TV. After all, the original movie did spawn a sitcom that aired for three seasons on ABC and UPN. No studios have signed on just yet, but sources claim it's attracting a lot of interest from CW and streamers.
This isn't the only reboot to be shopped around this fall by CBS TV Studios. There are also plans for a Chuck Norris-less "Walker, Texas Ranger," which will star "Supernatural's" Jared Padalecki (he will also serve as executive producer).