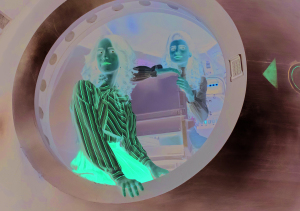 Abigail Spencer and Claudia Doumit in a scene from "Timeless"
Back again: Every show sees its end eventually -- it's just an inevitability. Unfortunately, more often than not this end comes by way of cancellation. Once in a while, though, a network will take mercy on a canceled show's fans and breathe new life into it. It happened with "Nashville" and "Last Man Standing," both of which were snatched from the grave by new networks, and "Star Trek" and "Jericho" both got new seasons after a fan outcry following their cancellations.
NBC's "Timeless," though, hasn't just been canceled -- it's been canceled twice, and it's coming back yet again. The time-hopping sci-fi drama may have been pulled from the network's schedule, but a special two-part conclusion for the series is in the works for a holiday airing.
Since its premiere in 2016, "Timeless" has struggled to hold onto viewers for its broadcast, but it's shown surprising strength in the number of people who tune in via online streaming in the week after each episode aired. Those weak numbers had sealed the show's fate by the first season's cliffhanger ending, but three days after its cancellation, NBC reversed its decision and greenlit a second season.
The numbers just didn't pick up for the second season, and thus the second cancellation. But the surprise announcement of a two-part conclusion means that the show's story will at least come to a satisfying end.
"Timeless" stars Abigail Spencer ("Suits"), Matt Lanter ("90210") and Malcolm Barrett ("Preacher") as three experts in their respective fields who are tasked with finding and stopping a man who has stolen an experimental time machine, which he is using to alter and rewrite the country's history. Along the way, they uncover a far-reaching secret society that's interwoven all through America's past and discover that even small changes in the past can easily rewrite the future in unimaginable ways. Claudia Doumit ("How to Be a Vampire") and Sakina Jaffrey ("House of Cards") also star.
"Timeless" is a rollicking good time, and while it may have been canceled -- again -- it's at least getting a conclusion. The two-part series send-off will air this holiday season on NBC.
Timeless romance: HBO has caught the time-traveling bug. The last few TV seasons have seen a number of series about time travel pop up, with "Timeless" on NBC, "Legends of Tomorrow" on CW and the short-lived "Making History" on Fox, to name just a few. Now, HBO has picked up an established property that's being adapted for television by "Sherlock" and "Doctor Who" producer Steven Moffat.
An adaptation of the acclaimed novel "The Time Traveler's Wife" has been given a direct-to-series order by HBO. The romantic tale is the story of a loving couple who have one small problem in their marriage: the husband keeps involuntarily jaunting through time.
It may sound a bit ludicrous, but it's a love story that's become a favorite for romantics around the world. A movie adaptation starring Eric Bana ("Munich," 2005) and Rachel McAdams ("Mean Girls," 2004) was released in 2009 and was a smash hit with audiences despite wishy-washy reviews from critics.
The TV adaptation is still in its earliest planning stages, with no premiere date set or casting announcements yet made. Moffat is a longtime fan of the novel, and he even wrote a "Doctor Who" episode that payed homage to it. He called the opportunity to adapt the book a "dream come true" during the announcement.
"The Time Traveler's Wife" is a classic love story with a supernatural twist, and with a direct-to-series order, it seems HBO is hoping that its popularity carries over to television.
Super guest stars: "Supergirl" may not be coming back until Oct. 14, but guest stars aplenty have been signing up for the fourth season of the superhero series, including a visitor from the final frontier.
Brent Spiner has joined the cast in a recurring role, bringing his considerable gravitas to the role of Vice-President Baker, a character who will play a significant role in the new season. The actor is best known for playing the beloved android crew member Data in "Star Trek: The Next Generation" and in four Star Trek films, and more recently he starred in 2016's "Independence Day: Resurgence."
Other newcomers in the upcoming season include Sam Witwer ("Being Human"), who joins the cast as Agent Liberty, an anti-alien activist who runs up against Supergirl (Melissa Benoist, "Glee"); Rhona Mitra ("The Last Ship"), who takes on the role of Lex Luthor's former bodyguard Mercy Graves; and Robert Baker ("Grey's Anatomy") as Mercy's strong-armed enforcer and brother, Otis.
That's a lot of new faces for Kara/Supergirl to deal with, but hey -- she's a superhero. The fourth season of "Supergirl" premieres Sunday, Oct. 14, as part of CW's exciting new Sunday night lineup.