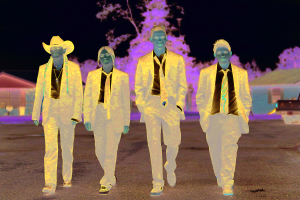 Paulina Alexis, Devery Jacobs, D'Pharaoh Woon-A-Tai and Lane Factor in "Reservation Dogs"
Coming-of-age stories the world over mark the transition from childhood to maturity. But stories that once placed the focus on young white boys are changing with the times, and "Reservation Dogs" is one series that places the focus elsewhere. Back for more crime, comedy and small-town chaos, the FX series premieres its second season with two new episodes on Hulu Wednesday, Aug. 3.
First released in August of last year, the premiere season of "Reservation Dogs" attracted attention for its dry, biting humor highlighting the dark themes running through the lives of the show's main characters. Across each of Season 1's eight half-hour episodes, cameras follow a group of Indigenous American teenagers who are desperately trying to escape their reservation in eastern Oklahoma.
Created by American documentary filmmaker Sterlin Harjo ("Gather," 2020), who is a member of the Seminole Nation and grew up in Oklahoma himself, and big-name Kiwi director/writer/producer Taika Waititi ("What We Do in the Shadows"), "Reservation Dogs" strikes a balance between absurd comedy and relatable reality; all very much on-brand for Waititi.
While the "Thor: Love and Thunder" (2022) director brings levity to the series, it's thanks to Harjo's lived experience and interest in Indigenous stories across the United States that "Reservation Dogs" remains impactful despite the laughs. Both filmmakers' styles are vastly different, but it's the combination of the two that makes the FX series a true gem.
The series begins with a food truck theft set to the grunge soundtrack of "I Wanna Be Your Dog" by The Stooges. What at first appears to be four teenagers looking to break their cycle of boredom by getting into trouble quickly takes on a more serious tone as viewers learn it has been one year since the death of one of their close friends, Daniel.
Determined not to let their reservation get the better of them as it did Daniel (new talent Dalton Cramer), Bear (Cree Canadian actor D'Pharaoh Woon-A-Tai, "Beans," 2020), Elora Danan (Mohawk Canadian actress Devery Jacobs, "American Gods"), Willie Jack (Sioux Canadian actress Paulina Alexis, "Ghostbusters: Afterlife," 2021) and Cheese (new Oklahoma talent Lane Factor, from the Creek-Seminole tribe and Caddo Nation) do what they can to make enough money to leave home and start a new, presumably better, life for themselves.
Unfortunately, while their goal of moving to California seems just a few months out in the series' first episode, their plan quickly gets out of hand and they find themselves needing to tie up loose ends and take care of things at home before separating themselves from the world they wish to leave. With the introduction of a gang called the NDN Mafia now in town, Bear, Elora Danan, Willie Jack and Cheese find the need to protect the home they feel is slowly killing them; and thus the Rez Dogs are born.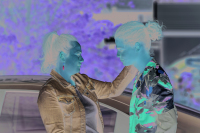 Sarah Podemski and D'Pharaoh Woon-A-Tai in "Reservation Dogs"
As the first season progresses, the Rez Dogs move from some more questionable acts of theft to slightly more wholesome ways to make money — no doubt a relief to Bear's exhausted mom, Rita (Sarah Podemski, "Resident Alien") — while defending their reservation against NDN Mafia aggression. From selling meat pies outside the IHS clinic to learning to hunt and taking their driver's tests, the Rez Dogs spend their time trying to improve their quality of life by whatever means possible.
In the final episode of Season 1, as a tornado prepares to touch down in their beloved reserve (it's a complicated, bittersweet relationship), the crew finally gets the chance to be the vigilante heroes they longed to be since the beginning of the series.
Moving into Season 2, all signs point toward more high jinks and struggles as they get their first "real" jobs, learn about the local nightlife firsthand and enter into the world of dating. Thankfully, Spirit (Dallas Goldtooth, "Rutherford Falls") also returns in Season 2 to provide some much-needed — if slightly absurd — wisdom for the teens to live by.
"Reservation Dogs" has been heralded by critics, viewers and its cast alike for its Native themes and unique storytelling style.
"We're ... holding up a mirror to ourselves," Goldtooth told The Hollywood Reporter in an interview following the Season 1 release. "We don't have to keep jumping into the same mould of storytelling that has been dictated by white people. We can tell our own stories on our own terms, take control of these cliches and do with them as we wish."
Series star Jacobs echoed Goldtooth's statement in the same interview, adding that before "shows like 'Reservation Dogs' or [Peacock's] 'Rutherford Falls,' there were so few glimpses into Indigenous comedy and our biting gallows-type humor, the way we're able to weave together heartbreaking and heartwarming moments."
As it turns out, "heartbreaking" and "heartwarming" are two things TV fans can't seem to get enough of — at least when it comes to this unique series.
Don't miss the second season of "Reservation Dogs" when it premieres with two episodes Wednesday, Aug. 3, on Hulu.