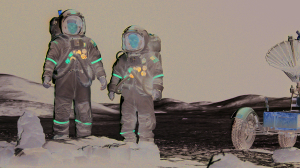 Joel Kinnaman and Jodi Balfour in "For All Mankind"
In an alternate universe, the Space Race between the United States and the Soviet Union never ends — and neither does "For All Mankind." After a gripping Season 1 finale and a post-credits hint as to where our astronauts could take us, it's finally here. Season 2 of "For All Mankind" is set to premiere Friday, Feb. 19, on Apple TV .
Returning to the screen are Joel Kinnaman ("Suicide Squad," 2016) and Shantel VanSanten ("Shooter," 2016) as Edward and Karen Baldwin, respectively, Sarah Jones ("Damnation") and Michael Dorman ("The Secrets She Keeps") reprise their roles as another couple, Tracy and Gordo, and Jodi Balfour ("The Crown") continues her dynamic part as Ellen Waverly. Other familiar names viewers are sure to see again are Wrenn Schmidt ("The Looming Tower"), Krys Marshall ("Supergirl") and Sonya Walger ("Darkness Falls"). This is the part where we issue a spoiler alert for further information and inform fans of the show that they won't be seeing much of Chris Bauer's ("The Duce") Deke Slayton since his death in the Season 1 finale. Luckily we'll have new faces to make up for it.
Cynthy Wu ("Holidate," 2020) joins the cast as Kelly Baldwin, Ed and Karen's adopted daughter. Aleida Rosales, formerly played by Olivia Trujillo ("Victor & Valentino"), is now a successful engineer after the interseason time skip, played by Coral Peña ("Chemical Hearts"). And introducing more family into the mix, Casey W. Johnson ("GLOW") is Danny Stevens, Gordo and Tracy's son. These new additions to the list of familiar faces are sure to add to the complex roller-coaster of relationships as set up by Season 1 of the series.
The brainchild of "Battlestar Galactica" producer Ronald D. Moore, the show explores what it could have been like had the Cold War-era Space Race never ended. Beginning in 1969, the show places its audience in the middle of a historical event — the Soviets landing a cosmonaut on the moon before the Americans. The achievement throws NASA into a panic from which there is no respite. Season 1 followed NASA as it continuously tried to match and exceed the Soviet Union's accomplishments, including sending a woman to the moon. Rewriting history is tough, but the facts of the past weren't the only hurdles the show's cast had to jump. Each character also has their own problems to deal with.
In Season 1, Ed and Karen lost their son, but Ed's mourning was interrupted by the capture of a Soviet cosmonaut named Ivan, who tells him that the moon belongs to everyone. At the season's start, Tracy was about to divorce her husband, Gordo, for sleeping with another woman while on a mission, however Karen convinced her otherwise. Meanwhile, Deke eventually recruited Tracy to undergo the rigorous space training program, leading Gordo to have an incredibly difficult time dealing with her success as a fellow astronaut.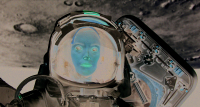 Jodi Balfour stars in "For All Mankind"
As progressive as he is, Deke cannot fully accept Ellen's secret that she is a lesbian, and even in his dying moments, he can neither convey sympathy nor acceptance towards Ellen regarding her sexuality. Deke even goes so far as to express his worry that her secret would undo all the progress the team has made.
To add fuel to the pile of drama, federal agents deported the father and host family of Kennedy School hopeful Aleida. With her support system out of the picture, Margo turns her back on her, and she is heartbreakingly left on her own. The "For All Mankind" cast of characters goes through so much emotional and physical turmoil, it really makes you wonder how they managed to come out the other end at all — especially considering it doesn't look like it's going to get any easier for them either.
Apple released its teaser for Season 2 last year, framing it within the context of President Ronald Reagan's address to the United States on defense and national security. Declaring that the nation must uphold peace through strength, the trailer takes us back to a time when mutually assured destruction between the Soviet Union and the U.S. was a very real thing. For those asking the question, "What does the moon have to do with that?" here is your answer: at the end of Season 1's final episode, a rocket carrying plutonium — the stuff of atomic bombs — was launched. Just add that plutonium to the arms race and the reimagined Space Race is looking more insidious by the minute.
The Season 2 trailer revealed space jets hurling out of control, NASA astronauts marching with space rifles toward an offscreen location and rocky relationships between our beloved space people. And though it may be fiction, Season 2 instils an ominous feeling that was once shared by both the U.S. and the Soviet Union: that of "at any point, we could destroy each other." You could say that the show demands a sober eye and deep moral contemplation alongside the ability to travel back in time with the setting. The plot's seriousness feels overwhelming, and the tension is already so thick that it would be hard for audiences to avoid the looming sense of dread.
Still, despite the show's stress, fans are looking forward to tying the loose ends the writers have left them with. Hope is the bigger picture here. We see hope as Marshall's character, Danielle Poole — the first African-American NASA astronaut and the first woman to command a mission — walks past and admires a space capsule. We hope that Aleida will reunite with her father and that she'll make it to school. And we hope that the community will accept Ellen for everything she is. We want to know what happens between Ellen and Pam, how Margo will rectify her relationship with Aleida and how Ed and Karen have recovered from such a huge loss. Most of all, we hope that the silent war between the two countries will end.
Fortunately, the balance between entertainment and tension is something the series' directors do well. Catch the Cold War Space Race at its peak and don't miss the resolution to the astronauts' problems on Apple TV as Season 2 of "For All Mankind" premieres Friday, Feb. 19, on the streamer.