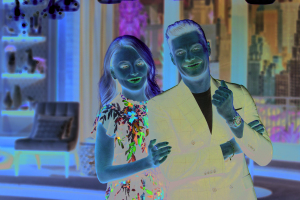 Ryan Seacrest (right) with "Live with Kelly and Ryan" co-host Kelly Ripa
'Live' without Ryan: For six seasons, viewers tuning in to "Live With Kelly and Ryan" expected to start their mornings with some fun banter between co-hosts Ryan Seacrest and Kelly Ripa. But that will soon change.
During a taping of the Feb. 16 show, Seacrest surprised viewers with an on-air announcement that he is leaving the No. 1 daytime talk show.
"Working alongside Kelly over the past six years has been a dream job and one of the highlights of my career," Seacrest said. "She has been an amazing partner, friend and confidant, and although we will always be a part of each other's lives, I will miss our mornings together."
Seacrest first joined "Live" in 2017, and he originally signed on to host for just three years. Now, six years later, the "American Idol" host will be "transitioning out of 'Live' this spring," according to his Instagram, and he plans to move back to the West Coast to focus on other business ventures – including ABC projects such as "American Idol" and "Dick Clark's New Year's Rockin' Eve," as well as his radio show on KISS-FM. He also signalled his intention to open "three more Ryan Seacrest Foundation Studios in pediatric hospitals across the country."
The news might have come as a surprise to viewers, but Seacrest indicated he and Ripa have been talking about this "for a long time." And maybe his last "Live" sign-off won't be the final one: on Instagram, Seacrest said he was "looking forward to coming back to guest host in the future."
No official exit date was announced at the time of writing, but they've already lined up a replacement co-host: Seacrest's soon-to-be-vacated chair will be filled by Ripa's husband, actor Mark Consuelos ("Riverdale"), and the show will be rebranded to "Live with Kelly and Mark."
In his announcement, Seacrest made a point of expressing his gratitude to those working behind the scenes. "I also want to thank [executive producer] Michael Gelman and the entire staff and crew," Seacrest stated. "We've made memories to last a lifetime, met some of the most incredible people and had the warmest welcome into the homes of so many viewers across America. It's been a memorable ride, and now I'm excited to pass the baton to Kelly's 'real' husband, Mark."
Missing 'Big Shot': It seems Disney decided a double shot of "Big Shot" is all it took to quench audiences' (and executives') thirst for the sports-themed series.
The comedy-drama, which stars "Full House" alumnus John Stamos, has officially been cancelled after just two seasons, along with fellow sophomore series "The Mighty Ducks: Game Changers," which starred Lauren Graham ("Gilmore Girls").
"Big Shot" was created by prolific producer David E. Kelley ("Big Little Lies"), writer Dean Lorey ("Arrested Development") and actor/producer Brad Garrett ("Everybody Loves Raymond"), with Lorey also serving as showrunner. The story follows former NCAA basketball coach Marvyn Korn (Stamos), who is given a shot at redemption when he accepts a coaching position at an elite private school for girls. The series, which premiered its second season back in October, also starred Canadian actress Jessalyn Gilsig ("Glee"), Sophia Mitri Schloss ("The Kicks"), Nell Verlaque ("Bull") and more.
As for "Game Changers," Season 2 followed the Mighty Ducks hockey squad and their coach, Alex Morrow (Graham), as they headed to a super-competitive, summer hockey institute run by former NHL player Colin Cole (Josh Duhamel, "Shotgun Wedding," 2022). Other cast members included Brady Noon ("Boardwalk Empire") and Season 14 "America's Got Talent" singer Luke Islam.
Disney's decision to bench these two sports comedies is disappointing to fans. Sadly, with many streamers cutting back on new productions, they join an ever-growing list of cancelled shows in 2023.
New buddy cops: If you're a fan of the 1975-1979 series, or even the 2004 comedy film led by "Zoolander" (2001) co-stars Ben Stiller and Owen Wilson, here's some news that might be of interest: Fox is reportedly working on a "Starsky & Hutch" remake.
According to Deadline, the project is being developed as a one-hour drama, and it would feature a female twist on the familiar buddy cop format.
Instead, the story would center on two female detectives, Sasha Starsky and Nicole Hutchinson, who solve crimes in the town of Desert City "while staying true to their friendship, their awesomeness, and somehow also trying to unravel the mystery behind who sent their fathers to prison 15 years ago for a crime they didn't commit," per Deadline. (No news yet on whether they'd be solving that mystery while driving a striped '76 Gran Torino).
This is still in the early stages of development, with The Hollywood Reporter, er, reporting that Fox Entertainment president Michael Thorn was waiting for "at least two scripts from writers/showrunners Sam Sklaver ("Prodigal Son") and Elizabeth Peterson ("The Resident")" before deciding whether to move forward with it.
Since Fox is no longer in the business of shooting pilots, any series order hinges on the quality of the scripts developed. This script-to-series process also applies to other projects that are currently in Fox's development pipeline, including the medical drama "Doc" from "Magnum P.I." writer Barbie Kligman, and "Jenny Is a Weapon," from producer Marc Cherry ("Desperate Housewives").