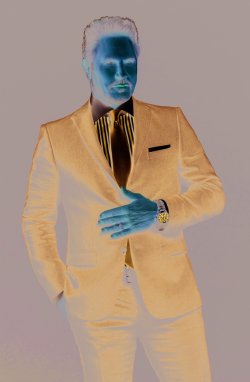 Don Diamont stars in "The Bold and the Beautiful"
The Bold and the Beautiful
Bill's unexpected and unprovoked kiss provokes an unexpected reaction from Brooke. Sally and Steffy have an up-close and personal moment with Xander, who later finds Zoe getting flirtatious after he shares the story behind his new modeling opportunity. Steffy and Hope break out into a huge argument about loyalty over their differing opinions about Sally. Thorne announces to the Forrester family that he and Katie are engaged, and the news gives fuel to Dollar Bill's desire to fight for his son. Bill and Ridge have a heated run-in with each other, and each begins laying the foundation to make sure that the battle for custody ends in his favor, while Liam and Wyatt debate whether Bill even deserves to have custody of Will. While Bill and Justin plan a legal strategy, Ridge has a secret meeting with Judge McMullen.
Days of Our Lives
Ben works to convince Ciara that someone is setting him up, while Claire tries to seduce Tripp. Later, Ciara confronts Tripp about what happened with Claire, and John comes up with a plan that he hopes will save Marlena after she's taken off life support. Rafe gets into an argument with Hope when he asks her whether she planted evidence against Ben. Gabi goes to new lengths to get her revenge against Abigail, and drugs her as part of a mysterious plan. Chloe warns Bonnie not to mess with Lucas, while Eli reconnects with a friend from the past. Abe accuses Sheila of stealing and John encounters a new obstacle. After he receives the results of the paternity test, Lucas approaches Adrienne to ask for a huge favor. Belle finds that Roman is putting obstacles in the way of her seeing Marlena, and Eve makes a desperate attempt to stop Jennifer from telling Eric the truth. Sami and Belle are left confused after a loved one gives them a chilly reception. Shawn has doubts about his mother, and confesses his feelings to Belle.
General Hospital
Cameron tells a lie to Liz while Franco has an unexpected encounter. Nina comes full circle with Anna, and Lucy receives an invitation that she wasn't expecting. Later, Nina pressures Maxie for answers while Carly becomes desperate to help Michael. Robin finds herself putting things into perspective and Maxie is confused. Mike springs a surprise on Sonny, who feigns ignorance. Jason gets some council from Sam while Kim is put on the spot by Drew. Julian acknowledges the part that he played in past actions. Ava finds herself losing her temper.
The Young and the Restless
Billy digs into Ashley's financial activity and finds payments that were made to a consulting firm, while Kyle manipulates Billy into buying a gambling syndicate as part of his plot to bring him down. Sharon arrives at the coffeehouse to find a battered and shaken Tessa, who confides that she was attacked by the same people who got Crystal across the border illegally, and Sharon finally starts to believe her. When Tessa refuses to call the police or go to the hospital, however, Sharon begins questioning her motivations. Victoria finally caves and asks Nate for help after struggling to manage her stress over recent events, and he begins giving her lessons in self-defense to help give her a renewed sense of security. The Winters twins work with Devon and Nate to plan a surprise birthday party for Shauna, who is touched when Devon tells her how proud Hilary would be and pledges to pay for her college tuition in honor of Hilary's memory.