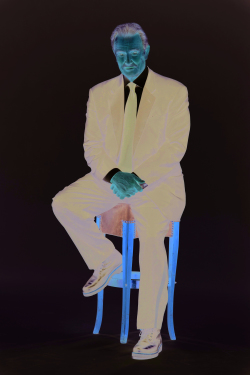 Eric Braeden as seen in "The Young and the Restless"
The Bold and the Beautiful
Steffy tells Brooke and Ridge about the part she played in Thomas's manipulation. Douglas sweetly sets up a surprise for Hope, Liam and Beth. Brooke and Ridge reunite with a night of passion, and Liam and Hope celebrate the reunification of their family with Douglas's help. Quinn is interested when Shauna says she knows a secret that could affect Ridge. Sally tries not to answer any of Wyatt's questions and ignores texts from Dr. Escobar.
Days of our Lives
Nicole can't believe what's happening when she realizes that Mackenzie might be the child of Brady and Kristen. Sarah gets a proposal. Evan makes plans as he tries to find a way to keep David. Kristen is questioned by John, who is trying to find out about Stefano. Clyde is surprised when he learns Evan's real name. Ciara gives Ben some bad news. Gina begs Rolf to save her. Hope finds out that it was Rolf who turned her into Princess Gina, and she's shocked. Clyde tells Ben that he was at least partly responsible for Jordan meeting Evan. Jennifer and Kayla give Hope some devastating news. Stefano tells Chad to pull together a family reunion. Victor is warned that Nicole is on to him. Kristen and Brady take comfort in one another and talk about Rachel. Nicole picks a fight. Hope tries to talk Kayla into telling her what damage she caused as Gina. Stefano begins to get somewhere with Marlena. Kate and Gabi are attacked by Chad.
General Hospital
Sonny refuses to break his word. Jason is alert and ready for anything. Julian feels relieved. Alexis tries to steer the conversation in a different direction. Jason is unsure, and Jordan tells Sam he should back off. Trina plays the blame game. Maxie and Lulu get in each other's faces. Jordan feels the pressure. Brando is concerned. Anna thinks Jason is at fault. Spinelli gets some advice he didn't ask for. Lulu and Brook Lynn have it out. Lucy presents an intriguing proposal. Valentin considers what he should do next.
The Young and the Restless
Devon and Elena realize that Jared's grandfather has died. Nate and Devon try to help Jared by giving him advice on how to move forward after his loss. Amanda thinks that, though they mean well, they might be overwhelming poor Jared. While everyone is talking, Jared leaves the Coffeehouse. The rest of them search, but can't find him. While searching, Nate and Amanda discuss their childhoods in foster homes, and make a real connection. Phyllis is angry that Chance and Abby broke into her room, and she barges into Chance's suite. Phyllis implies that she'll release another recording of the conversation Chance and Adam had in Vegas. Mariah apologizes to Tessa while they're on the private jet. She admits that she hadn't told Tessa she lost her job, and spills the beans about Sharon's breast cancer. She asks Tessa for another chance. Over at Sharon's house, Nikki asks Sharon to try to help Victoria deal with the aftermath of her stabbing. Sharon agrees to consider it. Chance tells Jill about Colin laundering the money he got from Devon, and tells her that her own accounts may have been used to launder it. Chase later tells Abby that he needs to find Colin, and Abby insists on accompanying him.