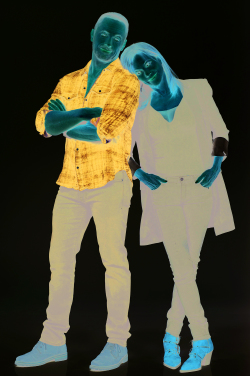 William deVry and Nancy Lee Grahn as seen in "General Hospital"
The Bold and the Beautiful
Steffy finally divulges a secret she's been keeping. When Thomas talks about his wedding plans, Brooke is skeptical. Bill makes sure Brooke knows that he'll protect her if Ridge won't. Liam, Hope and Steffy talk about what they should do next. Brooke is surprised when Bill kisses her. Thomas reminisces about the day he married Hope. Douglas lets his dad know that he doesn't want him to marry Zoe. Bill and Brooke succumb to a moment of passion, and later, Brooke reminds Bill how much he loves Katie and how much she loves Ridge. Shauna pays Ridge a visit, and worries that he'll get back together with Brooke if Tomas marries Zoe. Thomas continues to put pressure on Douglas. Ridge tries to reassure Brooke. Steffy helps Zoe prepare for her wedding, and she and Brooke both warn the bride-to-be not to trust Thomas. When Liam arrives at the wedding, Thomas is unhappy. Vinny tries to keep his concern for Thomas's plans under wraps when talking to others, but asks Thomas to cancel the ceremony. Douglas watches as the wedding he has dreaded begins, and has a meltdown mid-ceremony. Hope follows him when he runs out. Wyatt is surprised to find out how Bill feels about Brooke. The wedding guests are shocked when Hope brings Douglas back to the ceremony.
Days of Our Lives
John, Kayla and Justin end up in danger. Marlena tries to get out of Rolf's procedure. Chad tries to smother Gabi, and Ben tells Ciara he's thankful that she saved his life. Chad is ordered to kill Kate. After Dr. Rolf's procedure, Stefano attempts to reconnect with Marlena. Justin tells Jack about his fear of losing Kayla. John asks Gina to help him find Stefano and Marlena. Shawn and Ciara are taunted by Gina, who insists that the will never get their mom back. Rolf is caught. Kate has no idea that her life is at risk. Rafe is dismayed with Evan gets a big win. Kristen and Brady reminisce about Rachel. Nicole asks Xander about Dr. Raynor. Kristen asks to hold Mickey. Nicole begins to put the pieces of the puzzle together. Will and Sonny recommit to their marriage.
General Hospital
Alexis can't control her impulses. Maxie shows support for Peter. Jason takes refuge. Neil is interrupted, and Julian and Ava run into one another. Brad is warned. Sonny makes his wishes perfectly clear. Neil is shocked, and Molly tries to get info out of Jordan. Stella visits Curtis. Michael and Sasha have a deep, emotional conversation. Willow starts to open up a little, and Brook Lynn confronts Julian.
The Young and the Restless
Chance tries to find the recorded conversation that Phyllis has, and Abby insists on helping. When she finds the thumb drive, she soaks Phyllis's laptop to destroy any extra copies that might be on it. It seems like Victor is about to offer Adam the job as temporary CEO, but Nick calls and accepts the job instead. Victoria invites Billy to the ranch, but lets him know that, from now on, their relationship will be nothing more than co-parents. Amanda is interested in remaining friends with Billy, and he agrees. Rey can tell that Sharon is disappointed when her immune system isn't strong enough for her next chemo treatment. Adam is surprised when Chelsea presents him with tickets to Kansas. The next day, Adam, Chelsea and Conner arrive in Kansas, and Adam reveals to Chelsea that he's disappointed at the state of Hope's farm.