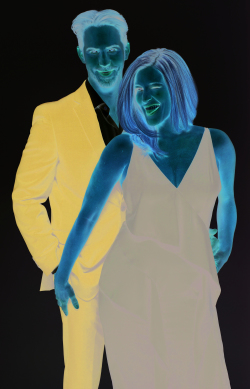 Wes Ramsey and Laura Wright star in "General Hospital"
The Bold and the Beautiful
Wyatt thanks Steffy for giving Sally a career opportunity and she soon offers him a position at Forrester. Brooke lashes out at Ridge for interfering in Bill and Katie's custody case. Ridge reminds Brooke of how many lives will be ruined if she comes out with the truth. Meanwhile, Bill spends some time with Will. Bill expresses how sad he is to Brooke about having lost custody of Will. Sally and Wyatt celebrate Wyatt's new job. Steffy has questions for Ridge as to why he's fighting Brooke and she is siding with Bill. Brooke is consumed with guilt about Ridge's involvement in the case. An unseen Steffy witnesses as Bill kisses Brooke. Later, Steffy talks to Brooke and tries to get her to admit to her misdeed, but Brooke admits to nothing. Brooke tells Katie about Ridge's involvement in her case and swears her to secrecy. Brooke also asks Katie to let Bill have more time with Will without getting the courts involved. Meanwhile, Steffy goes to see Ridge about Brooke. Ridge is floored by news of Brooke's betrayal. Ridge and Brooke each accuse the other of disloyalty and things get worse when Brooke admits that the kiss Steffy saw between her and Bill was not the first one. Katie has important news for Bill about Will.
Days of Our Lives
Eric is reunited with Nicole. Mimi argues with Bonnie about her plan. Abe clashes with Sheila. John, Marlena and Sami get closer to the truth. Eric is shocked by Nicole's revelation. John and Marlena find out what really happened the night they were almost married. Brady has a close moment with Kristen. Lani is jealous when Eli and Sheila reconnect. Nicole considers going to extremes to be with Eric. Hattie causes further disruption for John. Brady tries to gain Kristen's trust. Hope discovers Rafe comforting Sami. Stefan has a lead for Sami about EJ. Brady follows Kristen in the hopes of uncovering her secrets. Xander has a surprising new partner in crime. John confronts Hattie for putting his plan in danger. Nicole and Eric make love. Kristen tends to a patient. Lucas and Chloe tell Kate about baby Bonnie. Mimi decides she will no longer play Bonnie's game.
General Hospital
Margaux has a hidden advantage. Kim wants to take extreme measures. Oscar feels like making a change. Jason and Carly agree. Mike has some concerns, which he shares. Oscar starts his day with Liz. Felicia makes an announcement. Griffin feels good about his future. Nina has some regrets. Sam and Alexis have lunch. Carly receives a surprise. Sonny's discussion with Jason is ended abruptly. Drew takes time to think about things.
The Young and the Restless
Cane notices that Lily has hardened her personality to survive in prison when he goes to visit her. They almost end their visit with an argument, but Cane apologizes to Lily and promises to love her no matter what. Arturo and Rey find out about Lola's relationship with Kyle and they become protective. Rey does a background check on Kyle, which reveals a recent arrest for digging up a grave, but Lola is annoyed by the interference. Ashley pressures Traci to overturn the Blood Abbott clause so that she can run for the CEO position. Traci has misgivings, but she calls the vote and the clause is overturned. Kyle suggests that Jack run against Ashley for the top spot at Jabot. Victoria receives a letter from someone claiming to know what she did and that she's going to pay. She shows the letter to Nikki, who also gets the same note. They decide to keep the threats to themselves, unaware that Phyllis also got a letter. Phyllis at first believes the note is from Sharon and the two argue when Phyllis confronts her. Soon, Sharon gets a letter as well and Phyllis realizes it wasn't Sharon who sent it.