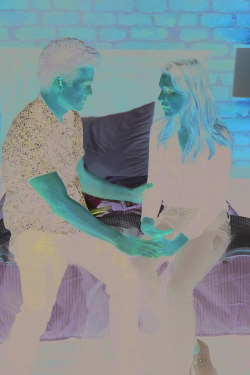 Greg Rikaart and Elizabeth Hendrickson in "The Young and the Restless"
The Bold and the Beautiful
Ridge and Eric discuss Brooke and Steffy's history, and Ridge explains how it's repeating itself with Brooke and Thomas. Ridge walks in on Shauna sleeping in his bed, and hilarity ensues, followed closely by passion. When Shauna asks him about their current sleeping arrangement, Ridge surprises her with his answer. Hope tells Brooke about her plan to use Thomas' feelings for her to take Douglas away from him. Shauna tells Quinn about kissing Ridge, which makes Quinn nostalgic. Brooke tells Ridge that she misses him, but when Thomas is brought up, the conversation sours. Hope goes to Eric and Quinn's Halloween party in an effort to get Thomas to sign adoption papers. Liam takes Beth to spend Halloween night with Steffy and Kelly. Steffy and Liam share a deep connection, and bask in the joy their daughters bring them. Hope is in a tough spot when Douglas and Thomas ask questions about their future.
Days of Our Lives
Gabi convinces Lani that she'll follow through on her threats. Haley tells Marlena and John about a weird encounter with Hope. Jordan realizes that she hurt someone unintentionally with her plans. Ciara finds something in Ben's coat pocket that could be incriminating. Rafe is suspicious of Jordan. Jordan attacks JJ. Marlena and John confront someone. Things get tense when Jack and Jennifer run into Dr. Rolf. Xander uses Eric's feelings for Sarah to get under Nicole's skin. Ciara toys with Jordan, and Ben searches for his sister. Lani tries to get ahead of Gabi. Halloween comes to Salem, and Ben gives in to his dark side. Tony reveals something surprising to Marlena, and Jordan breaks Claire out of Bayview. Lani and Eli's wedding day arrives! Lani tries to compromise with Gabi. When Hope doesn't seem to recognize him, Xander is stunned. Tamara Price arrives in Salem.
General Hospital
Alexis is tricked, and Julian is surprised. Lucan and Brad go to couple's therapy for help. Sonny gives Franco an outlet. Scott tries to find help. Bobbie expresses her condolences. Cameron makes his apologies to Jason. Curtis is feeling excitement. The tension mounts between Sacha and Michael. Jax and Hayden get together and compare notes, and Michael starts to lose his patience. Alexis comes down with the flu. Laura is doubtful, and Elizabeth gets a phone call. Julian keeps trying to undermine Brad.
The Young and the Restless
Adam and Sharon un into each other at the coffee house, and they finally have a verbal exchange. Adam insists that he wants to be a good dad to Connor, and that he needs Sharon to be a positive influence in Connor's life. Sharon is afraid that Adam will try to manipulate her again if she helps Connor out. Neither of them notice that Rey is watching them, and when he surfaces, Sharon tells him about helping Nick and Chelsea with Connor, and how she's helping Adam in that way. Rey wants Sharon to help Connor, but Sharon wants to steer clear of Adam. Rey tries to convince her that she can handle Adam for Connor's sake, but Sharon calls Adam to explain that he will only help Connor if Adam makes himself scarce. Adam says he understands. Meanwhile, Lily is shocked when she meets Amanda, and admits that she assumed everyone was exaggerating how much Amanda looks like Hilary. Amanda is sensitive to Lily and everything she's been through. Nick tells Mariah that he brought Adam back from Vegas with Connor's best interest in mind. Councilwoman Tammy Diamond interrupts Nick and Mariah, and tries to convince Nick to run for office. When Nick tells Chelsea about this idea, she encourages him to run, and he decides to get on board. Theo suggests that an influencer client of his should help with a Grand Phoenix event. He then shares his plans with Phyllis, who is not impressed.