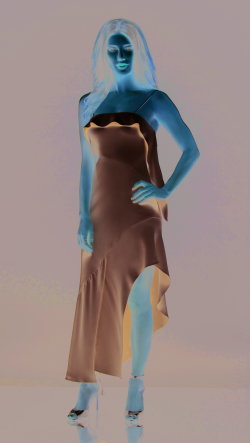 Jacqueline MacInnes Wood stars in "The Bold and the Beautiful"
The Bold and the Beautiful
Katie makes a gesture to Bill after learning information she can't share. Brooke and Ridge's marriage is in jeopardy as they accuse one another of betrayal. Bill is upset when he finds out that Wyatt has accepted a new job. Brooke asks Ridge not to let recent events come between them. Hope confronts Brooke about her kiss with Bill. Thorne has questions for Katie regarding why she changed her mind about the custody hearing. Charlie proposes to Pam in the Forrester kitchen. Brooke runs into Bill at Il Giardino. Ridge and Thorne get worked up about Bill's interference in their lives. Pam becomes concerned when and enraged Ridge asks her to find out where Bill is. Brooke tries to make peace with Steffy.
Days of Our Lives
Mimi asks Chloe to convince Lucas to rethink his custody battle for baby Bonnie. Eric, Nicole and Sami agree to team up. Kristen becomes angry when Brady admits he's been playing her. Gabi tries to convince Chad to have Abigail committed. Abigail tells JJ she thinks Gabi set her up. Ciara has a romantic dream about Ben. Claire suggests to Ben that they work together to break up Ciara and Tripp. Jennifer tells Stefan to steer clear of Abigail. Hope shares with Rafe her theory about the planted evidence. Gabi takes the next step in her plan. Ciara and Tripp don't know what to think when they see Claire and Ben conspiring. Gabi tries to make Chad believe that Abigail has become violent. Stefan is sure that Gabby is back and he shares this with Abigail. Sami and Eric break into Xander's warehouse. Nicole gets ready for a future with Eric. Belle is caught between Mimi and Chloe. Rex Brady makes his return to Salem. Sami accuses Brady of working with Kristen. Nicole escapes Xander's clutches and soon stumbles upon a major secret.
General Hospital
Carly is surprised. Drew takes some time to think more about things. Sonny and Jason have a conversation, but it is cut short. Jason turns to Monica for some help. Ava discovers a new buddy to drink with. Kiki comes up with an idea. Drew ponders his choices. Sonny manages to put things into perspective. Maxie provides some words of encouragement. Kim gets some comfort from Bobbie. Alexis begins her day with Julian. Cameron just can't help himself. Sonny updates Jason on the current situation. Drew finally makes a decision. Jordan has some news to share with Curtis.
The Young and the Restless
Nikki, Phyllis, Victoria and Sharon each receive a new note from the blackmailer and they learn that the mystery sender is demanding $250,000 to keep their secret. Nikki and Sharon want to pay up, but Phyllis and Victoria are opposed to the idea. They finally agree to wait and see if the blackmailer is bluffing. Cane misses visiting hours at the prison, so Lily asks Nate to check on him. Nate is disgusted when he finds Cane and learns that he had no good reason to miss the visit. Cane admits he's been having a hard time with seeing Lily in prison, but he puts those feelings aside and resolves to be there for his wife. Billy returns from rehab and he argues with Kyle when he learns that Kyle was the reason he was driven back to gambling. Kyle realizes that he took things too far and tries to apologize, but Billy doesn't accept. Summer seeks Kyle for comfort, but she finds him with Lola on a double date with Mariah and Tessa. Kyle excuses himself to comfort Summer, but Lola leaves the group by the time he comes back.