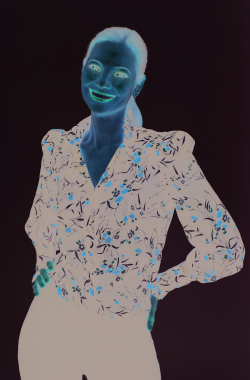 Tamara Braun stars in "General Hospital"
The Bold and the Beautiful
Bill learns that Justin has found some information regarding Ridge and Judge McMullen. Quinn listens in as Eric and Donna share memories about their past over a bottle of honey bear. Quinn vents to Wyatt about her frustrations with Pam and Eric. Wyatt advises his mother to stop fighting with Pam and not to ruin her marriage over it. Brooke is shaken when Bill questions her about the possible interference in his custody case with Katie. Quinn confronts Donna about what her intentions are towards Eric. Brooke is torn between doing what's right for Bill and being loyal to Ridge. Emma sees Zoe and Xander flirting during preparations for a fashion show. Ridge asks Brooke to keep her distance from Bill. Steffy models the showstopper during the first fashion show for the Intimates line. Emma takes a major jump in a new direction when Xander asks to take their relationship to the next level. Bill hires an expert to dig up facts that could help him bring down Ridge.
Days of Our Lives
Sami looks at the results of the DNA test she had done on the mystery patient. Susan has a vision of EJ. At Rex and Sarah's engagement party, Chloe drops some big news. Sarah becomes upset and runs out on Rex. Belle and Marlena are reunited and Belle makes peace with John. Sami tells Marlena her fears about EJ. Bonnie says goodbye to Mimi and her baby. Sarah angrily explodes at Rex. Sami frantically searches for the missing patient. Paul and Will encounter Susan. Gabi is enraged when she finds out from JJ that Abigail is a step ahead of her. Stefan gets some interesting news about his family. Susan faces Sami with a scalpel in hand. John and Marlena get married, for real this time. Abigail one-ups Kate. Gabi panics when she finds out about Chad's plan to help Abigail. Hope and Rafe find a witness who could make their case against Ben. Ben admits something to Ciara. Claire gets the truth out of Tripp. Chad abducts Abigail.
General Hospital
Margaux begins to investigate. Curtis offers to help. Carly leans on Jason. Jordan receives some bad news. Charlotte becomes wise to Spencer. Lucas gets some much-needed perspective. Carly interrupts Laura. Brad reveals a secret to Britt. Michael feels reluctant. Elizabeth has questions about Cameron's motivations. It isn't long before Nelle slips back into her old ways. Julian comforts Kim. Sonny tries to prove his point. Terry confides in Elizabeth.
The Young and the Restless
Cane struggles with living without Lily, so he decides to move his family closer to Lily's new prison. The children are upset, but they keep their fears hidden as they want to be supportive. Devon intervenes on behalf of the kids and he helps Cane to understand that he needs to focus on his entire family, not just Lily. Lola invites Kyle over to Rey's to help her with some new recipes. Rey arrives and he is not impressed. Kyle stays, resolute in his desire to win over Lola's brother. Lola becomes even more infatuated with Kyle when he eats some spicy peppers to impress Rey. Kyle then offers to help Lola finance a restaurant. Phyllis is lonely in her new position as CEO, so she connects with Nick, who is also feeling lonesome since his family fell apart. At the same time, Sharon and Billy comfort one another as the friends realize they each know what the other is going through. Sharon has conflicting feelings about her growing attraction to Rey. Mariah picks up on this and asks her mother if she wants to pursue something with Rey. Sharon says it's impossible and denies her feelings.