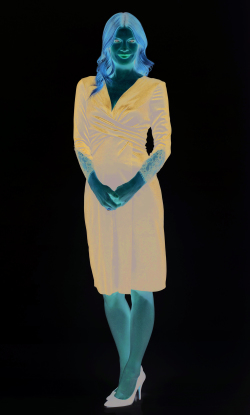 Michelle Stafford as seen in "General Hospital"
The Bold and the Beautiful
Justin blames Brooke for changing Bill, and he tries to convince his friend to put his Spencer necklace back on. Meanwhile, Brooke has a baby name suggestion for Hope and Liam's child. Taylor tells Steffy that Liam should be with her, and not Hope. Steffy reminds her mother that Bill hasn't turned them in, and they worry he will change his mind. Detective Sanchez is concerned that Bill doesn't want to solve his attempted murder. Taylor is haunted by memories of shooting Bill. Steffy defends her mother's intentions to Liam. Brooke tells Hope that Steffy reminds her of Taylor. Liam and Steffy argue about whether or not Taylor is stable enough to watch Kelly. At the same time, Hope and Taylor argue at Forrester, and Liam intervenes on Hope's behalf. When Ridge and Taylor meet, he asks her what's been bothering her. Hope is shocked when Liam tells her that Taylor shot Bill, and she has a lot of questions. Brooke and Taylor reignite their decades-long feud about their daughters. Hope tries to diffuse the situation between her mother and Taylor. Zoe's father, Dr. Reese Buckingham, makes a surprise visit that catches her off guard. Zoe is upset when her father tells her he's moving to Los Angeles.
Days of Our Lives
Ben confronts Tripp about his attempt to frame him. Ciara tells Hope that she and Tripp broke up. Eric comes to a decision about Holly. Will and Sonny get a shocking surprise when they finally reunite. Leo demands that Sonny keep his promise to marry him. Ted Laurent returns to Salem and asks Hope to protect him. Ben and Ciara kiss. Kayla questions Gabi about drugging Abigail. Rafe tells Hope that he saw Ciara kissing Ben. Stefan bonds with Charlotte, and Kate confronts Kayla bout setting her up. Ben turns to an unlikely source for a job. Chad finds Abigail a changed person when he visits her at Bayview. Kate tells Roman she has the goods on Stefan. Leo tells Will and Sonny a secret about Kate. Abigail tears into Chad for betraying her. Rafe questions Gabi about the accusations Abigail made against her. Sonny confronts Chad about Kate's deception. Hope and Ted come up with a plan to get Ben to confess.
General Hospital
Ned doesn't feel good about Julian being present for Thanksgiving. Kim is disappointed, while Monica takes some precautions. Nina finds that her hands are full. Laura confides something in Lulu. Maxie shares a moment with Peter. Nina takes Charlotte to the ballet. Laura doesn't feel quite right. Griffin gets some awful news. Sonny and Carly look at their options. Anna visits Britt. Curtis has some bad news to share. Drew and Kim meet with Oscar.
The Young and the Restless
Jack is happy that Kerry seems at ease with his family drama and that she managed to charm Dina. Jack and Kerry grow closer once everyone else leaves, but she evades personal questions. When Jack steps out for a minute, Kerry leaves, leaving him confused. Abby spends the holiday with Arturo and his family. Though Lola tries to keep the peace, tensions rise between Abby, Mia and the Rosales brothers. Lola decided to give everyone some perspective by taking everyone to volunteer at Sharon's charity dinner. The Newmans celebrate Thanksgiving without Victor, who is still absent. Faith tells everyone that Nick and Phyllis are back together, which irks Nikki and Victoria. Nikki hears from Victor, who tells her he needs to hire a new head of real estate in Dubai. Nick shoots Abby down when she pitches a multi-use space in an up and coming part of town. Abby decides to buy the building herself and pursue the project on her own.