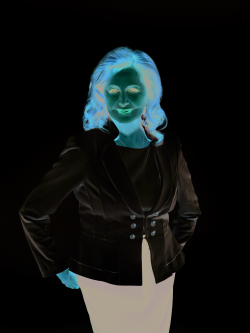 Suzanne Rogers as seen in "Days of Our Lives"
The Bold and the Beautiful
Hope starts to feel guilty about the situation with Thomas, and she tries to confess to Ridge, but Brooke covers for her and ushers Ridge out of the house before she can get much out. Steffy is also worried, and tells Quinn that Thomas is missing. Ridge advises Steffy to be a better parent than he was, and they discuss why Thomas would agree to shared custody of Douglas. Brooke struggles to come to terms with Thomas's death. Shauna admits that she wanted to see Ridge, and Ridge tells Shauna about the puzzling remarks Hope made about Thomas. Ridge believes that once Thomas is thinking straight, he'll regret the decisions he made about custody of Douglas. Shauna flirts with Ridge and says she admires how he has stuck with Thomas through everything. Brooke is shaken by the realization that Thomas has once again manipulated Hope, and she confesses everything to Ridge. Ridge is floored and hurt by Brooke's confession, and asks questions about Hope's actions and Brooke's honesty. Brooke pleads with Ridge, urging him to see things from her point of view, but Ridge can't get over the revelations. Brooke and Ridge are tearful and nostalgic as they share a distant memory. Carter gives Ridge some legal advice, and Brooke turns to Hope and Liam for solace. Shauna comforts Ridge. Hope comes clean to Liam.
Days of Our Lives
Sonny is open and honest with Evan. Kayla and her new romantic partner look back on how they came together. Marlena throws a wrench into Gina's plans with her return. Chat and Abigail have an argument about Stefano. Ciara goes snooping around Xander's office. Eve summons Abigail. Sarah and Xander strengthen their bond. Chat faces a challenge. Clyde's confession horrifies Ben. Sarah is frantic, and lets Xander know that her baby is missing. Sonny talks to Chad about the situation with Will, and Eve tries to convince Abigail to look into Jennifer's fall. Clyde really digs into Xander, and Ciara takes matters into her own hands. Jennifer gets some horrible news from the past year, and Eric lets Roman in on his plans for the future. Xander gives Hope his confession. Eric surprises Nicole. Ciara plays dangerous games, and Abigail catches Eli red-handed.
General Hospital
Sam gets a terrible shock. Brad is confronted by Lucas, and Kim crosses paths with Hayden. Jason goes to Spinelli for help. Jax and Nina have a conversation. Chase berates Finn. Nona goes to Valentin and Charlotte, and Sonny continues to grow more suspicious. Stella has an update regarding Mike. Julian goes looking for the truth about Brad's schedule, and Franco goes to visit Monica. Carly begins to see a difference in Mike. Hayden resists her bullies, and Valentin tries to protect Charlotte. Laura and Jax are surprised by a visitor.
The Young and the Restless
Billy is confronted by Kyle in their shared office, and they discuss Kyle's out-of-control ego. Billy insists that he just wants what's best for the company, and defends his actions in Milan. He still believes that Kyla hasn't proven himself, but he tells Kyle he's sorry for being so hard on him. Cane goes to see Devon, and tells him he doesn't know who knocked him out in Vegas. Devon doesn't believe him. Cane offers to help find out who is behind it all, but Devon tells him to stay out of it. Billy and Victoria meet at the coffeehouse to discuss his issues at Jabot. Adam and Connor turn up, and Victoria hopes Billy won't be rattled. Adam ignores Billy, and he invites Sharon to his place for lunch. Billy is surprised that he managed to stay calm. Kyle tells Mariah about how unhappy he is to be related to Theo, admitting it's a sensitive subject for Lola. Elsewhere, Lola urges Theo to be himself. Adam and Chelsea worry about Connor, and ask Sharon to help him. Nate and Elena talk about Nate giving Amanda the benefit of the doubt, and Elena suggests that he fire Amanda. Abby discovers that Phyllis has installed a new security system, and that makes her suspicious. She confides to Chelsea her deep mistrust of Phyllis. Abby and Chloe must do damage control when guests report that jewels have been stolen from their room.