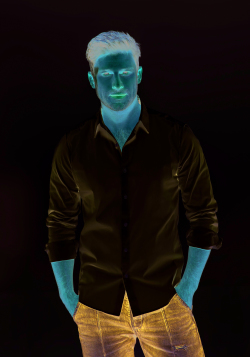 Greg Vaughan stars in "Days of Our Lives"
The Bold and the Beautiful
Thomas shocks Hope with a kiss and has to be reminded that she's married, but he continues to manipulate her in the hopes that he'll one day win her back. Sally returns home to find Wyatt waiting for her with a surprising revelation. He remains angry even after she apologizes for keeping a secret from him, and communication breaks down between the two. Ridge tells Brooke about Thomas's intentions with Hope. Sally is angry at Thomas that she's been negatively affected by his desire to get back with Hope. Quinn is thrilled when Wyatt tells her what happened between him and Sally. An overwhelmed Flo gets a tour of Forrester Creations, and she's appalled when Hope shares her thoughts about Thomas and Liam. Liam returns from Paris and things get tense between him and Thomas. Flo struggles with keeping the secret about Hope and Beth. Quinn and Sally argue about Wyatt.
Days of Our Lives
Stefan tries to secretly usher Gabi from the mansion, but he gets caught. Chloe finds comfort in Brady, and Victor blames Nicole for Holly going missing. Tragedy ensues when Rafe disobeys Hope. Eric, Hope and Nicole make a horrific discovery at the site of the accident. Maggie, Rex and Sarah anxiously await further information about Holly. Maggie catches Kate in a close moment with Victor. John and Marlena celebrate six months at the pub. Hope and Rafe's marriage implodes, Nicole lashes out at Eric, and Ben and Ciara make a difficult announcement to Chloe and Stefan. Maggie and Victor have a falling out. Election Day comes to Salem. Eve gets the goods from Claire. Kayla delivers some bad news to Sonny and Will. Jennifer runs into Jack after returning from her trip. Eve delivers Haley an ultimatum. Eric continues to find himself rebuffed by Nicole. Xander walks in on Brady comforting Nicole. Maggie is tempted to drink.
General Hospital
Sonny is horrified. Laura and Robert see each other for the first time in years. Lucy sets her sights on Kevin. Alexis is overjoyed. Michael has reason to be grateful, and Jason is taken by surprise. Sam has concerns and Valerie gives advice. Lucas is in need of help. Robert loses his cool. Mike and Sonny bond over family, and Michael misjudges a situation. Kristina makes her intentions known. Sonny prepares himself for the worst. Peter is interrupted.
The Young and the Restless
Summer works to undermine Kyle and Lola's renewed relationship, manipulating Kyle into joining her on a last-minute business trip to New York. While there, Kyle's friend Theo invites them out for a celebration. Summer is eager to go, but is disappointed when Kyle insists on flying home to Lola instead. Frustrated by his devotion to Lola, Summer tells Jack that Kyle lacks focus, and Jack insists that Kyle devote more time to his job. Phyllis uses Billy's seed money to plan an accessories line, which she pitches to Jack as part of Jabot Collective. He rebuffs her efforts, however, not wanting to get mixed up with her again, and leaves her angry and embarrassed. Determined to get back at Jack, Phyllis hacks into the Jabot servers using Summer's password, hoping to find something that will benefit her new company. Rebekah reconnects with Nick when she joins the Jabot Collective as a consultant. Tessa issues a challenge to Mariah's stalker. Devon plies Jett for information on Elena and learns that Ana recently lost her mother. Arturo goes to Society and tries to win Abby back, but she's not interested. Nate comes to Abby's defense when Arturo proves overly persistent.