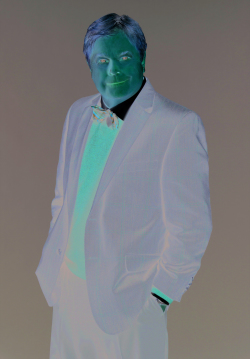 Dick Christie stars in "The Bold and the Beautiful"
The Bold and the Beautiful
Hope demands an explanation after Wyatt disrupts her wedding to Bill, but the secret that Wyatt divulges to his brother threatens to drive in the wedge in the family even further. Liam has trouble containing his anger at the news, and Bill unleashes on Wyatt after he stands up to his father. Neither Hope nor Steffy is willing to let Liam go, and Hope struggles with deciding what her next move should be, but Brooke advises her to pick things up with him and get married. Liam confronts Bill about the pain that his deceit has caused, and Steffy is vindicated. Liam is asked by Ridge to find it in his heart to forgive Steffy. Bill pays an uninvited visit to Steffy's house, where he isn't exactly welcomed. During the ensuing argument, Steffy suffers a bad fall and becomes fearful for her unborn child. Liam receives a frantic phone call from her to tell him about the accident.
Days of Our Lives
Sonny tells Victor about Leo's lawsuit, making him livid at the news. Brady is finally ready to make a decision about whether he'd rather be with Eve or Theresa, but then he's thrown a curveball that makes him rethink his decision. Mateo and his minions catch Paul and John, but they manage to make it back from Mexico for a reunion with Marlena and Will. While Will debates with Paul about whether Will should seek a cure for the amnesia that he's suffering, Marlena tries to determine whether or not Ben is being truthful. A figure from Gabi's recent past stands in the way of her being released from prison, and she winds up in the hot seat yet again. Eve and Chloe come together to compare information about Theresa, and Tripp and Claire find comfort in each other after both being dumped. Now armed with new information, Chloe totally dominates Theresa. Stefan presents Kayla with a deal that comes with major strings attached that could help Steve get his vision back. Laura comes to help integrate Abigail's personalities, and Hope gets some stunning news concerning Ben Watson.
General Hospital
Carly finally snaps, but later finds herself looking on the bright side of her situation. Franco isn't as supportive as he could be, and Andre finds himself reluctant to move ahead. Alexis tries to find the root of the problem, and Peter comes forward with leverage. Jason doesn't commit, while Ava tries to discourage Griffin. Obrecht puts the blame squarely on someone's shoulders, and Valentin works on defending himself. Maxie feels like a fool, and Jason offers up some encouraging words.
The Young and the Restless
Thanks to some advice from Lily, Abby gives Arturo another try, and invites him to spend a holiday weekend in Miami with her. The two of them wind up completely in synch with each other, but when Nikki sees them kissing in a romantic location, trouble starts to brew. Kyle encourages Jack to keep a positive outlook on the changes that Billy is making, but when Billy plans to discontinue one of their father's old perfume lines, Jack goes over the edge. Devon and Hilary help Shauna and Charlie get ready for the prom, and find themselves growing closer to each other as they do. Things get complicated between Charlie and Shauna when he learns that she's run away from home. Victor and Nick work on repairing their relationship, leading Nick to consider rejoining Newman Enterprises.