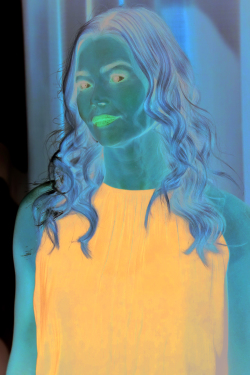 Denise Richards as seen in "The Bold and the Beautiful"
The Bold and the Beautiful
Ridge and Brooke disagree about the reasons Hope and Liam should or should not end their marriage. Liam confronts Thomas for taking advantage of Hope while she's vulnerable and tells him that she will never love him. Hope makes an odd request of Steffy. Flo and Wyatt kiss. Hope shares a tender moment with Douglas while remembering Caroline. Ridge tells Steffy that he agrees with Hope that ending her marriage to Liam is for the best. Brooke urges Liam to fight for his marriage. Thomas tells Hope he sees a future with her and Douglas. Wyatt asks Flo about Phoebe's birth father. Xander asks Zoe why she has been distant. Zoe is soon horrified to learn the news about Liam and Hope. Zoe and Flo consider their options. Xander hears Zoe talking about Beth and he insists on being told the truth. Steffy confronts Thomas about his ulterior motive regarding Hope.
Days of Our Lives
Maggie gets drunk and has a confrontation with Kate. Xander and his partner's plan gets underway. Will unleashes his anger at Ted and Hope. Sarah and Rex seek answers by going through his notes from his time working with Rolf. Ben tells Ciara that he thinks Claire started the cabin fire. JJ and Haley prepare to escape. John and Marlena look for Rolf's diary. Eve tells Jack a secret. Ben asks Marlena to hypnotize him to better remember the night of the fire. Jennifer assists Tripp in getting away from Jack. Xander helps Jack. On behalf of Will, John makes an emotional plea to Eve for help. Eric does his best to get through to Nicole. Maggie shares a shocking story with Brady. Will receives crushing news about his condition. Jennifer is hopeful about Jack after he shares a small memory from his past.
General Hospital
Ava bides her time. Monica gives Drew her blessing. Curtis sticks by Jordan's side. Shiloh plays both sides. Kristina makes her case. Nina and Sasha enjoy lunch between mother and daughter. Lulu supports Willow. Julian has the idea that Sam would be the better option. Franco is confrontational. Sam has a proposition for Jason. Ava gets the support she needs from Scott. Margaux struggles with conflicting feelings.
The Young and the Restless
Since Rey is moving in with Sharon, he offers Kyle and Lola the opportunity to take over the lease to his current place and they accept. Dinner catches fire during Kyle and Lola's first night together in their new place, but that doesn't stop them from celebrating. Kyle plans to surprise Lola with a new bookshelf for her cookbooks, so he gets Abby's help keeping her out of the apartment while he assembles it. However, his plan goes off the rails and Lola winds up helping him finish the project. Ana and Tessa argue when Ana shows Tessa the mix of her song, which has been overproduced. Mariah faces her own challenge when her stalker confronts her. Nick offers Rey a new job as head of security for Dark Horse and tells him it will entail keeping tabs on Adam. Rey accepts the job but refuses to keep any secrets from Sharon. Emotions run high as Neil's will is read. The family gets together as Michael passes out sentimental items to Neil's family and friends. Billy, Jack and Kyle prepare to launch the Jabot Collective, but Ashley warns them that a counterfeit site is about to launch. Jack plays it cool in front of Ashley, but then asks Kyle and Billy to learn everything they can about the copycat.