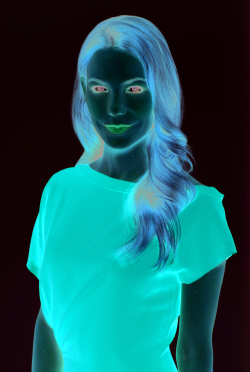 Chloe Lanier stars in "General Hospital"
The Bold and the Beautiful
After manipulating Liam, Bill offers up the kingdom to Wyatt in exchange for his loyalty. Katie feels guilty over the advice that she gave Wyatt, and advises him to hide the truth about Bill and Steffy while he struggles with an important decision. Steffy blames Bill for her situation, but Taylor faults Brooke instead. Ridge tells Hope that her imminent wedding is based on a lie, and Brooke is forced to step in and intervene. Steffy shares the name she's chosen for her daughter with Liam. When the wedding day finally arrives, Katie, Donna and Brooke help Hope get dressed for her big day, while Brooke and Ridge butt heads over their daughters. Carter officiates as family and friends gather for the joining of Liam and Hope in marriage, but Bill's day is spoiled when Justin reminds him that Wyatt holds the power to thwart all of his carefully-laid plans.
Days of Our Lives
Eve tells Jennifer about her engagement, but everything is turned upside down then Brady finds Theresa back in Salem, and the two of them share a moment that shocks Eve. Theresa tries to guilt her sister into leaving her fiancé. Mateo shares some unsettling news with Chloe, which crushes her. Abigail is ready to accept her fate, and finally faces the music for her role in Andre's murder after Stefan threatens her with Chad's freedom. Sonny finds his world turned upside down when he learns that Leo has been pulling a con job on him, and Brady confesses to Marlena about his conflicted feelings. Lani has a pregnancy scare, and Tripp and Ciara's romantic dinner doesn't go as expected. Will continues his search, and discovers a new clue in Dr. Rolf's diary. Paul and John try to rescue Chloe while in Mexico, and a judge overturns Gabi's conviction, but her joy is short-lived when a new problem rears its head.
General Hospital
Valentin walks a fine line, and later crosses Lulu. A contrite Lucy feels the need to apologize. Anna begins to feel anxious, and Peter gets the sense he's been hoodwinked. Finn wants some answers, and he sets out to find them. Sam tries to be of use. Dante has had enough, and Drew pays his respects. Carly is distressed. Nelle yearns for support, and she finally gets what she needs. Alexis has done something that she immediately regrets. Sonny is in anguish. Lulu gets a visit from Nina, and Valentin does the best he can.
The Young and the Restless
Nick and Sharon discover that being "friends with benefits" is harder then it seems when they attend the New Hope benefit and find themselves feeling jealous about each others' dates. Hilary and Devon attend the New Hope dinner together and find themselves growing closer, and later, when two problems rear their heads at the same time for Hilary, Devon comes to her rescue. While Abby helps Arturo pick out a suit for a benefit, the two find themselves bonding. Billy seizes the CEO position after deeming Jack to be unfit, and begins making drastic changes. Jack and Kyle make a pact to get the position back for Jack, but at the same time, Kyle tries to earn Billy's trust. Kyle is a fish out of water when he's tasked with negotiating an important contract with Neil, while Ashley grows concerned by the changes that Billy makes to the company and plots to take the CEO position herself when an opportune moment arrives.