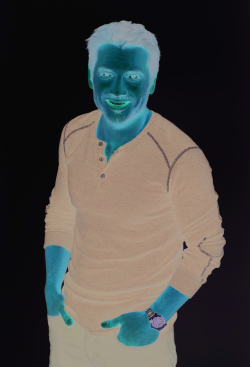 Dominic Zamprogna stars in "General Hospital"
The Bold and the Beautiful
Hope confronts Zoe and Flo when she overhears them talking about Beth. Thomas takes his manipulation of Hope to the next level by using Caroline. Eric and Quinn welcome Shauna and Flo as they move into the Forrester Mansion. Hope is visibly shaken after reading the letter that Caroline wrote before she died. Flo struggles with conflicting feelings about her new life and the terrible secret she is keeping. Liam and Hope share a heartbreaking moment as their marriage falls apart around them. Steffy returns from Paris with Kelly and Phoebe to some stunning news from Liam. Ridge advises Thomas, while Brooke comforts Hope as news is shared about their futures. Brooke turns to Ridge for comfort and is shocked to learn what his true feelings are about Hope, Liam, Steffy and Thomas. Hope visits Steffy and is overjoyed to be holding Phoebe in her arms once again.
Days of Our Lives
The identity of Xander's partner comes to light. Maggie walks in on Kate and Victor during a close moment. Will unleashes his anger at Marlena. John offers to help Marlena search for Rolf's diary. Claire places the blame on Eve for her breakup with Tripp. Ben and Eve have a tense encounter. Jack makes a bold move as his first act as mayor. JJ and Haley ask for Tripp's help to avoid the authorities. Eve wants to punish Ben. Ben grows suspicious of Claire. Lani confesses something to Rafe. Nicole lashes out at Eric, Sarah and Maggie after Holly's funeral. Gabi enlists Kate's help in ruining Stefan's relationship with Chloe. Doug and Julie celebrate 25 years of marriage. Chloe finds Stefan and Gabi in bed together. Brady finds Maggie passed out. A major secret is revealed.
General Hospital
Jason gets a frantic phone call. Peter tells Maxie what Molly's idea is. Bobbie lends her support. Anna feels confused. Kristina confronts Sam. Josslyn receives a nice note. Ava leaves a place quickly. Willow tries her very best. Lucas puts the pieces together. Margaux is not happy with Laura's plan. Monica has some bad news. Shiloh becomes distracted. Brad turns to Julian for advice. Margaux and Sonny have a confrontation.
The Young and the Restless
As Billy and Victoria discuss their relationship, Victoria surprises Billy with an answer to his proposal. She tells him she wants to be with him for the rest of her life, but is hesitant to get married again as that always seems to be their undoing. Rey, Sharon, Mia and Arturo are shocked to learn that Arturo is the father of Mia's baby. Arturo commits to Mia and promises to step up and be a true father to their child. Rey, on the other hand, is sad he's not going to be a father, but is relieved to be able to move forward in his relationship with Sharon. Rey suffers mixed emotions as Mia and Arturo prepare to leave for Miami. Sharon invites Rey to spend some time with her and Faith. Faith soon asks her mother if Rey is going to be moving in anytime soon. Sharon and Rey laugh off the question, but then begin to consider it. Kyle and Summer look for an apartment after deciding to move in together. Still keen on revenge, Phyllis prepares to launch a knock-off of Jabot's new collective. She reaches out to Summer and asks her daughter to leave Jabot and join her instead. Nate continues to pursue Abby, but she is reluctant to start dating again. In spite of her concerns, the two grow closer as friends and Abby agrees to have dinner with him.