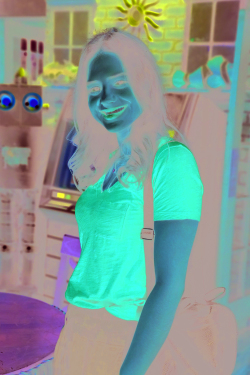 Sasha Calle stars in "The Young and the Restless"
The Bold and the Beautiful
Liam doesn't want Hope to give up on their love. Wanting Wyatt and Flo to reunite, Quinn suggests to Eric that Flo and Shauna move in with them. Meanwhile, Wyatt and Flo share a passionate kiss. Liam thinks that Thomas is using his son, Douglas, to get close to Hope. Will negotiates a raise in his allowance with Bill. Quinn and Shauna are very happy when Flo tells them that Wyatt asked her out on a date. Bill thinks back on his past mistakes with Katie. Katie and Shauna set a trap for Bill. Katie listens as Shauna makes a move on Bill. Brooke tells Donna and Justin about Katie's plan. When Shauna reports back, Katie makes a bold decision about her future. Bill is shocked when Katie makes a confession. Zoe is thrown when she learns that Shauna and Flo have moved into the Forrester mansion. Bill and Katie share their big news with Bill.
Days of Our Lives
Hope decides to start divorce proceedings when she sees that Rafe has taken off his wedding ring. Lani tells Ciara a lie to keep Ben away from David. Xander continues to have leverage over Nicole. Sarah comforts Eric over Nicole pushing him away. Sonny and Will are surprised when they find out what caused Will's tumor. Brady makes a deal with Xander to get Nicole a divorce. Sarah tries to talk to Nicole on Eric's behalf. Stefan rejects Gabi. Haley and JJ share a moment as they learn Haley's fate. Tripp finds out that Claire has been scheming with Eve. JJ attacks Jack. Rafe receives divorce papers from Hope. The mayoral election results are announced and everyone is shocked at the winner. Hope gets fired. Ciara comforts Claire. Melinda has big news for Haley. JJ and Haley go on the run. Xander makes a move on Sarah. A secret is revealed.
General Hospital
Oscar has plans for the full day. Kim feels emotional. Cameron steps up to the occasion. Julian is enraged. Robert loses something important. Felicia comes up with a theory. Sam proposes an idea to Shiloh. Carly is taken to the hospital by Jason. Curtis grows suspicious. Carly gets some important test results. Peter feels thankful. Maxie checks on Lulu. Laura and Curtis find themselves in a tough spot. Lucy and Scott go back to their old ways.
The Young and the Restless
Rey rushes home to handle things when he learns that Mia was Lola's attacker. Paul catches Mia about to leave town and he puts the pieces together. He pressures Mia to confess, but she doubles over and is rushed to the hospital before he can arrest her. Once Mia is cleared by the doctor, Rey and Arturo decide it's time to find out the paternity of her baby. Paul agrees to drop the charges against Mia at Rey's request. Mia and Arturo apologize to Rey for their betrayal and the family begins to heal. Phyllis has a new business plan and she suggests to Summer that she leave Jabot and come work for her. When Summer declines, Phyllis asks her daughter to spy on Jabot. Summer refuses and blasts Phyllis for her behavior. Jack decides to take matters into his own hands when Summer tells him about Phyllis. Summer gets Kyle to come to a business dinner, but they end up at Society and all the attention falls on Lola. Kyle refuses to play along with Summer and he separates from the group to be there for Lola.